It happens to all parents occasionally—feeling like your world is falling apart. But more often to those of us who parent children with disabilities. You know what I'm talking about. Behavioral challenges that just won't end. Hospitalizations, one right after another. A seeming desert of friendship for our children. IEP meetings that, no matter how hard we try, emphasize our children's weaknesses instead of strengths.
My family is in one of those world-falling-apart scenarios right now: our son, Joel's, beloved live-in caregiver has been unable to work for two months due to a health crisis. New staff for him to adjust to (unimaginably difficult for an adult with autism!). Hip surgery that's left me on a walker for eight weeks as I recover strength to walk unaided. A divorce in the family. My mother's worsening dementia.
Some days it's just too much to bear. So, what do we do?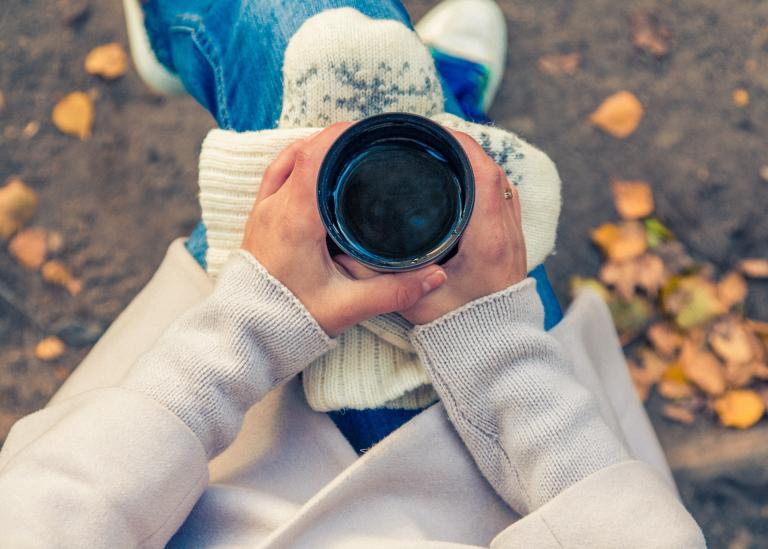 Here is my list of tried-and-true antidotes to overwhelming circumstances. The main theme? Be aware of God's goodness. Try just one, or two, or three. Hopefully you will find at least one to help lift you out of the pit where you may find yourself today.
Open the door and step outside, barefoot. Find a patch of grass, and let it tickle your toes. Stand still, rooted as a tree, and feel the energy of God's good earth rise up through your body like sap through a tree.
Look up. Observe the outline of fluttering leaves against the sky. Study the color blue (or gray, or rose, depending on the time of day and the weather). Look higher still, for swallows in a circle dance, or vultures gliding effortlessly above the fray.
Chant a two-word mantra as you soak in your surroundings from your rooted position: THANK YOU. THANK YOU. THANK YOU. THANK YOU.
When you go back in the house, write your thank you's down in your journal or on a post-it note – be specific. Even if there doesn't seem to be anything to be thankful for on this particular day, be creative. Thank you for salt to flavor my food. Thank you for the family of robins that calls my backyard home. Thank you for mail that comes straight to my porch, safe and dry, every single day.
Play your favorite piece of music. Make sure it's your very favorite – worship music, classical, Broadway musical – it doesn't matter what genre, as long as you love it! Sing or hum along as you listen.
Cut flowers from the garden and arrange them in a vase. One hydrangea or rose is gorgeous in a bud vase. Tiger lilies from the side of the road work. So do dandelions or Queen Anne's lace. Place the flowers next to your bed as a reminder of God's beautiful goodness.
Take a hot bath or a cold shower. Plunge in a pool or a lake. Run through the sprinkler – anything that involves dousing yourself with water. Remember your baptism, and how it marked you forever as a child of God and part of a covenant community.
Call a friend. Whisper, Help! I need a friend today! You don't have to spill out the entire story of what's going on. It's just the act of reaching out that unleashes Holy Spirit healing.
Take a long walk, alone. Leave the kids with your husband, Grandma, Grandpa, or a friend. Or, walk while they're in school. Repeat a centering word as you walk, matching its rhythm with your steps. Maranatha, Come Lord Jesus. The Lord is my shepherd, I shall not want. I am doing a new thing, says the Lord. Jesus. Jesus. Jesus. Make up your own centering word. It can be one word, two words, or an entire sentence. Repeat it throughout your entire walk. You will be amazed at how calming this is.
Remember the last miracle  God performed in your life – large or small – and thank God that He will do it again. Even here, in the midst of the chaos.
Finally, I leave with you with this quote from Mary Oliver, one of my favorite poets:
I look; morning to night I am never done with looking.
Looking I mean not just standing around, but standing around
as though with your arms open.
(From "Where Does the Temple Begin, Where Does It End?")
What is your tried-and-true method for calming the chaos of life with disability? Remind yourself to practice it on a regular basis!
Kathy Bolduc is the mother of 3 sons, the youngest of whom has autism. She is a spiritual director, and the author of several books, including The Spiritual Art of Raising Children with Disabilities and Autism & Alleluias. She and her husband own a contemplative retreat center, Cloudland, outside of Oxford, Ohio. She is available to meet with parents of children with disabilities.