We recently got this comment on our Facebook page:
This is a VERY optimistic and maybe unrealistic point of view. I'm sick and tired and just want a little dose of normal. Everyone puts a good foot forward when in a group, but in reality, we aren't really very happy people. Over it.
I wondered how true that was for special-needs parents. Are we faking it? Are we happy? Should we be?
My older sister has Down syndrome, so I've been in a special-needs family since day one. My parents are special-needs parents. My younger sister and I are special-needs siblings. And growing up, many of my parents' friends were also special-needs parents. Were they all unhappy?
My younger son was diagnosed with autism in 2010. It's level 3, so he's mostly nonverbal. I'm also a special-needs parent. Many of my friends are special-needs parents. Are we all unhappy?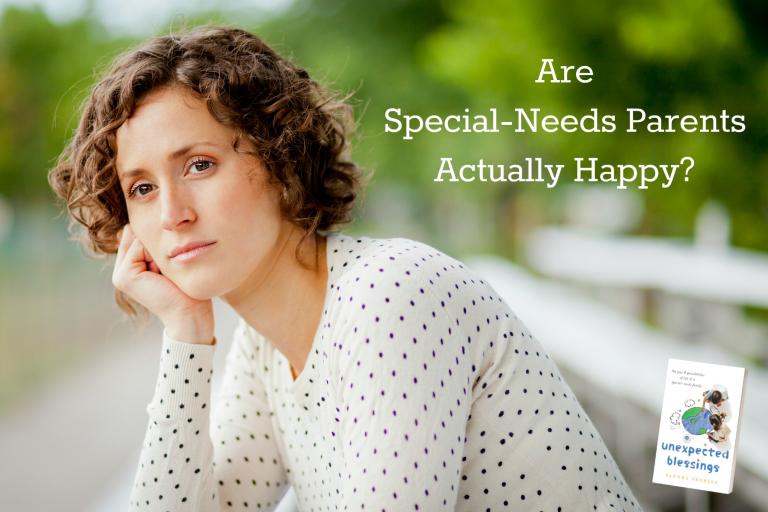 The best answer is not always. We aren't always happy. The life we're living, the life our kids are living, wasn't what we had planned. Our kids suffer in ways we wish we could protect them from. We suffer in ways we would avoid if we could. There's no shame in thinking, "I wish our lives were easier."
Special-needs parents often go through the cycles of grief after getting a diagnosis for their child. We also can hit the cycles again when our kids don't hit a milestone we were looking forward to or when one diagnosis leads to even more. It is normal and healthy to feel denial, anger, and/or depression. Jesus doesn't condemn us for feeling a full range of emotions, and we shouldn't condemn each other either. It's okay not to be okay.
But most of us can move through the cycles of grief and find hope again. As Tim Keller writes, "Suffering is unbearable if you aren't certain that God is for you and with you." And we can be certain! We can pray and ask God to remind us of His love and care for us. We can learn from other special-needs parents who have found hope and live with joy. We can read it in His Word:
Then they cried to the

Lord

in their trouble,
and he delivered them from their distress.
He made the storm be still,
and the waves of the sea were hushed.
Then they were glad that the waters were quiet,
and he brought them to their desired haven. Psalm 107:28-30 (ESV)
Wherever you are in the cycles of grief right now, know there is hope. Even if you are like me and experience the cycles of grief over and over again. Each time we feel ourselves going down with the sorrow ship, we know God will meet us there and offer the hand of hope. – from Unexpected Blessings
You don't have to fake it. You can feel it. And then you can move forward holding on to hope.
Sandra Peoples encourages parents to hold on to hope as the editor for Key Ministry. Her new book, Unexpected Blessings, helps parents move from a place of pain to finding their purpose in their Plan B situation.