He is the image of the invisible God, the first-born of all creation; for in him all things were created, in heaven and on earth, visible and invisible…for in him all the fullness of God was pleased to dwell…Colossians 1:15a; 19
Christmas Eve. Candlelight service. My mother, husband, three sons, and I duck into the church, shaking rain off our coats, anticipating a joyful celebration. The sanctuary glows in the light of a hundred candles, their soft light glimmering, throwing shadows on the walls. We find a pew near the front and pile in. The atmosphere is hushed, pregnant with expectation. Many sit in an attitude of prayer, while others whisper quietly.
Joel, who has autism, wriggles out of his coat. "When's it gonna be over? I want a donut," he says loudly.
"Shhh," I warn, holding a finger to my lips. Heads turn in our direction. "We're here to praise God for baby Jesus. No donuts tonight."
A young tenor stands and sings In the Bleak Mid-Winter. His voice, pure and beautiful, rises through space like the voice of an angel.
"I'm hungry. I want to eat!" Joel's eleven-year-old face, still pudgy with baby fat, is set in an expression I know too well. We're in for trouble.
Several people look toward us. Are they frowning? I want to crawl under the pew, but simply hold my finger to my lips once more. Joel fidgets through the processional hymn, and continues to chatter about donuts as the pastor reads the first lesson from Scripture. My mother rolls her eyes. My husband grits his teeth. Joel's big brothers, Matt and Justin, make goofy faces, trying to distract him, to no avail. Joel is fixated on donuts and there is no diverting him.
Oh, Lord, it's impossible to worship with this child. Can't he be quiet and sit still just this once? It's Christmas Eve! It's time for wonder and awe and quiet contemplation, not for squirming and fidgeting and talking about donuts!
The answer comes before I open my eyes.
Yes, Kathy, it is Christmas Eve. You're here to celebrate the birth of my son. Remember the words you memorized asa child? "And this will be a sign for you; you will find a babe wrapped in swaddling cloths and lying in a manger." Think about it. God of heaven, asleep in straw.
As the words fade, my eyes take in the altar, the mass of red poinsettias, the flickering candlelight, the quiet faces of well-dressed people. But my inner eye sees a rude stable, carved out of rock. There, too, candlelight flickers. The stable is cold and damp. The smell, of wet animal and dung, is overpowering. The straw lies trampled and dirty; the mother exhausted, the father concerned. The babe cries a lusty cry before suckling at his mother's breast. A cow lows as wind whistles through the cave's opening, stirring dust and straw that tickle the nose and sting the eye. Shepherds, rough and unkempt, jostle their way to the babe's bed, bending their knees in worship. Loud alleluias fill the sky as the cave glows with an unearthly light.
Miracle of miracles. God become man. Perfect power exposed and vulnerable. God, the very God who fashioned the universe, choosing to take on the disability of human form.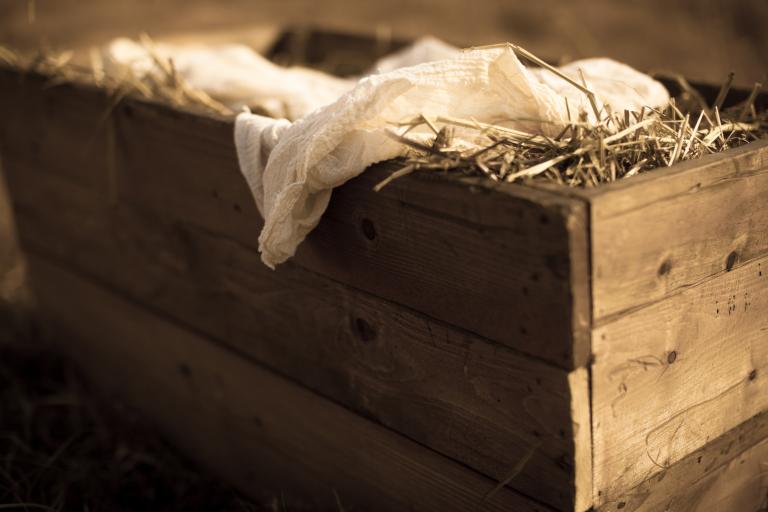 My yearning for the "perfect"Christmas Eve fades away. I put my arm around Joel and kiss his head.
"Donuts," he says again.
"We'll eat when we get home," I whisper into his ear. "Right now, let's sing real loud and worship Jesus." Joel looks up at me and smiles at my change in attitude. As we stand to sing O Come All Ye Faithful, his voice, slightly off-key, carries above the rest.
Oh Lord, how much you must love us! You, in whom all the fullness of God does dwell, taking on the confines of human form. You know what it is to be cold and hungry. You know what it is to grieve. You know what it is to be disabled. Thank you, Lord for the gift of your son. And thank you for the gift of my sons, who teach me daily about what it means to be human; what it means to love unconditionally. Amen.
Kathleen Bolduc is the author of four books, including The Spiritual Art of Raising Children with Disabilities (Judson Press, 2014) and Autism & Alleluias. Kathy is also a spiritual director, nature lover, novel reader, YA novel writer, and meditation teacher. She and her husband are in the midst of building a contemplative retreat center, Cloudland, outside of Oxford, Ohio.