Everything was going smoothly. He was in a new classroom, and responding well to the change. All the staff reported increased participation and cooperation. Cheers all around! The past is behind us! Onward!
4 days home
Then one morning, he just refused to get dressed. The morning routine is pretty tight and if we don't stay on task, we likely won't make the bus. Now that his siblings are in school 3 days for the week (although we still officially qualify as homeschoolers), I'm no longer as flexible and can't take him in whenever he's ready. So, I respond to his refusal with insistence. He responds with resistance. I press in, he shoves back, and after many iterations, he's curled up on the couch and I give up on school for the day.
The next day, I was more proactive, and brought his school clothes to his bed, hoping to get him dressed before he's fully entrenched in .. whatever is going on. I'm successful to a point, but when my back is turned, he strips down to underclothes and curls up in the couch. Day 2.
Day 3. It's snowing outside. Given his level of refusal on the previous two days, and the high chance of either a late start to the day, or an early dismissal, I give up before the fight starts. No school.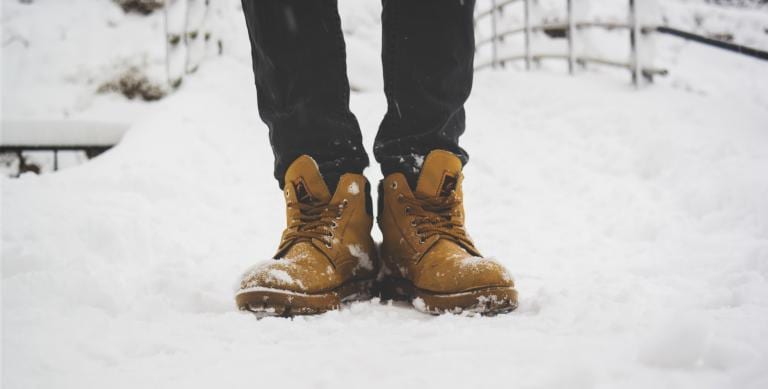 Work from Home??
Now, as an autism mommy, I'm pretty skilled in multi-tasking and other super-hero moves, but somehow, navigating the various sensory/OCD/fight-or-flight responses with my kids can take all my energy. So by the time I've given up on getting someone dressed and have helped a child navigate an anxiety episode while setting boundaries on another's excesses of screen time, I'm done! I need to curl up in the couch. This particular week, it felt worse.
I'd just committed to the Lord and to myself that His call to share with and care for others through my work as a coach and consultant was important, and that I would handle the discomfort of my inner critic and press through the tedium of email systems and website details, and become organized in my work, to build my capacity. Everyday, I woke up feeling clear on what I would do and how I would move ahead with what's in my heart. And everyday, by 9:30am, I needed to return to bed. How many weeks of no school were we in for??I felt like a fraud. How can I help others when I can't help myself???
Day 4.The school district takes the decision out of my hands and announces that school is closed.
Resting from my work
I'm grateful for snow days. Somehow, when I have no choice but to stay in, I feel released from the tyranny of my to do list. It's like an enforced Sabbath, and after a small amount of resistance, I accept it. I think those moments of acceptance provide enough quiet for the Holy Spirit's guidance to penetrate. Here are a few of the settling thoughts that came as I sat in the chair in my room, with the heated massager that I gave my husband for christmas sitting around my neck.
my ability to help and care for those I serve isn't determined by whether my son puts his clothes on or not.
Either he goes to school, or he doesn't. We'll deal with whatever comes and though it's unknown to us, it's not unknown to God.
Because it's not unknown to God, he's not saying, 'Oh no! Now this happened and Faith can't do what I asked her to do!' His call already incorporated the ability to respond as He desires (which is as I desire) and to care for my son as He desires (which is as I desire)
Things don't have to play out as I imagine for me to respond to God's call while parenting.
It's ok for me to feel uncomfortable (worried, afraid, …). That's normal when building new capacity muscles.
I need to do what I can, not what I can't.
I got to play around with these thoughts on Day 5…
Doing What I can
Day 5.He's half dressed, refusing to put more clothes on that's needed to stay warm inside. So I text the school bus that we're not making it. Being a little more relaxed always helps, and I have the grace to suggest we go into the car. Previously, this idea was not an option because I didn't want him getting the idea that he should go in the car in his pajamas. On the day in question, I let go of my inflexibility, and experimented with something new. Another autism parent told me a story about his son going on the bus without shoes (he put the shoes in his backpack). So I offered a ride in the car and put his stuff, clothes, jacket, snow boots, … into the car. He looked interested, and headed to the garage door. Then (perhaps the draft of 20 degree wind hit him?) he asked for help. I hurried to the car for clothes and added a few layers, minus shoes and Jacket and he rushed into the freezing cold car. He hurried into his jacket and shoes in the back seat, and I turned the heat to high.
We got to school at the same time as the school bus.
On the snow day, after God's calming whispers, I decided to honestly answer the question, what can I do? You see, my list was full of all the things I thought would be the BEST things to do. Unable to do them on the days in question, and emotionally drained, I opted for doing …NOTHING. I honestly didn't see other options while sitting in emotional exhaustion bordering on despair. With slightly less exhaustion, and out form under the control of my amygdala, I could see that there were things that I could do. I could manually send emails. Cut and paste could work without much thinking. I could text and IM a few people to follow up on a few things. I could do some planning with myself, until I couldn't. If I'm not stuck in fear driven perfectionism and inflexibility, there's lots I can do that's perfect for the moment I'm in. And that's what God asks.
Plus, research studies have shown that moving a job from 'mostly done' to 100% done can take as much time as getting it to the 'mostly done' marker, yet does not always double the impact of the job. I'm not advocating doing poor quality work, but as a card carrying perfectionist, who seems to have birthed 1 or 2 card carrying perfectionists, learning to do 'mostly done' and let it go and move on is almost a spiritual discipline. For me, choosing the less than best approach so that I can do what can be done is my gift to myself and the people I serve.
So I'm learning that God asks for what we can do. What we can do might not be what we think we should do, and it's definitely not the nothing we feel like doing, when confronted with overwhelm. It's the gift of the easy yoke, the possible, the way forward that has your name and His power written all over it. Here's to a day full of possibilities, of letting go of perfectionism, and of doing what we can, in His power.
Pray as you can, not as you can't – John Chapman.
Faith helps special needs moms build businesses they LOVE, that fit the crazy chaos of spacial needs parenting life. She's co-founder of Melody of Autism, which helps ASD families thrive. An autism mom herself, Faith knows this journey firsthand and is passionate about autism moms living powerfully productive lives in healthy, balanced ways. She's the author of Parenting Like a Ninja, an autism mom's guide to professional productivity. Click here for a free copy.