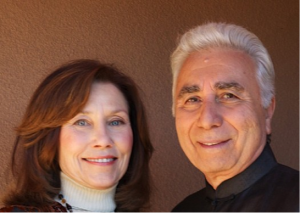 George and Sedena Cappannelli – authors, world class consultants and speakers and co-founders of AgeNation, a digital media company and social enterprise, and The Age of Empowerment, a 501C3 serving vulnerable sections of our aging population.
They are experts on individual, organizational and societal change with an outstanding track record serving hundreds of thousands of individuals and hundreds of the world's leading organizations in both the private and public sectors (including Boeing, NASA, Sun MicroSystems, The Disney Company, Oracle, PepsiCo, The LA Times, U.S. Navy, and more).
George and Sedena have hosted their own radio talk shows –'Talk About Your Life' in Phoenix and currently are on the web with 'AgeNation Radio Magazine.'  George is also an Emmy Award winning film and television producer/director, and Sedena, a long time member of The Screen Actors Guild, has appeared in numerous films, television programs and theatrical productions.
Sedena is also a television and theatrical producer and the Founder of About Life Inc, a company she created to bring personal empowerment to women.  Her new Personal Energy Program (P.E.P) DVD/Book set compliment the work explored in Do Not Go Quietly and introduces a series of ground breaking wellness and de-aging processes.
In addition, George co-founded The International Integrity Program, served as Executive Director of The Sedona Institute and a director of The Society For The Advancement Of Human Spirit, an organization chaired by The Dalai Lama. He has worked on special projects with Golda Meir, Lech Walesa, Bishop Desmond Tutu, Mother Teresa and other world leaders. In 1991 George managed the launch of Jerry Brown's U.S. Senate Campaign and has served as a special consultant in the 1992, 1996 and 2008 presidential campaigns. His political blog, It's About Time explores the themes covered in his book, I Dream of A New America.
Together, George and Sedena are co – authors of two previous books:
Say Yes To Change – 25 Keys To Making Change Work For You
Authenticity – A Guide To Greater Meaning &Purpose At Work & At Home
www.AgeNation.com – www.SayYesToChange.com – www.authenticity.cc – www.Idreamofanewamerica.com