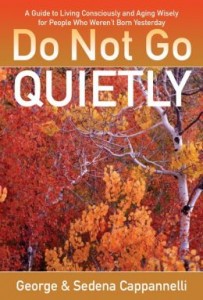 by George Cappannelli and Sedena Cappannelli
Summary:
Do Not Go Quietly is an inspiring call to action and guide to a life of greater meaning, consciousness and passion for those of us 'who weren't born yesterday' – older GenXers, Boomers and Elders.  It also speaks honestly and eloquently to those who are under 40 and who want to better navigate the path ahead and better understand the world for which they will soon be responsible.

by George Cappannelli and Sedena Cappannelli
Summary:
In this complex and rapidly changing world, it is no longer a question of if we will change, but how. In Say Yes to Change, George and Sedena Cappannelli, two of the country's leading corporate consultants and executive and personal coaches, take an in -depth look at "how." They identify a number of ways to experience change as a doorway to new opportunities and increased levels of success. They detail the importance of embracing change, of learning to treat it as an ally rather than an adversary.

by George Cappannelli and Sedena Cappannelli
Summary:
This is a book for individuals and organizations who want to refine, rediscover and connect with their sense of meaning and purpose and who want to utilize that meaning and purpose to achieve outstanding levels of performance, greater success and a genuine sense of contribution and satisfaction.

by George Cappannelli
Summary:
In this world of deadlines and demands, of complex issues and financial pressures, of increasing competition and dramatic technological advances it is easy lose sight of what is truly important and to get trapped in doing what we think we have to do rather than in doing what is right, important and truly effective.

by Sedena Cappannelli
Summary:
This handbook is your guide to creating balance for your mind, body and spirit. It offers a unique blend of simple and yet powerful exercises, Native American teachings, special healing modalities, personal reflections and offers you a path to greater self discovery. 

by George Cappannelli
Summary:
If you are troubled by the dysfunction and disharmony present in Washington and in state houses and city halls across this nation; if you are disheartened and disappointed by the lack of effective and intelligent action being, by the absence of competence and consciousness demonstrated, you will find the thought provoking ideas and practical recommendations presented in this new book of genuine interest.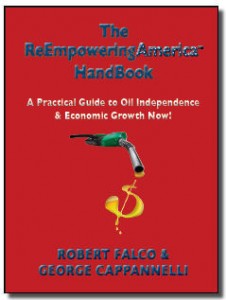 by George Cappannelli
Summary:
This handbook explodes a number of false assumptions and misunderstandings about alternative energy and presents a genuine, practical, achievable and cost-effective way, using available technology and resources, for our nation to significantly reduce and then eliminate our dependence on foreign oil within a decade.