The Winter Solstice is an annual occurrence that takes place on the shortest day of the year. This year, that day falls on December 21st. While the day of is often the pinnacle of the celebration, the days leading up to the festivities are equally as important.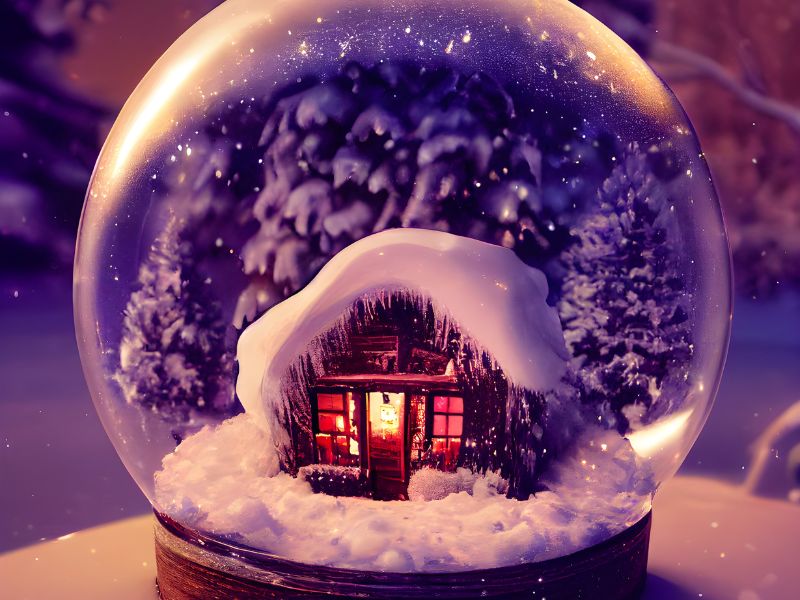 On the Wheel of the Year, Yule is the midpoint between Samhain and Imbolc. In Samhain, we honor our ancestors and the cycle of transformation and death. In Imbolc, we celebrate the emergence of spring and rebirth. Yule is the interim between the two and is a celebration honoring both death and rebirth.  
The Yuletide season is a time of merriment for many pagans as we prep for the upcoming festivities and winter. We honor the solstice in various ways, as they often depend on our traditions and locations. 
Crafting
The art of crafting is a time-honored tradition. In this instance, I am referring to mundane crafts rather than spellwork, but often the two can be combined. In preparation for decorating our homes and altars, many will create their decorations by hand. 
One popular tradition for celebrating Yule is the creation of a Yule log. The Yule log is both a literal log and a tasty treat. Not simultaneously. For this section, I will be covering timber. Each type of wood has its own correspondences and can be chosen for that reason. For instance, birch could be used for protection, whereas oak or pine are great for prosperity.  In modern times, after a log is cut, it can be taken indoors and decorated with evergreens and candles. Traditionally, the Yule log would be burned in the hearth for seasonal blessings.
Another popular craft of the season is the use of fresh citrus. One common tradition is creating a dried citrus garland to hang around our homes, on our trees, or across our mantles. Oranges have correspondences of good fortune and prosperity and are simple to make at home, with or without a dehydrator. This craft can be accomplished by thinly slicing oranges and allowing them to bake on the lowest oven setting for a few hours. 
With citrus taking center stage, another craft that I've enjoyed since childhood is creating pomanders. Pomanders are created by piercing oranges with cloves for both prosperity and protection. If you're looking to read more about this, you can find a how-to guide for this and other Yuletide crafts in my article "Winter Witchery: A Modern Witch's Guide to the Season."
Yule Craft Ideas:
Pomanders

Dried Citrus Garland

Yule Log

Witches Balls

Cedar or Pine Herb Bundles

Pentagram Ornaments made of Branches 
Decorating
In the days leading up to the celebration, it is common for pagans to decorate their homes and altars. 
Often practices include bringing evergreens into our living quarters. This tradition was taken, in part, from the ancient Roman festival, Saturnalia. This celebration was a midwinter festival of frolic and glee. During this time, the people would decorate their homes with evergreen boughs for protection and good fortune. It's speculated that this very tradition planted the seedlings that morphed into the Yule trees that we know and love today. 
Depending on my life circumstances, my own Yule tree has been everything from a robust fresh tree to a faux tree made from one strategically arranged strand of Christmas lights—with the latter being incredibly pet friendly—I might add. Nevertheless, the act of decorating doesn't have to be historically pristine to be spiritually fulfilling. 
Another common practice is bringing in other foliage of the season. Weather permitting, the best way to do this is to scan your own backyard and local landscape for materials, like pinecones or acorns, to gather. Items such as this house the seeds of the trees themselves and, as such, are symbolic of rebirth. 
The winter season itself is one of hope, death, and rebirth. Historically, winter was a time of uncertainty for many. The festivals proceeding Yule are ones of harvest, and it was with great hope that those last harvests would ensure their survival through the winter.  
Yule Altar Ideas:
Holly Leaves

Mistletoe

Snowflake Symbols or Snow Globes

Red, Green, Gold, and White Candles

Pinecones

Pomanders

Bells
Feasting
What pagan celebration is complete without a feast? I can't think of a single one where a meal isn't in order. This feast can be with your immediate family, extended family, or simply for yourself. 
When creating a feast for this sabbat, many may choose traditional foods such as winter vegetables, assorted nuts, and bread for the season. However, this is also an excellent time for baking. We can also use the assorted nuts in many baked goods. Like the seeds mentioned earlier, nuts carry the correspondence for prosperity and new beginnings. 
There is also the tradition of the edible Yule Log. Unlike its wooden counterpart, the dessert is one way pagans can honor the season while satiating their taste buds. Making a Yule Log can be a lengthy process but also an enjoyable one. This method consists of baking a thin chocolate cake before layering it with a sweet filling, rolling it into a log shape, and frosting the outer portion to resemble a log. 
If you're looking for a recipe for this, you can find one here. 
Gram's Wassail Recipe:
Drinks are another popular tradition of the season, both alcoholic and nonalcoholic. Much like Yule logs, Wassail is another homonymous tradition. Wassailing was originally a form of caroling but is also a popular beverage choice of the season. The recipe below was passed down to my longtime friend and podcast cohost, Jaime Amanda, who graciously provided it for this article today.
Ingredients
2 gallons apple cider

2 cups fresh orange juice

1 cup white sugar

1 cup lemon juice

1 cup pineapple juice

1 cinnamon stick, broken into pieces

1 teaspoon whole cloves
Directions
Stir apple cider, orange juice, sugar, lemon juice, and pineapple juice together in a large pot over medium-low heat.

Place cinnamon and cloves in a tea ball and add to apple cider mixture; simmer until warmed through, about 15 minutes. Serve from the pot with a large ladle.
Rituals
Some common themes of Yule are new beginnings, introspection, reflection, and intention setting. 
Creating a ritual for Yule should be personalized to both ourselves and our location. This may not be as necessary for locations that have all four seasons, but as a Florida native, my own are frequently spent in a tank top. Therefore, the likelihood of my procuring snow for a ritual is exceedingly rare.
That said, these coordinates do not deter me from spending Yule around a fire. Fire is a simple ritual that incorporates the solar elements of the sabbat. While the winter solstice is the shortest day and longest night of the year, each day grows longer from this point forward. Creating a fire is a way of honoring the sun and bringing the fire element to life on this sabbat. This fire can be as large as a bonfire or as small as lighting a candle.  
Yule Spell Jar
Another ritual I like to do is creating a Yule spell jar for intentions. If you are limited on space or prefer a more subtle honoring, this is a great way to create an altar in tight quarters. To create this jar, you will need a wide-mouthed jar. This jar can be a mason jar or any cleaned container you've been saving for such an occasion.
Materials
Salt for purification

Pine for prosperity

Rosemary for wisdom

Juniper for health

Nuts for new beginnings

Red candle for courage
Directions
In a wide-mouthed jar, add each ingredient. I like to assign each component its purpose as the ingredients are added.

If desired, you can also write down your intentions on a small piece of paper. Roll this piece of paper tightly and tie it with a string. You can add this around the jar or directly into the jar. 

Depending on the size of the candle, this can be done in one sitting or prolonged over a period of days. The critical part is setting the intention before performing the spell. Alternatively, you can use red candle wax to seal the jar if desired.
So, How do Pagans Celebrate the Winter Solstice?
While there are many ways for pagans to celebrate Yule and honor the winter solstice, many practices will vary on tradition. However, the larger purpose is honoring the earth and our position within the cycle. It's also a time to check in with ourselves and determine what we can let go of and aspire to.  
Pagans come in many shapes and sizes, so our festivities may be simple or decadent. While the winter solstice is a time of celebration, these can range from intimate, solitary celebrations to more elaborate gatherings or rituals. Rarely will two look entirely the same.
What is consistent, though, whether we pay homage to yesteryear or we create a celebration unique to us, is that it is a period of honoring the cyclical nature of earth, ourselves, and life itself.