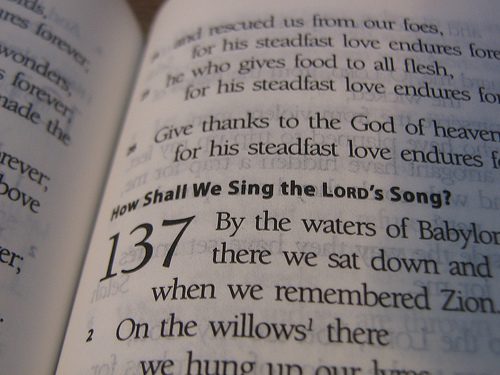 Yesterday my Bible reading brought me to the Psalms. Wanting to read slowly and meditatively, I sensed my heart begin to stir as I read these prayers and songs composed by God's people hundreds of years before the birth of Jesus. Because of the wide variety of Psalms, they stir and help the Christian in a myriad of ways. Here are three reasons you need to give greater attention to the Psalms.
The Psalms Present Us With a Full-Orbed View of God
The Psalm writers praise God for what theologians have often called his transcendence. "O LORD, our Lord, how majestic is your name in all the earth! You have set your glory above the heavens." In this quote from Psalm 8:1, David points to the majesty and glory of God. God is altogether unlike us. He eternally exists in perfect holiness and splendor. The Lord of the Psalms dwells in heaven, does what he pleases, and his very being should inspire the highest praise from his people. When we are tempted to have a domesticated view of God, the Psalms provide the resources to recapture our view of God as he actually is.
God's transcendence should not make us think he is detached from the lives of his people. Just as the Psalm writers extol the transcendence of God, they also consistently point us to his nearness. The writers point to God as a hiding place in whom they can take refuge to find peace and safety. The almighty, transcendent God uses his limitless power to protect his people. In addition the Psalm writers appeal to God's grace, compassion, and patience. For them, God's transcendence and immanence don't contradict each other, instead they are complementary attributes. God's grace and care for his people is only effective because of his glory, holiness, and strength. If you struggle with believing God is distant from you, read the Psalms. You will see he is high and lofty, but he also stoops to come near to us.
The Psalms Give Us a Vocabulary for Our Emotions
When I was younger I wondered why many of the Psalms sounded so whiny. After walking through more years of life these are the heart cries of people who have dealt with real world pain. Many of the Psalms show their writers in dangerous or difficult situations. Their prayers reflect an honesty we often find embarrassing as they wonder why God seems to have abandoned them and why the wicked seem to be flourishing. When you find yourself walking through a struggle, the Psalms give you the words to work through your pain. They help you understand where you are and point to the solution found in our all-powerful God.
We also discover a vocabulary for praise in the Psalms. Often we only thank God for our temporal blessings. The Psalms teach us how to praise God for his being, his compassion, his deliverance, and his blessings. For the person who struggles understanding how to express praise and thanksgiving, reading through the Psalms will give you the vocabulary to do so.
The Psalms Encourage Us in Our Prayers
How often do we go to pray and don't even know where to start? Start reading and praying through the Psalms. You can either pray the Psalms as they are written or use the words of the Psalms as a launch pad into your own prayers. To do the latter you read a line or a couple of verses and begin to pray based on what you read. Was there something in the verse you could praise God for? Or did you see a sin you should repent of or a petition you needed to echo in your own life. Maybe the Psalm reflects the pain you currently experience and provides you with a model for how to pray through it. Christian struggling to pray, read the Psalms for the sake of your prayers.
For an introduction to the Psalms read Psalm 1 and know meditating on the following chapters will plant you like a tree by streams of water. If your walk with the Lord has been dry, turn to David's intensely personal words in Psalm 63. Psalm 3 would be a great help to anyone wrestling with fear. The 145th Psalm helps the Christian understand both God's immanence and his transcendence. When you have struggled with sin pray through the words of Psalm 51. Read Psalm 95 before you gather with God's people for worship this coming Sunday.
What is your favorite Psalm and which ones should you start reading next?
Related Posts:
"Why You Should Read the Bible"
"When Prayer is Difficult"
For Further Reading:
How to Read the Psalms by Tremper Longman III
Praying the Bible by Donald Whitney