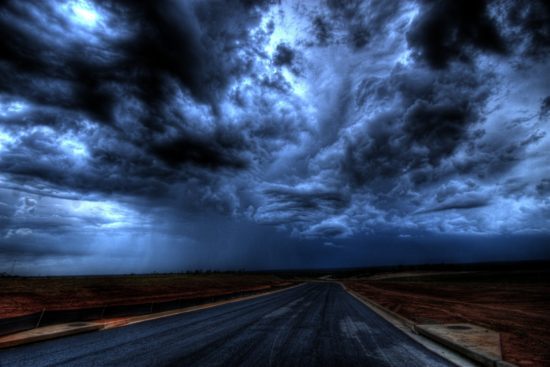 Last week the time changed and it would be difficult for me to overstate how difficult this time of the year can be for me. Typically, I leave the house before the sun rises in the morning and do not return until after it sets. Because of the nature of my job, most of my time during the day is spent indoors.
During the late fall and winter months, I fight with what Winston Churchill called "the black dog." Depression nips at my heels from the first week in November through the end of February. Unless I take appropriate steps, a general sense of darkness will follow me wherever I go. I don't want to be around people, I have little joy, and I can spiral down at the drop of a hat.
By God's grace, I've learned how to stay one step ahead of the black dog. This is not some miraculous formula that drives away depression, but it has helped me to continue walking with the Lord, loving the people around me, and experiencing joy after previously letting it overwhelm me year after year.
These are a few practices I have put in place to run from the black dog.
Be Honest about the Struggle
For years, I lived in ignorance and denial about the darkness that enveloped me. Often I walked around in absolute misery, refusing to admit something was wrong and not understanding what was going on in my own heart and mind
I'm not sure when the epiphany came, but by God's grace, I started to see a pattern develop that helps me know when I'm about to start struggling. Instead of staying silent and ignoring the problem, I acknowledge the temptation to my wife and some trusted friends.
What I have discovered is that walking in the light about my struggles helps me to fight against them because I know I am not alone and I know how my enemy works. If you struggle with depression, I want to encourage you to find a safe person you can talk to. Don't assume they will brush you off and don't assume that they won't understand. Having people around you who know what you're facing, who listen to you, and who are praying for you is indispensable in your battle against depression.
(This post focuses on the spiritual aspects of wrestling with depression. Often, there can be medical issues in play as well. If you find yourself walking through prolonged darkness, and especially if you start thinking about hurting yourself, seek out your doctor and a good Christian counselor. There is no shame whatsoever in admitting you are hurting and seeking help. The Gospel frees you to be honest about your struggles and also delivers you from false guilt.)
Read and Pray the Psalms
Early in my Christian life, I could not understand why the Psalmists were so whiny. Now, the older I get, the more I identify with them. As D.A. Carson points out in The God Who is There, the Psalms tend to resonate more deeply with those who have had more experiences. Until then, he says that they may sound "a bit over the top, a bit extravagant, or even alien to you."
David wrote many of the Psalms while he was fleeing from his enemies, including one he wrote while his on son sought to kill him. (Psalm 3) Other Psalmists write from unnamed pits of despair. Because the God who stands outside of time inspired the writing of these Psalms, we don't have to be walking through the Psalmist's exact situation to receive the grace their writings dispense.
The Psalms give us a vocabulary to pray when life is overwhelming. We often don't know what to pray when times are good, so we especially struggle with what to do when life gets difficult. Paul reminds us in Romans that the Spirit intercedes for us when we don't know what to pray, but we should also remember that we have prayers inspired by the Spirit that we can read and pray back to God. Praying through a lament Psalm helps us pour out our hearts to God for deliverance. As we pray through them, we store them up in our hearts and can wield them like a sword the next time the black dog wants to take a bite out of us.
Get Outside or Hit the Gym
Only in the last few years have I begun to understand how integral sunshine and exercise are to my joy. A few years ago I had been struggling with depression and anxiety during a particularly wet and cold winter. I went outside one day when the sun decided to reappear and started feeling as if I was alive again after just a few minutes. I experienced the same feeling a couple of years ago when I started back working out after missing a few weeks. Fresh air and exercise are my friends in the fight against the darkness.
Charles Spurgeon labored under a heavy burden after a terrible incident in which someone shouted "fire" while he preached. Several people died and he struggled with depression for the rest of his life afterward. (Zach Eswine draws lessons from Spurgeon's depression in his book Spurgeon's Sorrows.) In Lectures to My Students, he explains how those who labor for God's glory can reap the benefits of the world he created.
Let a man be naturally as blithe as a bird, he will hardly be able to bear up year after year against such a suicidal process; he will make his study a prison and his books the warders of a gaol, while nature lies outside his window calling him to health and beckoning him to joy.

He who forgets the humming of the bees among the heather, the cooing of the wood-pigeons in the forest, the song of birds in the woods, the rippling of rills among the rushes, and the sighing of the wind among the pines, needs not wonder if his heart forgets to sing and his soul grows heavy.

A day's breathing of fresh air upon the hills, or a few hours, ramble in the beech woods' umbrageous calm, would sweep the cobwebs out of the brain of scores of our toiling ministers who are now but half alive.

A mouthful of sea air, or a stiff walk in the wind's face, would not give grace to the soul, but it would yield oxygen to the body, which is next best.

Heaviest the heart is in a heavy air,
Ev'ry wind that rises blows away despair.

The ferns and the rabbits, the streams and the trouts, the fir trees and the squirrels, the primroses and the violets, the farm-yard, the new-mown hay, and the fragrant hops—these are the best medicine for hypochondriacs, the surest tonics for the declining, the best refreshments for the weary.

For lack of opportunity, or inclination, these great remedies are neglected, and the student becomes a self-immolated victim.
If you find the black dog snarling at you, run away from it. Get outside, go for a walk, take a hike in the woods, run in your neighborhood, or hit the weights. You'll find that while it may not take away all of your problems, it will lift your spirits. God ministers to us through the world that he made.
This has not been an exhaustive list by any stretch, but these three strategies will help you fight for joy when depression rears its ugly head. God works through his people, his world, and his word. We would do well to utilize them in our war against the black dog.
Related Posts:
"When Affliction is a Gift"
For Further Reading:
Christians Get Depressed Too by David Murray
Spiritual Depression by Martyn Lloyd-Jones