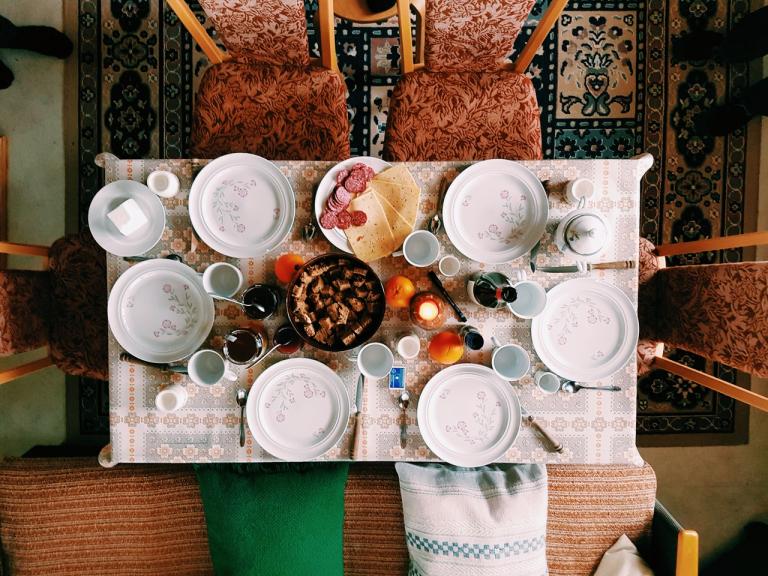 I can still remember the ritual we went through every morning in my 2nd-grade class. Our teacher came in and told us that it was time to put on our "Golden Rule Gloves." Then, we pretended to pull gloves over our fingers as we recited "Do unto others as you would have them do unto you." Then we went through the motions of fastening three buttons on each glove as we said, "God is love. Love one another."
It makes perfect sense to go through this routine every morning with over twenty 2nd-graders. We were naturally selfish people who usually had not learned how to get along with other people. We competed with each other and then argued about the outcome. Every personal flaw provided fodder for a joke at someone else's expense and we found it too tempting not to touch each other's stuff. We needed to be taught to love one another.
All too often God's people need to be reminded of some of the simple lessons that I first remember learning when I was seven-years-old. (I'm sure I had heard these things many times previously. This is just my first conscious recollection of it.) We are too often tempted to hold grudges against each other and judge one another for personal opinions. We often rudely lash out at people over the slightest disagreements. We struggle to love those who seem like an outsider.
When we think about the marks of a person who is a Christian, our love for other people in general and the people of God, in particular, is one of the chief characteristics that should come to our minds. After all, it was Jesus who said that the greatest commandment was to love the Lord our God with all of our heart, soul, mind, and strength. Why is this true, though? What is it about love that sets it apart as one of the chief marks of a Christian?
God is Love
The Apostle John wrote his first letter to help a group of struggling Christians understand how they can have the assurance of their salvation. He told this fledgling church, which was under the influence of Gnostic teaching, that he wrote to them, "that you may know you have eternal life." In this letter, he provided Christians with three sources for the assurance of their salvation–the promises of the Gospel, the fruits of our faith, and the witness of the Holy Spirit.
In examining the fruit that should be present in the life of every Christian, John particularly focused on love. In 1 John 4:7-8, he said, "Beloved, let us love one another, for everyone who loves has been born of God and knows God. The one who does not love does not know God, for God is love." In these verses, John called Christians to love each other and provided them with the rationale to explain why this is essential. He said that everyone who loves has been born again and knows God.
John also emphasized the truth that the person who does not love does not know God. In other words, John said that the person who does not love his brothers and sisters in Christ is not saved. Again, he provides the rationale for this. "God is love." John explained that Christians must love one another because God is love. This is at the very essence of who God is. Since he is love, his people should be marked by love.
Someone I know recently had to visit the school that one of my daughters attends and saw her in the hall. This coworker had never met my daughter, but told me that when she passed her she thought, "that has to be Scott's daughter." How someone who has never met my daughter immediately recognize that she is mine? The answer is simple– she looks like her Dad. She bears the marks of being in our family. Why do Christians love? Again, the answer is simple– we bear the marks of being in our Father's family. In our demeanor and actions, we resemble him.
We Have Been Loved
John, and the rest of the New Testament, anchored our love for others in the love that we experienced in the life, ministry, and death of Jesus. John said, "In this is love, not that we have loved God but that he loved us and sent his Son to be the propitiation for our sins. Beloved, if God so loved us, we also ought to love one another." (4:10-11)
We live in a world obsessed with "owning" each other, canceling each other, and getting all manner of revenge over wrongs done. Nothing could be further from what we experience in the Gospel of Jesus Christ. We have sinned against God and provoked him to his face. We should be left to face his wrath but Christ came and gave himself up for us, bearing our sins in his own body. We know what love is through the sacrifice of Christ on our behalf.
Look at the exhortation John gives in light of Jesus's sacrifice. "Beloved, if God so loved us, we also ought to love one another." Because of the love that we have experienced, we have no choice but to love others. The love of God has been shed abroad in our hearts and we have been reconciled to God through the sacrifice of Jesus. Now that we have known this love, we cannot help but show it to others.
This is an important time for American Christians to remember this exhortation. We live in a seriously divided and contentious culture. Everywhere we turn we see people lashing out at each other and lashing out at those with whom they disagree. When we love others as we have been loved by Jesus, forgiving others when we are wronged and seeking forgiveness when we have been wronged, we show the world a better way. We show life as it was intended. We show the love that Jesus shows.
Related Posts:
"How Can I Know that I am a Christian?"
"How to Keep Your Anger Under Control"
For Further Reading:
How Can I Be Sure? by John Stevens