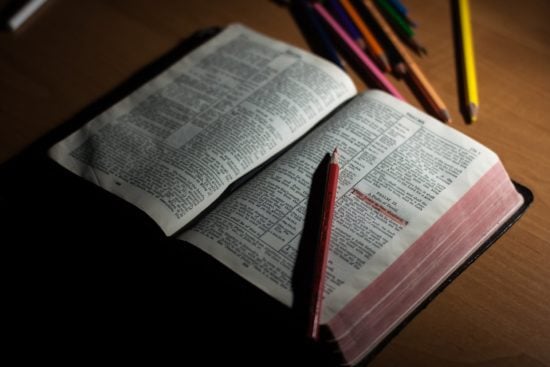 In our distracted and fast-paced world, many Christians struggle to gain depth in our spiritual lives. If our devotions happen, they are usually hurried, so we don't often make the unhurried time that we need to soak in God's word and linger before God in prayer that we so desperately need. The result is that we often evidence a weak and shallow Christianity. We may be able to fake depth for a while, but eventually, the hard times come and expose us for who we really are.
The Psalms provide a welcome antidote to our craving for shallowness. The Psalms, which seem so easy to understand on the surface, invite us to deep study and contemplation. They show the blessing of cultivating a deep and abiding trust in the Lord and beckon us to leave behind our life of distraction so we can know and love God more deeply.
Here five reasons that our hurried and forgetful hearts need to live in the Psalms for a while.
To Reacquaint Ourselves with Lament
When I was 22, I could not understand why the Psalmists were such whiners. I'm 40 now and I realize that they weren't whining, they were being honest about life. We live in a world filled with so much beauty and goodness because God made it. Yet, life takes us through many valleys that overflow with pain, heartache, and disappointment. The Psalms confront this reality with brutal honesty, so we need to give them our careful attention.
Our culture specializes in superficiality. Most of our conversations center on things that matter so little that we have no shared vocabulary for talking about our pain and despair. Additionally, the pain blunts our thinking, and in our confusion, we often don't even know how to pray.
The lament Psalms help us with this. Since the Holy Spirit intercedes for us when we don't know what to pray, one thing we can do is to go to the words authored by the Spirit. Pray or sing the Psalms to God. Meditate on them and allow them to draw you in to pray. The Psalmists often wrote from the depths of pain and despair. Their words show us how to pray when we don't know how and when we don't have the heart to pray.
To Reacquaint Ourselves with God-Centered Praise
During a worship time at our college ministry in the late 1990's, I looked at a friend and asked, "Are we worshipping Jesus or worshipping worship?" While the number of God-centered songs has increased over the last couple of decades, we still churn out a number of songs that focus on how much we love to worship.
To be sure, the Psalms talk a lot about worship. However, many of the Psalms serve as calls to worship the Lord together or as reminders to tired and weary souls to behold their God. In some of the most well-known summons worship the Lord together, they prod us to worship in response to what God has already done.
Psalm 95 begins, "Oh come, let us sing to the Lord; let us make a joyful noise to the rock of our salvation. Let us come before his presence with thanksgiving; let us make a joyful noise to him with songs of praise." Notice how this beckons the people of God to come before him together. Then, the Psalmist reminds us why we should worship. "For the Lord is a great God, and a great King above all gods. In his hands are the depths of the earth; the heights of the mountains are his also. The sea is his, for he made it, and his hands formed the dry land."
Do you see what this one example does? The Psalmist acts as the worship leader, gathering together the people of God. He tells them to sing to the Lord and to come before him with thanksgiving. Then, he tells them why they should. God is a great God, and there is none like him. A few verses later there is another command to worship and it is followed by a reminder that God is our God and that he is near to us.
In the Psalms, we see what worship entails. We sing and we call upon the Lord with an attitude of whole-hearted thanksgiving. The Psalmist shows worship to be jubilant and energetic, but in a way that is fired by a passion for the glory of God rather than forced through emotionalism. The Psalms move us to worship with a reminder of the character and being of the God whom we worship. We come to him, not because we love worship as an end in itself, but
To Reacquaint Ourselves with Trust in the Lord's Deliverance
As I was reviewing some memory verses a few days ago, I came across Psalm 20:7. "Some trust in chariots and some in horses, but we trust in the name of the Lord our God." This Psalm of David begins with "May the name of the God of Jacob protect you!" In this Psalm, David tells us to look to God alone for our deliverance from evil.
Psalm 121, the first Psalm of Ascents, begins, "I lift up my eyes to the hills. From where does my help come? My help comes from the Lord, who made heaven and earth." When the Psalmist looked up at those hills, he would have seen the "high places" where people worshipped idols. They cried out to wood and stone for deliverance when their true help only came from the Lord.
The biblical prophets rebuked the kings of Israel for making treaties with foreign nations like Egypt because the Lord is their protector and helper. Rather than walking by faith and trusting in the God of Jacob for their protection, the kings looked to other nations with stronger armies. They looked for the enemy of their enemy and assumed them to be their friend. This broke faith with the Lord and compromised their singular allegiance to him.
Christians today face the same temptation. I live in Alabama, and as you may have heard, we have a heated Senate race on our hands. Every day I hear something about how important this election is to preserving the Republican majority in the Senate. If we don't do this, our future could be in peril. This is the same thing I heard last year about the Presidential election. "Christians must vote. This is the most important election of our lifetime!" I heard this same mantra repeated in 2012, 2008, 2004, 2000, 1996, and 1992.
The real problems in American culture cannot be solved by elections. The pressure Christians in America are starting to feel cannot be eased by government intervention alone. The only hope for our friends and neighbors is the Gospel. They won't hear it if we spend all of our time trying to win elections. The Lord will protect his people on the day of testing, so we don't "need" any candidate. The King looks out for us.
To Reacquaint Ourselves with God's Wisdom
When we think about the Psalms, the first ones that usually come to our minds are the majestic Psalms of praise and the laments. We often forget about the treasure trove of encouragement that can be found in the wisdom Psalms. These Psalms observe life and then teach us how to walk skillfully.
The first Psalm is a great example of this. It begins by describing the character of the righteous man. He separates himself from the sinful ways of the world. Rather than immersing himself in the sin and foolishness around him, he bathes in God's word. The Psalmist describes him as meditating on God's word "day and night." The results for the righteous and wicked could not diverge in a more drastic fashion. The righteous man is immovable, planted firmly by an ever-flowing stream that provides nourishment for his soul. The foolish and sinful man is like chaff blown by the wind and he does not stand in the company of God's people.
We live in a culture marked by its foolishness and Christians often immerse themselves in this cesspool of folly. The wisdom Psalms show us a better way. They point us to genuine faith in God and then to a life marked by following his word. The wisdom Psalms put the disastrous effects of foolishness on full display and implore us to see the beauty of wisdom. The more foolish our culture becomes, the more we need to hear their message.
To Reacquaint Ourselves with King Jesus
One of the beauties of reading all of Scripture is that we get a multi-faceted testimony to who Jesus is. None of these testimonies disagree, but they work together to complement each other and show us the full panorama of Jesus' excellencies. The Psalms particularly show Jesus as the King who rules and reigns over the earth.
In both Psalm 110 and Psalm 2, we see the absolute folly of rebelling against this great King whose enemies are a footstool for his feet. Psalm 2 pictures the nations raging in rebellion against God while he and his anointed King laugh in the face of their opposition. We see the God's delight in this King, and his approval of him as his Son.
Yet, we also see in this Psalms that this great King condescends to identify with his people. David wrote Psalm 22 as his enemies seemed to be drawing the net around him. He asks aloud why the Lord would forsake him, yet he will praise God in his adversity and looks forward to the Lord's sure deliverance. Jesus quoted this Psalm from the cross and the people who heard him would have known the reference immediately. Like David, Jesus' enemies seemed to be winning, yet God would ultimately vindicate him in his resurrection from the dead. Jesus' death rescues us from the sword of God's wrath and delivers us from the jaws of death. He does this for his people.
The Psalms deliver us from an overly-sentimental view of Jesus that results from our superficial reading of the Gospels. We read the Gospels, see how kind Jesus is, and allow our Christology to stop with: "Jesus is nice." When we read the Psalms and the Gospels, we see the Son of God who rules, who reigns, who comes near to save his people, who shows compassion to the broken, who triumphs over sin through his death, and who defeats death through his resurrection.
Read the Psalms Slowly
Our tendency when we think about starting reading a new section of Scripture is to plow through it quickly. If you are not familiar with the Psalms, begin with one a day. (In addition to reading the Psalms, you can also pray through them.) Look for what the Psalmist says about God, what he says about worship, how he calls on the Lord in trouble, what he says about life, and how he points to Christ. Reading and reflecting on the Psalms will deepen your understanding of who God is, fan the flames of your love for him, and show you how to trust him during life's darkest moments.
Related Posts:
"Why We Struggle to Pray in the Digital Age"
"Cultivating a Deep Walk with the Lord"
For Further Reading:
How to Read the Psalms by Tremper Longman III
The Songs of Jesus by Tim and Kathy Keller