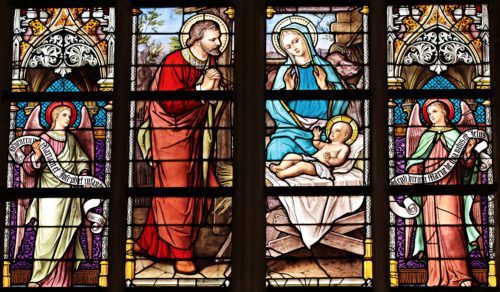 Sometimes we use casual language that betrays our understanding of the Gospel. We see this in little ways every day, but especially in the way that we describe especially mature Christians. How often do we talk about a faithful older Christian and say, "I'll tell you what, she is a saint?"
At its root, the word "saint" isn't speaking about a really spiritual person, but a person who has been made holy. To avoid the confusion several newer translations use the phrase "holy ones" instead of "saints." We shouldn't lose this word, though. Instead, we need to regain an understanding of what it means to be a "saint" and how it shapes our view of the Christian life.
In fact, if we look at the first two paragraphs of Colossians, we see four characteristics of a person who is a saint.
Paul, an apostle of Christ Jesus by the will of God, and Timothy our brother, To the saints and faithful brothers in Christ at Colossae: Grace to you and peace from God our Father. 
"We always thank God, the Father of our Lord Jesus Christ, when we pray for you, since we heard of your faith in Christ Jesus and of the love that you have for all the saints, because of the hope laid up for you in heaven. Of this you have heard before in the word of the truth, the gospel, which has come to you, as indeed in the whole world it is bearing fruit and increasing—as it also does among you, since the day you heard it and understood the grace of God in truth, just as you learned it from Epaphras our beloved fellow servant. He is a faithful minister of Christ on your behalf and has made known to us your love in the Spirit." (Colossians 1:1-8)
Saints Live Ordinary Christian Lives
Paul wrote to the Colossian church as it was plagued by a heresy that appears to be a mixture of Jewish legalism and pagan mysticism. From what Paul says in the rest of the letter, we see that they led Christians in this church astray with empty philosophy and human reasoning. They valued the severe treatment of the body and observance of festivals to put to death the imperfections of the flesh. Above all, they seem to have had a defective view of the deity and death of Christ.
Paul tackles the challenges presented by this hodgepodge of heresy head on and begins his refutation of it in the first paragraph. He identified the readers of his letter as the "saints and faithful brothers in Christ at Colossae." For Paul, saints and faithful brothers are not two distinct groups of people, but two ways of referring to the one group of people to whom he was writing.
Every Christian is a saint. Since the root of "saints" has to do with holiness, we can simply say that a saint is a person who has been made holy through the life, death, and resurrection of Jesus Christ. They stand before God justified, for as Paul said in Romans 8:1, "There is therefore now no condemnation for those who are in Christ Jesus.
The second half of Paul's description tells us what kind of life this holiness produces. Those who have been made holy by Jesus live faithful Christian lives. Because of our new position in Christ, we long to live for him and do so by the power that his Spirit supplies. Saints obey Jesus, commune with the Father through Jesus, work their jobs for God and not for themselves, and love their neighbors. They don't live on some mythical higher plane, but live their everyday lives for God's glory, laboring us those filled with God's own strength.
Saints Receive a Beautiful Inheritance
Two clauses in verses 2, 3, and 4 show us something of the wonderful privileges that saints enjoy because of the Gospel. First, Paul told the Colossians that he greeted them in the name of "God our Father." Here, he reminded them of their adoption as the children of God. Paul spoke often in his letters of the blessings that come to Christians because God adopts them as his own children when they are united with Christ.
In Romans 8:15-17, Paul elaborated on the substance of these blessings. "For you did not receive the spirit of slavery to fall back into fear, but you have received the Spirit of adoption as sons, by whom we cry, 'Abba! Father!' The Spirit himself bears witness with our spirit that we are children of God, and if children, then heirs—heirs of God and fellow heirs with Christ, provided we suffer with him in order that we may also be glorified with him." Here we see those adopted as God's children have been adopted by God the Father and filled with his Spirit who reminds us of the glorious truth that we are fellow heirs with Jesus Christ.
Paul underscored this in Colossians 1:5 when he said he thanked God "because of the hope laid up for you in heaven." Every Christian possesses the hope of sharing in Christ's inheritance in the new heavens and the new earth. This great hope sustains us through the difficulties of life in this present evil age because we know that Christ has the last word.
Saints Place Their Faith in Christ Alone
Paul told us something of the way a person becomes a saint in verse 4 when he said that he thanks God for these believers "because of your faith in Christ Jesus." We need to pay special attention to the grammar of this verse because we often speak of faith in a nebulous way as if faith simply means wishing against all evidence that everything is just going to turn out okay.
The saving faith Paul spoke of in this verse has a particular object– "in Christ Jesus." Christians don't have faith in an impersonal cosmic justice or that everything just works itself out in the end. The Christian places his faith "in Christ Jesus." That means that the Christian relies on and rests in the Lord Jesus Christ for salvation.
Paul showed in the rest of his letters that faith unites the Christian to Jesus Christ. For example, in Romans 6, Paul challenged his readers to put to death the sin that remained in them because they had been united with Christ in the likeness of his death, burial, and resurrection. The one who has faith in Christ lives in a vital union with Christ where we find our life in him and his life has filled us. So, when we speak of faith, we must make sure that we speak specifically about faith in Jesus alone.
Saints Love Their Brothers and Sisters
Paul seamlessly transitioned from faith to love. He thanked God for their faith in Christ and "for the love that you have for all the saints." Faith leads to love. The person who places her faith in Christ Jesus experiences the love of God and has "the love of God shed abroad" in her heart. This new heart, which has been changed by the love of Christ, begins to show this love to others.
In one sense, the new heart of the Christian will be shown in his love for every person created in the image of God. After all, Jesus said the first and greatest command is to love God and the second is to love your neighbor as yourself. So, the person who has faith in Christ will grow in love for every person and seek their greatest good as he would his own.
However, Paul spoke of a specific kind of love that marked out the believers to whom he was speaking. They loved "all the saints." In Galatians 6, Paul said that we are to do good to all, but especially those who belong to the household of faith. While we love all, we have a particular love for our brothers and sisters in Christ. Our Christian friends are our coheirs with Christ, bound in a blood that runs thicker than bonds of physical family. We love the household of faith, showing every kindness we can to them because we have been loved by Jesus.
Today, we should take heart. Even the weakest brother or sister who trusts in Christ is a saint. She has God as her Father, Jesus intercedes for her, the Holy Spirit fills her, and a glorious future awaits her. Every Christian enjoys these privileges; and it compels us to love God, love our brothers and sisters, and to do good to all in the name of Christ.
Related Posts:
"How Can I Know that I Am a Christian?"
"Why Christians Need the Gospel Every Day"
For Further Reading:
The Hope of Glory by Sam Storms
Redemption Accomplished and Applied by John Murray