Important Muslim News for May 2- June 1, 2015.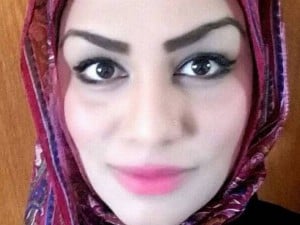 It was an eventful past few days of news and events about Muslims, from the anti-Muslim rally (and counter rally) in front of a mosque in Phoenix, Arizona to a prominent Muslim women being discriminated against on a plane to an innocent American citizen being released after spending almost two years in an Egyptian prison, to the Supreme Court favorable ruling for Muslim woman denied a job over her headscarf.
On May 30, 2015, Tahera Ahmed, who works as a Muslim chaplain, accused United Airlines of discrimination after she was allegedly told that she could not have an unopened soda can because she could use it as a weapon. She immediately posted about the incident on her Facebook account and it went viral.
Brushing things under the carpet won't do you any good @united. @TaheraHAhmad #unitedfortahera pic.twitter.com/Y5sYJhWSnH

— Omer Mohammad (@omerm27) May 31, 2015
The Hashtag #UnitedForTahera was started in support of Ms. Ahmed. The statement that United Airlines later released was called 'dismissive" by Ms. Ahmed's supporters.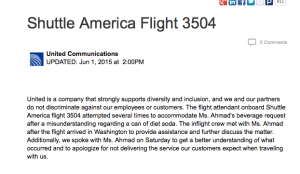 Social media and the news media quickly picked up the news, with prominent imams and Islamic scholars like Sheikh Omar Suleiman and Imam Suhaib Webb declaring a boycott of the airlines. News outlets like CNN, Al Jazeera and The Intercept have also reported on the story.
Also on May 30, Mohamed Soltan,who has been detained in Egypt since 2013, was released. People far and wide celebrated his release. Watch this emotional video:
And finally, on June 1, 2015,the
United States Supreme Court ruled
in favor of Samantha Elauf, a young Muslim woman, who was denied a job at Abercrombie & Fitch because her hijab (headscarf) went against the "look policy."A win for all those who believe in the first amendment.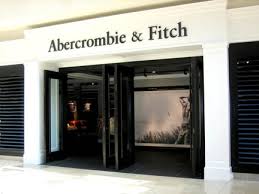 ---
Sabina Khan-Ibarra is a freelance writer and editor. She regularly contributes to her blog, Ibrahim's Tree which she created after the loss of her infant son in 2011. She created Muslimah Montage as a platform for women to share their stories. Sabina currently lives in Davis, CA and working on her memoir. Follow Sabina on Twitter: @muslimahmontage