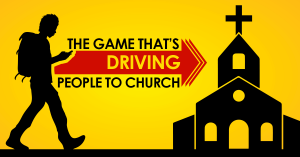 In a waking haze a few weeks back I was scanning the news links with my morning coffee and saw something that said: "Pokemon GO sends people to church!" Not my cup o' tea, so to speak – also, not being hip to Pokemon – other than knowing what the Pocket Monster thingies look like – I did not follow the link.
That same day, I returned from lunch to witness 4 cars parked on a parish driveway by the church drop off. The drivers were all just staring down at their phones.
When I came into the office, I said to the secretary: "Who are your friends?"
She said, "Wha …? Who?"
"There's four" – I looked again – "SIX cars parked out in the parish driveway!"
She looked, confirmed … I got online and searched "Pokemon Go Churches":
One of the first things that popped up during my search was a MEME that read:
20 Years Ago when we first appeared on the scene … Churches said we were demonic … now we're sending people to church!
TWENTY years ago. A lot has happened since then …
Listen to the whole story on the Orthodixie Podcast on Ancient Faith Radio!