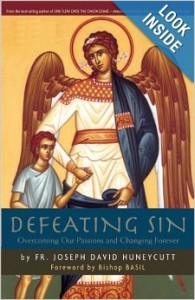 Defeating Sin: Overcoming Our Passions and Changing Forever
by Joseph David Huneycutt
Copyright: October 2007
Publisher: Regina Orthodox Press
Summary:
Defeating Sin will help readers to better understand the disease that troubles the human soul. Defeating Sin will prove an invaluable aid for those engaged in spiritual warfare, helping them make that U-trun from the passions toward the virtues. Christians of all denominational background will benefit from the ancient wisdom of the Church Fathers and the perpetual call to repentance.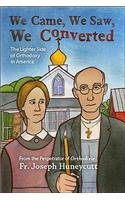 We Came, We Saw, We Converted: The Lighter Side of Orthodoxy in America
by Joseph David Huneycutt
Copyright: December 2009
Publisher: Conciliar Press
Summary:
Based on his popular blog and Ancient Faith Radio podcast, Orthodixie, Fr. Joseph Huneycutt presents a humorous look at the pluses, minuses, joys, pitfalls, and struggles of perpetual conversion within an Orthodox Christian worldview. Within these pages you will find all those familiar characters you have encountered in exploring American Orthodoxy but with a hilarious twist: the Orthodox Christian anarchist, the Orthodox white boy, and that incomparable superhero, Ortho-Man. You ll be introduced to the lighter side of fasting, theosis, living a holy life in a secular world, and the struggle to understand those on the other side of the cradle/convert divide. For those days when acquiring the mind of Christ seems impossibly serious and, well, just plain impossible, a quick dip into We Came, We Saw, We Converted will restore your sense of humor and help you get up and try again.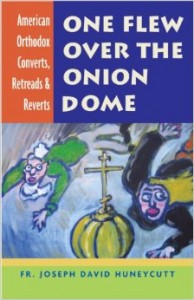 One Flew Over the Onion Dome: American Orthodox Converts, Retreads & Reverts Paperback
by Joseph David Huneycutt
Copyright: January, 2007
Publisher: Regina Orthodox Press
Summary:
Converts to the Orthodox Church are sometimes stunned by the ethnic ghetto they seem to have landed in. Cradle Orthodox are no less amazed by these zealous, sometimes apparently nutty, converts. And priests seem to not have a clue as to how to deal the the mixed blessing of new comers. How on earth can we all understand each other? This book answers these quandaries.