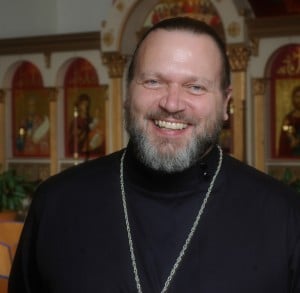 Fr Joseph Huneycutt was reared a Southern Baptist in North Carolina. After more than a decade as an Episcopalian, he converted to Orthodoxy in 1993. He received a BS in Communication Arts from Appalachian State University (1982), a Master of Divinity from Nashotah House Episcopal Seminary in Wisconsin (1992), and a Doctor of Ministry in the Eastern Christian Context from Pittsburgh Theological Seminary in conjunction with the Antiochian House of Studies in 1999.
Fr Joseph hosts the Orthodixie Podcast on Ancient Faith Radio and publishes a blog by the same name. His is the author of One Flew Over the Onion Dome – American Orthodox Converts, Retreads & Reverts,  (2006); DEFEATING SIN: Overcoming Our Passions and Changing Forever (2007), published by Regina Orthodox Press; and, We Came, We Saw, We Converted – The Lighter Side of Orthodoxy in America (2009), published by Conciliar Press.  He and Steve Robinson are currently working on a new book for Conciliar Press tentatively titled, Fire from Ashes – The Reality of Perpetual Conversion.
Fr Joseph is the Pastor of St Joseph Antiochian Orthodox Church, Houston, Texas. He and his wife Elizabeth have three children: Mary Catherine, Basil, and Helen; a black poodle named Wotan, and a black cat named Lily.