In his ecclesiological reflection Called to Communion, then-Joseph Cardinal Ratzinger devotes an entire chapter to Eucharistic ecclesiology. "The Church is Eucharist," he stated, before introducing the concept of communio – both vertical and horizontal. As the future Pope Benedict XVI explained, although writing as a private theologian: "The Church is communion; she is the communion of the Word and Body of Christ and is thus communion among men, who by means of this communion that brings them together from above and from within are made one people, indeed, one Body."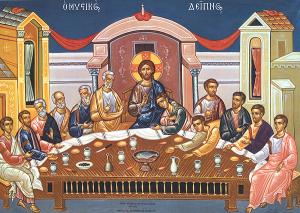 In short, there is a double meaning to communion – one sacramental and one ecclesiological – and both are brought together in eucharistic ecclesiology. The first is the vertical communion between God and man through man's participation in the Sacred Mysteries, also known as the Holy Eucharist. The second is the horizontal communion among Christians who through the Eucharist become one Body in Christ.
I am a firm believer that both vertical and horizontal communion are important as fully-initiated Christians: that is, as Christians validly baptized, chrismated (or confirmed), and communed in the Eucharistic Mysteries. It takes both vertical and horizontal to make the sign of the cross.
Likewise, both sacramental and ecclesiological meanings of communion are important when discussing ecumenism between Catholicism and Orthodoxy. After all, a restoration of communion between ecclesiological entities would also bring about a restoration of communion in the partaking of Sacred Mysteries.
Yet must the latter necessarily follow the former in working toward a restoration of full communion? Or might a restoration of ecclesiological communion follow a period of communicatio in sacris: a period during which Eastern Orthodoxy and Catholicism had restored a communion of the cup?
As we Byzantine Christians on the Julian Calendar celebrate Christ's resurrection today, I would like to roll out a series discussing the possibility of restored shared communion in light of canon law and both East and West's understanding of Eucharistic ecclesiology.