Birth is the archetypal rite of passage for a woman, containing the essential elements of any ritual: separation from normal life, a profound transition during which the participants occupy a timeless time, followed by re-entry into society in a changed state. It can also be seen as a holy sacrament; the entry of a soul from another plane into this earthly dimension. — Jackie Singer, Birthrites
Birthrites: Rituals and Celebrations for the Child-bearing Years was a fortuitous find for me, a book stumbled upon in a bookstore and title hastily scribbled down before I agreed to read my toddler a picture book. From home I emailed Jackie Singer and she was kind enough to send me a review copy to read in quieter moments.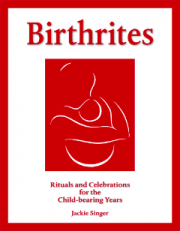 This book isn't written for an exclusively Pagan audience, but Singer's experience in several religious communities includes Paganism. So the book is very accessible to Pagans, and maybe even more useful than many Pagan books because she doesn't offer ritual scripts that either cater to the lowest common denominator generic Pagan or else are so thoroughly embedded in a particular Pagan tradition as to require a great deal of adaptation to be used in a different tradition. Instead, this book is subtle, complex, and offers lots of support and specific ideas for readers planning ceremonies appropriate to their own families and communities.
Underlying everything in Birthrites is the belief that as the coming generations will face new environmental and social challenges, "We owe it both to our children and to the world, to conceive, birth and welcome our children with as much love and prayerfulness as possible." (178)
Singer is also careful to attend to a wide range of pregnancy outcomes. While many families conceive, birth, and welcome children all with intention and joy, these are not universal experiences. Birthrites makes plenty of space for ritualizing and honoring the sacred in the experiences of infertility, miscarriage, stillbirth, adoption, abortion, and even the deliberate choice to not have children.
This book will be of particular use to readers in the UK because Singer occasionally offers UK-based resources, but these in no way dominate the text. I highly recommend Birthrites to anyone seeking inspiration and guidance in ritualizing the childbearing years.
You can read an excerpt from the book here.
Jackie Singer, Birthrites: Rituals and Celebrations for the Child-bearing Years. Permanent Publications, 2009.
Sarah Whedon teaches in the Department of Theology and Religious History at Cherry Hill Seminary and is the founding editor of Pagan Families: Resources for Pagan Pregnancy and Birth. Sarah's teaching, research, and advocacy work center around topics of spirituality, feminism, and reproduction. She makes her home in San Francisco with her partner and their children.