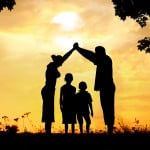 It's time again for the monthly link round-up of the best articles and resources for Pagan families from around the web.
About families and ancestor work, from Witches and Pagans: "Yes, I know the topic of ancestor work can be a controversial one in the pagan community, because so many of us have deceased family members we wouldn't call on if it was the last option open to us."

About birth & death in Paganism, from The Wild Hunt: "Moore has been working for 15 years to make midwifery more accessible to women in Iowa and to help women reclaim their power. She said, "I believe in women. I believe women's strength. I know that midwifery is its own type of magick. Maybe not in a supernatural way, but magick just the same."" [We profiled Melanie Moore a while back in our Birth Guardians series.]
About a child facilitating a workshop, also from The Wild Hunt: 

"We bring Pixie with us to ritual all the time and try to answer her questions but I think she could learn so much more and understand so much more from her peers."

About postpartum sealing ceremonies, from Sacred Pregnancy: 

"The clear message to ourselves is that we care enough to give our energy back to ourselves; we love ourselves enough to put ourselves back together, to honour our vessel."
Get articles like these throughout the month when you follow Pagan Families on Facebook or Twitter.