Today we continue the series profiling people who work with pregnancy, birth, or the postpartum period (prenatal massage therapists, childbirth educators, OB/GYNs, doulas, midwives, lactation consultants, labor & delivery nurses, pediatricians, etc.) and are Pagan or work with a Pagan community. Birth guardians we've previously profiled are Jane Hardwicke Collings and Ben Hoshour. If you would like to be a part of the series please send an email to paganfamilieseditor@gmail.com.
What is your name?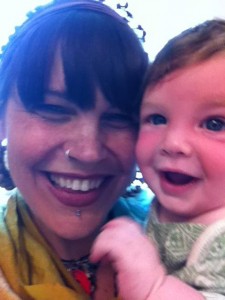 Melanie Elizabeth Moore
What kind of work do you do with pregnancy, birth, or the postpartum period?
I am an apprentice trained Certified Professional Midwife, and also a doula, childbirth educator, and Dancing for Birth instructor.
In what ways does Paganism affect your work?
The first book that I ever read on pregnancy and birth was Hygeiea by Jeannine Parvati Baker. I was already a witch, and this book helped me to connect my religion and sexuality. My cycles are sacred. My sexuality is sacred. My birth is sacred. I have given birth to 7 children, the first born by cesarean, the rest born at home (VBAC). Three were born in water, and my youngest two were unassisted outdoor waterbirths. My powerful birth experiences led me to believe that all women deserve to give birth with knowledge, power, dignity and joy. I want women to really own and enjoy their pregnancy and birth. They should have song, dance, and ritual. They are Godesses!
How can we honor what is sacred in childbearing?
Recognize that it is a natural part of women's sexual cycle; to be celebrated, and not feared.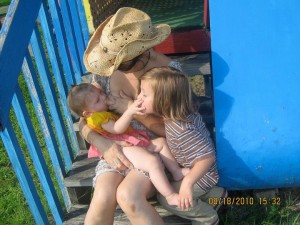 If you could tell Pagans one thing about pregnancy or birth, what would it be?
If this is your first child, I say now it is time to stand up and be Pagan. That means telling your parents. Having the birth the you want is only the first part of being a parent. The decisions keep coming from here. Circumcision (please do not mutilate your sons). Immunizations. Schooling. Baptisms. Stand by your beliefs. Your children are watching.
Find Melanie on the web at:
manyhandshouse@gmail.com
http://www.facebook.com/midwifemelanie
www.MidwifeMelanie.com