Today's profile of Isa Gucciardi, Ph.D. is part of our series profiling people who work with pregnancy, birth, or the postpartum period (prenatal massage therapists, childbirth educators, OB/GYNs, doulas, midwives, lactation consultants, labor & delivery nurses, pediatricians, etc.) and are Pagan or work with a Pagan community. Check out the previous Birth Guardian profiles. If you would like to be a part of the series please send an email to paganfamilieseditor@gmail.com. Now here's Isa's profile.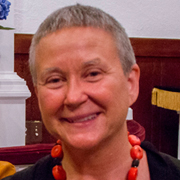 What kind of work do you do with pregnancy, birth, or the postpartum period?
I train midwives, doulas, other birth professionals and families through several classes, including Tracking Spirit in the Birth Environment, Initiations of the Sacred Feminine, and Initiations of the Sacred Masculine at the Foundation of the Sacred Stream. And I work one on one with parents, parents to be and with families within my counseling practice of Depth Hypnosis, focusing on their issues around pregnancy and birth.
In what ways does Paganism affect your work?
There are many definitions of Paganism used by people who consider themselves pagans and by those who do not. I understand Paganism to be a system of thought and experience that strives to align itself with the forces of nature and with the Earth. Within this definition, my work centers completely around understanding the forces of nature, learning how to listen to the wisdom of the Earth, and discerning how best to bring the power of those forces and the Earth into the affairs of humans.
I founded the Foundation of the Sacred Stream and chose that name because I feel there is a stream of knowledge that emerges from the Earth that can be and has been tapped into by many shamanic and earth-based wisdom traditions. This stream informs all healing, artistic and spirit traditions that seek to make more evident the power of nature in human affairs in a positive and life-giving way.
This stream of wisdom can be brought forward more effectively into the modern environment and through our classes we seek to bring it forward. Through the Foundation, I teach classes on Applied Shamanism, Depth Hypnosis, Integrated Energy Medicine and Applied Buddhist Psychology. All of these systems of study focus the power of the Earth through a slightly different prism to demonstrate how to work with that wisdom in a particular way to heal, empower and stabilize both the beings who live within the Earth and the Earth herself.
How can we honor what is sacred in childbearing?
I have just written a book, Return to the Great Mother, which is entirely about rekindling and refocusing the sacred in the birthing environment. The Great Mother, of course, is the live-giving and generative force that has guided human affairs since time immemorial. All cultures have some kind of embodiment of this force described in within their spiritual tradition. There is Quan Yin in China and Southeast Asia, Tara in Tibet, Hera and Thera in Greece, Isis in Egypt and a multitude of embodiments of the Great Feminine in shamanic traditions across the world. In modern times, we have lost touch with the field of energy embodied in these forms. This has created a crisis generally for human beings, and that crisis comes into focus in a powerful way as women try to give birth without access to this resource. Return to the Great Mother offers tools to women to be able to recover access to the sacred in childbearing in a direct, practical and profound way.
If you could tell Pagans one thing about pregnancy or birth, what would it be?
Pregnancy and the process of giving birth is one of the most important initiatory processes that humans experience. Everyone who enters into this initiation must learn about the nature of initiation and must undertake the process of understanding one's own initiatory path through childbirth and childbearing. When our experience of childbearing is put into this larger context, the lessons about our own spiritual path open. This leads us to understand ourselves, our children and our families in a new light. And this understanding has the potential to transform how we understand ourselves as human beings.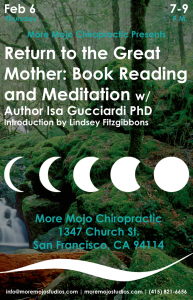 Isa can be found online at www.sacredstream.org and www.depthhypnosis.org.
She'll be holding a reading from Return to the Great Mother on Thursday, February 6, 2014, 7:00 p.m. – 9:00 p.m at More Mojo Chiropractic, 1347 Church St, San Francisco, CA 94114.