Food, nutrition, and nourishment can raise a bewildering array of questions during the childbearing year. Can I eat a healthy vegetarian diet while I am pregnant? What foods should I eat and what should I avoid? How much weight should I gain? Should I be concerned about gestational diabetes? Will I breastfeed or bottle-feed my baby?
On top of all that, Pagans who celebrate their physical bodies and their connection to the natural world may also have ritual and theological questions about food. Selina Rifkin, who writes about paganism, food, and spirituality at Cauldron to Kitchen told me that Pagans should care about what we eat because, "As an earth-based religious practice, being embodied is a celebration. But when we are not healthy, it is harder to feel celebratory."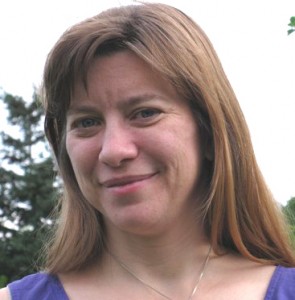 If treating eating as part of your spiritual life is new to you, getting started might be overwhelming. Selina has a few simple suggestions:
Pay attention to what you eat and when. Are you eating out of habit? Emotion? Eat because you are hungry and honor your food. Learn how to cook if you don't know. That is a skill all adult humans need. You don't have to be a gourmet, but you should be able to make yourself real food from scratch, that you enjoy eating. Find out where your food comes from. Talk to the person who produces it if possible. Make the connection between what you eat and how you feel. Be in your body when you eat. Treat your food as sacred. Our ancestors recognized that food becomes part of us. It is who we are, part of our identities.
If you want to go deeper into the topic with Selina, starting next week she will be teaching an open enrollment course at Cherry Hill Seminary on Sacred Nourishment.
We'll also be exploring some topics specific to childbearing and food in the coming weeks here at Pagan Families. What topics would you like to see addressed?
Sarah Whedon teaches in the Department of Theology and Religious History at Cherry Hill Seminary and is the founding editor of Pagan Families: Resources for Pagan Pregnancy and Birth. Sarah's teaching, research, and advocacy work center around topics of spirituality, feminism, and reproduction. She makes her home in San Francisco with her partner and their children.