Tuesday is Election Day in the U.S. I won't tell you here what to mark on your ballot, but I will urge you, if you can vote this week, please do. And if you do vote, then think of the Pagan families.
What I mean is, vote for the candidates who are most likely to work hard to make sure we have the freedom and resources to decide whom we'll partner with, whether and when we'll become parents, how we'll bring our children into the world, and how we'll share our religion with them.
Because these are all at stake on Tuesday.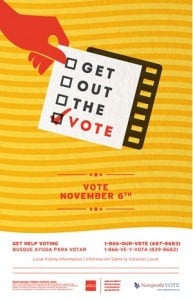 Still not convinced you should bother to vote? Check out Starhawk's call to action:
"for Goddess sake, get off your high horse and your butts and get out there and vote!"
Sarah Whedon is Chair of the Department of Theology and Religious History at Cherry Hill Seminary and is the founding editor of Pagan Families: Resources for Pagan Pregnancy and Birth. Sarah's teaching, research, and advocacy work center around topics of spirituality, feminism, and reproduction. She makes her home in San Francisco with her partner and their children.