Hello Patheos! I'm so excited to be writing this greeting. I can't wait to share lots of Pagan pregnancy and birth resources with you.
I founded Pagan Families in May 2011 as a place to generate and collect resources on pregnancy and childbirth for Pagans. Think The Pagan Book of Living and Dying for the childbearing year. We gave it the expansive name Pagan Families so we'd have lots of room to grow, but we certainly don't believe that birthing a baby is the only way to grow a family.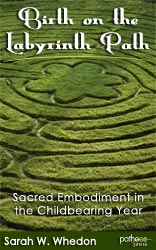 In Spring 2012 I published the ebook Birth on the Labyrinth Path with Patheos Press, and in Fall 2012 the new Pagan Portal manager Christine Kraemer invited me to move Pagan Families to Patheos.
We'd already shared re-posts (with permission of course) from Patheos bloggers Kris Bradley and Tara "Masery" Miller, and profiled Nadirah Adeye in our Birth Guardians series. The Pagan portal seems like our kind of place.
Pagan Families has always relied on community input. The original site was birthed thanks to contributions from Sierra Black, Lily Shahar Kunning, and Niki Whiting, who all supported it from the beginning, and Adam Blodgett who was the webmaster for the original site. Johanna Bobrow contributed photography and design for the banner, and her photograph forms the base for our new banner here at Patheos.
Pagan Families also welcomes new contributors. If you're a writer, by all means send us your essays, your poems, your ritual scripts, your prayers, your personal narratives, and your advice.
Pagan Families aims to address the full spectrum of human reproduction, including contraception, infertility, conception, miscarriage, abortion, pregnancy, birth, adoption, and the postpartum period.
We recognize that Pagan families are diverse families and we especially welcome contributions reflecting needs and experiences of families of color, single parents, blended families, queer parents, polyamorous parents, poor and working class families, parents with disabilities, and members of diverse Pagan traditions.
In the coming days we already have lined up a post about life in the NICU, a review of some beautiful oracle cards, a discussion of the components of ritual as it pertains to a mother blessing ceremony, and a round-up of new resources for Paganism and pregnancy.
The wonderful tech folks here at Patheos are working on importing all the posts from our old site so that you can have access in one place to all the resources we've been collecting, from inspiration for spiritual practice during pregnancy to meditations on the meaning of motherhood to profiles of Pagan birth-workers. Please let us know what else you'd like to see here.
Blessed be.