A new study out last week provides evidence for the safety of midwifery care in birth centers. The abstract states:
This study demonstrates the safety of the midwifery-led birth center model of collaborative care as well as continued low obstetric intervention rates, similar to previous studies of birth center care. These findings are particularly remarkable in an era characterized by increases in obstetric intervention and cesarean birth nationwide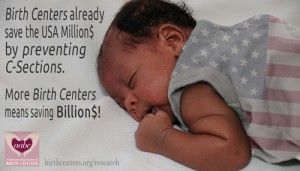 If reading scientific studies isn't your cup of tea, you might prefer this consumer summary, which says
Expecting families who choose the birth center setting in the U.S. can expect high-quality, family-centered care with a Cesarean rate of approximately 6%.
The publication of this study has inspired midwifery advocates. At Childbirth Connection Amy Romano offers Five Reasons Birth Centers Have Met Their Moment. Citizens For Midwifery issued a call for consumers to support birth centers:
If you already have a birth center in your community:

Support it! Send them love today on Facebook, host a fundraiser, become their champion.

If your community does not have a birth center:

Read the article and the consumer summary and share them on social media.
Host a meeting to gather energy, information, and support.
Learn about birth center regulations in your state and what the potential barriers may be.
Send a copy of the article to local doctors and hospital administrators.
Birth centers operate on the midwifery model of care, and Pagans overwhelmingly want to birth with midwives. According to Kimberly Hedrick's Pagan Health Survey, "The majority of Pagans would opt for natural childbirth attended by a midwife, with less than 20% saying they would find drugs acceptable for childbirth."
So how will you use this new information about the quality of care offered by birth centers?