A weekly Wednesday Wisdom post — two or three quotes on a theme related to Paganism and childbearing, inviting us to meditate.  This week: when we see ourselves in the Goddess, we claim our thunderous power.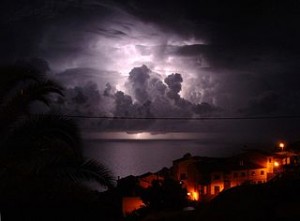 "The image of the Goddess inspires women to see ourselves as divine, our bodies as sacred, the changing phases of our lives as holy, our aggression as healthy, our anger as purifying, and our power to nurture and create, but also to limit and destroy when necessary, as the very force that sustains all life." -Starhawk
"You that come to birth and bring the mysteries, your voice-thunder makes us very happy. Roar, lion of the heart, and tear me open!" -Rumi
"The thunder through my pelvis is the truest sensation of life I can remember experiencing." -Francesca Lia Block, Guarding The Moon
How do we manifest the power to create and to destroy? How is birthing like a thunder storm?
Image Credit: Thunderstorm, captured from Garajau (Madeira, Portugal) by Don Amaro http://commons.wikimedia.org/wiki/File:Thunder_lightning_Garajau_Madeira_289985700.jpg