This year's first raspberries at 21 weeks pregnant.

…The spirit of adventure
runs through my veins
with the rich color
of crushed raspberry

May it always run so free
may it be blessed
and may I be reminded
of the courage and love
shown in small, wild adventures.
Last year I wrote about my "Inanna's descent" as I picked wild raspberries with my children.
…I was thinking about how I was hot, tired, sweaty, sore, scratched, bloody, worn, and stained from what "should" have been a simple, fun little outing with my children and the above prayer came to my lips. I felt inspired by the idea that parenting involves uncountable numbers of small, wild adventures. I was no longer "just" a mom trying to find raspberries with her kids, I was a raspberry warrior. I braved brambles, swallowed irritations, battled bugs, sweated, swore, argued, struggled, crawled into scary spaces and over rough terrain, lost possessions and let go of the need to find them, and served as a rescuer of others. I gave my blood and body over to the task.
In that post I included a raspberry sorbet recipe. Today, the first raspberries of the season are ready again and so I took my 21-weeks-pregnant Raspberry Warrior self and went on another small adventure to collect the reward. My plan for today's berries is not sorbet, however, it is raspberry cobbler using my all-time favorite cobbler recipe (modified from this one: Blackberry Cobbler #1 | The Pioneer Woman Cooks | Ree Drummond). I felt like sharing my version here, in case any of you would also like to enjoy one with your family!
Ingredients
1 stick butter
1 cup sugar
1 cup flour
1/2 ts. salt
1 ts. baking powder
1 cup milk
2 cups raspberries (fresh or frozen)
Instructions
Melt butter. Mix sugar and flour into the same baking dish in which you plan to bake the cobbler. Whisk in milk. Pour in melted butter and whisk again.
Scatter rinsed raspberries evenly over the top of the batter.
Bake in the oven at 350 degrees for about 1 hour until golden and bubbly.
Serve with whipped cream on top if desired, though plain is delightfully delicious as well!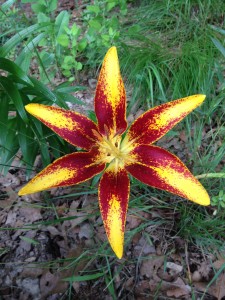 —
My full Raspberry Warrior poem is reprinted in my newly published free gift offering for newsletter subscribers at Brigid's Grove (if you aren't signed up yet, fill in your email on the right hand side of the screen at the BG website and you will receive the free book within 24 hours). This freebie is a 56 page book of earth-based poetry. Most of the poems were originally published on my Woodspriestess blog, but there are also several that are being first released in this book.