Something new at Pagan Tama! I'm going to try and do weekly round-ups of Pagan & Shinto news and opinion piece from the media. I monitor the news fairly closely, because I like to know what's going on in the day-to-day worlds of Paganism, Shinto and religion in general, and how Paganism and Shinto are covered in the media. And I thought it'd be a good idea to share a round-up of relevant news I've found with the world. I may also include Patheos pieces from time to time.
So this round-up will include:
News and articles related to Paganism, Wicca etc.
News and articles related to Shinto
Any other news, articles etc. that may be of interest to Pagans and Shintoists
Here we go for week Apr 2nd- 8th!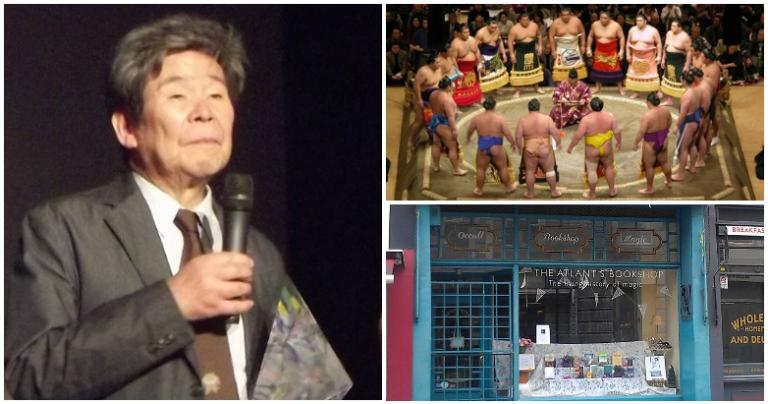 Pagan News
Camden New Journal: Witchcraft bookshop celebrates its 96th birthday
Atlantis Bookshop had to trade 'discreetly' for first 30 years…
The Wild Hunt: Pagans join March for Our Lives
Within the overlapping Pagan communities are individuals and groups which embrace activism as part of their practices, and they participated in actions on both coasts as well as deeper inland…
The Telegraph: Meet the modern 'hipster witches' making a fortune from casting spells 
"Harmony Nice, 20 and Georgia Burns, 21 are 21st century witches. Specifically, they are wiccans and with their heavy eye makeup, septum piercings and crystal ball tattoos they couldn't be more hip."…
Vice: Racists Are Threatening to Take Over Paganism
The growing presence of racists in American Pagan communities threatens to tear the faith apart…
Patheos: Support The Wild Hunt – It's the Liberal Thing to Do
"Did you see The Wild Hunt on Saturday? No, you didn't. They went dark for the first time in 14 years"…
The Guardian: From Circe to Clinton: why powerful women are cast as witches
A misogynist insult in Washington and Westminster, a force for good in Hollywood … for centuries, witches have personified fear of assertive women. But why does the stereotype persist?…
VT Digger: 'Cyber druid' memorialized in posthumous book
Ivan McBeth — a Brit from the English shire of Devon who took up residence 3,000 miles west in rural Washington County — died almost a year and a half ago at age 63. "The Bardic Book of Becoming: an Introduction to Modern Druidry" was coauthored by his wife, Fearn Lickfield…
Artslant: Txema Novelo Answers 5 Questions
"By matching the contemporary drive of modern counterculture with the ancient instruction manuals that belong to many ancient spiritual sources—Kabbalah, Sufism, Gnosticism, Paganism—I want to resist the capitalist agenda through refilling the spirit with something more than H&M and Starbucks."…
The Wild Hunt: Paganicon as a Journey through Heathenry, Need, and Healing
Each March since 2011, Paganicon emerges after a difficult Minnesota winter as a celebration of all that is Pagan…
Shinto News
BBC: Japanese women ordered from sumo ring during first aid
The ring is regarded as sacred and women, traditionally seen as "impure", are forbidden from entering…
Japan Times: Amid uproar over gender discrimination in sumo, female mayor barred from speaking from the ring
Takarazuka Mayor Tomoko Nakagawa had asked the organizer of a Friday sumo exhibition in the Hyogo Prefecture city to let her deliver a speech from the ring, but the organizer said no after consulting with the Japan Sumo Association…
Japan Times: Mie Prefecture shrine association gets license to grow cannabis for Shinto rituals
The Mie Prefectural Government has granted a local association a license to cultivate cannabis for making items used in Shinto rituals, including shimenawa (traditional ropes hung at a shrine's entrance)…
The Mainichi: Japanese Government approves plan for imperial succession rites next year
The government on Tuesday approved a basic plan for how to stage the imperial succession rites next year, including an enthronement ceremony on Oct. 22 to mark Crown Prince Naruhito's accession…
Japan Today: Emperor's enthronement ceremonies previously sparked religious controversy
Ceremonies marking Emperor Akihito's enthronement in 1989 and 1990 have sparked controversy, with critics claiming the government violated the postwar Constitution which bans the state from engaging in religious activities when it conducted them as state occasions…
PinkNews: Japan's annual penis festival was amazing
A penis festival in Japan has once again attracted tens of thousands of visitors who took to the streets with penis lollipops, noses, signs and headwear – along with a huge ceremonial phallus…
Lonely Planet: Japan's Nara Park issues warnings to tourists after local deer jump in for a nibble
Deer in Japan are in Shinto considered to be a messenger of the gods and have become a symbol in the city…
Other News
The Guardian: Studio Ghibli co-founder Isao Takahata dies aged 82
Takahata's latest film, The Tale of the Princess Kaguya, earned him an Academy award nomination in 2014 for best animated feature…
Japan Times: Kyoto turns to crowdfunding to maintain lesser known cultural assets
In an effort to get younger people more involved with preserving Kyoto's traditional culture, a local heritage association has begun a crowdfunding campaign that seeks small, individual donations for the repair of temples, shrines and cultural assets…
The Wild Hunt: The appropriation of African Traditional Religion by human traffickers
A number of victim advocacy organizations are discovering the use of cultural elements from African traditions being appropriated by human traffickers in an effort to manipulate victims from African communities…
SoraNews24: Japanese sake now comes in incense form for Buddhist rituals
Perfect for purifying your home and sending wafts of alcohol to deceased friends in the afterlife…
Horticulture Week: Japan to extend "cherry blossom diplomacy" to UK with gift of a thousand trees
Japanese individuals and companies are raising funds to plant a target of 1,000 cherry trees across UK parks as a symbol of bilateral friendship…
Standard Media, Kenya: Two Kilifi elders escape death in church over witchcraft claims
An elderly man and a woman escaped death yesterday after they were attacked by family members who accused them of witchcraft…
Lusaka Times, Zambia: 13 people plead guilty for causing damage over suspected witchcraft
Members of the public ransacked shops and burnt a vehicle of a person suspected of practicing witchcraft…
Face 2 Face Africa: Malawi reviews witchcraft laws amid increasing accusations
"The review seeks to address the gaps in the law that have resulted in the failure to protect Malawians from witchcraft and suspects of witchcraft from unfair prosecution."…
Bulawayo24, Zimbabwe: Tsikamutanda (witch hunter) nailed over witchcraft accusations
A tsikamutanda from Buhera was on Monday fined $100 or 20 days in jail for accusing two villagers of being witches…
PJ Media, Pakistan: Two Arrested for Exorcism in Pakistan, 12 'Wizards Accused of Witchcraft' Arrested So Far
Authorities have arrested two people for performing an exorcism in Peshawar, Pakistan. The country has launched a crackdown against the practice, arguing that exorcists and "wizards" are deceiving the public…