Top stories in Paganism and Shinto for May 21st – 27th:
Pagan stabbing victim John Bennett speaks out
Tokyo celebrates Sanja Matsuri festival
Murder at Scottish witch's memorial
Read more below…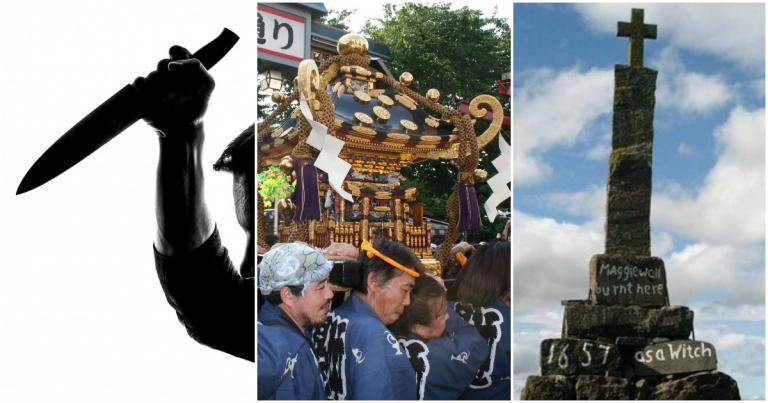 Pagan News
The Wild Hunt: Pagan stabbing victim speaks out
John Bennett, a practicing witch, was assaulted by two of his neighbours in Hillbury Park, the residential semi-retirement community in which all three reside, on November 4th 2017…
National Secular Society: Pagan family affected by imposed Christian status on faith school
"We are Pagan and are not happy about being forced into a Christian school," said Natasha James…
BoingBoing: Interview: Dr. Karl E H Seigfried talks Ásatrú, Heathenry and beards
Dr. Karl E.H. Seigfried holds degrees in literature and music from University of California at San Diego, University of Wisconsin at Madison, and University of Texas at Austin…
Witch On Fire: What do Millennial Witches need from the Craft?
Which witchery will they adopt and adapt for their time? Which witchery do they reject and will allow to die out?…
Tea Addicted Witch: The Orphic Hymns Are Getting A Modern Facelift, And They're Incredible
There is a new project underway which is retranslating the Orphic Hymns for better understanding and use by modern Greek polytheists…
The Wild Hunt: UK festival overview: Beltane to Lammas
Beltane is the start of a busy early-summer season for British Pagans, with a range of events taking place between now and Lammas…
Shinto News
The Mainichi: Tokyo's Asakusa district comes alive with the Sanja Matsuri festival
The "Sanja Matsuri" festival, one of the big three annual festivals of the Japanese capital, reached its peak on the final day of ceremonies on May 20…
Religious Travel Planning: Top 8 Renowned Religious Sites in Japan
Take a journey through Japan's most visited religious sites, from shrines in the country's historic capital, to spiritual locations along the coast and everything in between…
Other News
The Sun: Ayrshire death victim's brother accused of stabbing her at witch's monument in Perthshire
Jordan Johnstone, 24, is accused of killing Annalise, 22, at the Maggie Wall's memorial…
IFL Science: This Ancient Rock Art Does Something Incredible Every Summer Solstice
It was only until relatively recently that locals noticed a curious feature on the largest and best-preserved petroglyph site in the valley, the V-Bar-V Heritage Site…
Devon Live: The dark history of Exeter – the first and last place to kill a 'witch'
For more than 100 years Exeter was England's epicentre for witchcraft with county's first and last apparent witch hangings taking place in the city…
The Wild Hunt: Prayer in public schools takes center stage in Louisiana
It is not surprising to find Louisiana is one of the major battle grounds for religious freedom, not only at a local level but at a state level. This has been true for cases involving public school prayer in recent months.
SoraNews24: Arashiyama bamboo forest in Kyoto "crying" as tourists vandalise trees
Kyoto has a heartbreaking message for visitors who carve graffiti on trees in the famous grove…
Northeast Today, India: 60-yr-old man murdered on suspicion of practicing witchcraft
A 60 year old man, who was suspected of practicing witchcraft, was found murdered, about a kilometer from his house this morning in West Garo Hills district of Meghalaya…
How Stuff Works: How the Alphabet May Have Destroyed Goddesses
Once upon a time, goddesses reigned supreme, and ancient humans worshiped the primordial powers of Isis, Aphrodite, Inanna, Nuwa and others – deities with great powers…