Top stories in Paganism and Shinto this week:
Minivan attack near Meiji Shrine blights New Year celebrations
Heathen religious services held aboard aircraft carrier
Sacred soil used by druids may defeat superbugs
Read more below…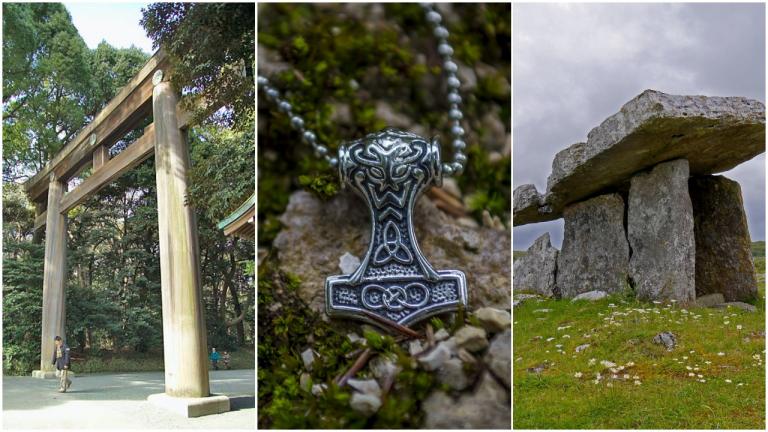 Japanese New Year Coverage
Minivan hits pedestrians gathered for New Year in Tokyo
The Guardian
Suspect arrested and questioned after nine injured near popular Meiji Shrine, police said…
Man who plowed car into pedestrians on New Year's had planned to ignite crowds at Meiji Shrine
The Japan Times
The arrested driver of a car that plowed into a crowd in the Harajuku district of Tokyo at New Year has said he was planning to spray kerosene at people at a popular Shinto shrine and set them ablaze, investigative sources said Friday…
Man strips atop stone lantern at Ise Jingu shrine on New Year's Eve
SoraNews24
New Year's Eve gets out of hand at Japan's most holy shrine…
New year, new opportunities: What to expect in the Year of the Boar
The Japan Times
According to astrologists, pigs have plenty of good traits that will serve us well in 2019 — the Year of the Boar according to the Chinese calendar.
Washinomiya Shrine Welcomes 2019 with Anime Collaboration Goods
Crunchyroll
Limited-edition can badges and key-holders feature a team up between "Lucky Star" and "Full Metal Panic"…
Emperor Akihito greets well-wishers in final New Year's address
The Japan Times
Emperor Akihito spoke of his hopes for world peace Wednesday in the final New Year's address of his reign, with a record 154,800 well-wishers visiting the Imperial Palace during the course of the day…
Kyoto shrine gauges the amount of worshipping
The Japan News
The counting of money offered in the first three days of the New Year has started at Fushimi Inari Taisha shrine in Fushimi Ward, Kyoto, known as a shrine for good business…
Thousands seek New Year's blessings at 115-year-old Shinto temple in Nuuanu, Hawaii
Star Advertiser
About 4,000 people were expected to stop by the 115-year-old Shinto temple between New Year's Eve evening and mid-afternoon New Year's Day to receive a traditional Shinto blessing from the Rev. Akihiro Okada and other designated priests and priestesses…
Japan ranks top spots to view the first sunrise of 2019
SoraNews24
Japan decides which spots are the best places to catch the final dawn of the Heisei Era…
Celebrating New Year's the island way
The Japan Times
On the small island where I live in the middle of Japan's Seto Inland Sea, new year celebrations are stalwart traditional…
Traditional activities to ring in the new year
The Japan Times
Shogatsu, or New Year's holidays, are a special time for Japanese, who typically revisit and take part in long-standing traditions…
Learn how to do Japanese New Year's the right way and avoid bad luck
SoraNews24
These six New Year's taboos mean you'll be doing a lot less cooking, fighting and random spending at the start of the year…
Other Shinto News
Yasukuni protesters from Hong Kong to face trespassing charges
Japan Today
Two Hong Kong activists who were arrested by Japanese police for trespassing after staging a protest at the Yasukuni Shrine two weeks ago will be prosecuted in Japan in February, a local legislator said…
More shrines, temples accept e-money for saisen donations
The Japan News
The number of shrines and temples in Japan that accept saisen monetary offerings via e-money is increasing…
Mimusubi
Shinto, as a whole, does not have a unified position on anything…
Pagan News
Sailors Hold Heathen Religious Services Aboard Deployed Aircraft Carrier
Military.com
If you're deployed aboard the carrier John C. Stennis and consider yourself a practitioner of Norse paganism, you're in luck…
Rudy Giuliani: Witches shouldn't be offended by Mueller's investigation being called a witch hunt
Washington Examiner
Practicing witches shouldn't resent being referenced in political attacks on special counsel Robert Mueller's federal Russia investigation, according to Rudy Giuliani…
Woman with alleged Wiccan links 'tried to sell underage virgin relative to pedophiles in Morocco'
Metro
"McNamara says he and his deputies are probing claims that Parker had links to wicca – pagan witchcraft – and are investigating whether this was linked to her alleged human trafficking."
2018 Trends and 2019 Expectations within the Pagan Communities
The Wild Hunt
The Wild Hunt "spoke" via email with Reverend Selena Fox of Circle Sanctuary and Robert Schreiwer of the Troth. This exchange concerned trends within the greater Pagan communities in 2018, expectations for 2019, and Pagan visibility in the media in 2018…
'Pagan chaplain' lends a healing hand
Otago Daily Times
From wiccans and druids to homesick students just wanting a bit of guidance, the University of Otago's pagan contacts aim to bring a little bit of healing magic to everyone…
Doreen Valiente – Witch, spy and friend to royalty
The Wild Hunt
The doors opened on an exhibition of artifacts from the Doreen Valiente collection this month, but it was the new biography of the U.K.'s most famous Witch that caused the biggest stir…
Why are Greeks returning to the ancient gods?
Greece High Definition
The Return of the Hellenes focus on the 12 main gods of ancient Greece — the dodecatheon…
Witch House Music: Soundtrack For The Modern Witch Aesthetic
Patheos Pagan: Starlight Witch
Minor chords. Spooky sounds. A little trippy. A driving but mellow beat. It's Witch House…
Other News
Scientists Discover Bacteria In Soil Where Druids Once Lived In Ireland Which May Destroy Superbugs
Inquisitr
Scientists have discovered a new strain of bacteria in Irish soil that was traditionally sacred and used to treat ailments which may halt four out of six superbugs which are currently resistant to antibiotics…
Stone from great pyramid to go on display in Edinburgh
BBC News
The only casing stone from the Great Pyramid of Giza to be displayed anywhere outside Egypt is to go on show in Edinburgh…
Icelanders light bonfires for the elves on New Year's Eve
Iceland Monitor
An Icelandic New Year's Eve tradition is to light bonfires where families gather to sing songs about the elves and the hidden folk who according to folklore are prominent at this time of year…
Witches Race in Switzerland
In The Snow
An annual ski race staged in memory of a witch is back in the Valais region of Switzerland this January…
Stonehenge's ancient history raises very modern questions about our identity
Telegraph
According to a genetic paper published in 2017, within two centuries of completing their crowning achievement on Salisbury Plain, 90 per cent of Britain's megalith-builders were replaced by an invading population…
Stonehenge: Last owner's letter found inside book
BBC News
A thank you note from the last private owner of Stonehenge has been found inside a book at a museum in Wiltshire…
Can an auto-immune illness explain the Salem witch hunts?
BBC
There are now compelling reasons to think that at least one of the girls may have suffered from a much-misunderstood neurological condition…
January's Birthstone Is Steeped In History, Sentimentality And Spirituality
Forbes
History, sentiment, and spirituality are all linked to garnet, January's Birthstone…
The surprising roots of the mysterious Green Man
BBC
Alastair Sooke discovers the origins of the eerie, foliage-covered faces found in churches throughout Britain…
Idol-pop trio turn temples into gig spots
The Japan Times
The members of one all-girl pop group that performs primarily at temples in Kyoto has seen their prayers answered in recent years as their fan base has grown steadily…
The witches of 2018 summoned an essential message
Polygon
From Sabrina to Suspiria, pop culture spellcasters found power in covens…
'Chilling Adventures Of Sabrina' Is Getting A Prequel In 'Season Of The Witch'
ScienceFiction.com
Fans have been going wild over 'Chilling Adventures Of Sabrina' and Netflix is making sure to keep us happy with more of everyone's favorite teenage witch…
Sho player Ko Ishikawa pushes the boundaries of gagaku with free improvisation
The Japan Times
To this day, the Imperial Household Agency Orchestra remains traditional, hierarchical and primarily focused on private performances for religious rites and ceremonies in the current Imperial court…
New emperor's era to be announced April 1
The Tribune
Abe stressed that 2019 will be a historic year for Japan, noting the Year of the Boar in the Asian zodiac heralds a year of determination…
Spectators awed by 'Diamond Fuji'
NHK World
People visiting a town in Yamanashi Prefecture Wednesday were rewarded with a dazzling spectacle on Mt. Fuji…
Politics of Religion, Religion of Politics
The Wild Hunt
As a Pagan, I also believe that political representation ought not be based on religious affiliation…
Zimbabwe: Granny killed over witchcraft claims
Bulawayo 24
Police in Mutawatawa have launched a manhunt for a 34-year-old man who allegedly killed his maternal grandmother accusing her of casting an evil spell on his sister…
India: Tribal man brutally killed for suspected witchcraft in Tripura
Business Standard
Suspected of practising black magic and witchcraft, an elderly tribal man was hacked to death in the northeastern state of Tripura…
Nigeria: Father 'poisons' three sons with Sniper over suspicion of witchcraft
The Guardian Nigeria
The Bayelsa State police command has arrested a 42-year-old father of three, Sunday Otasi, for allegedly killing his two sons with a poisonous substance known as 'Sniper' over his suspicion of witchcraft…
Modern witch-hunts terrorise New Guinea highlands
The Sun Daily
A spate of brutal witch-hunts has plunged parts of Papua New Guinea's highlands into a state of terror, as fearful tribes blame dark forces for their rapidly changing world…