Top stories in Paganism and Shinto this week:
Memorial for witch-hunt victims unveiled in India
30% of Japanese believe in kami, says survey
Most Japanese still offer cash at shrines despite QR code option
Read more below…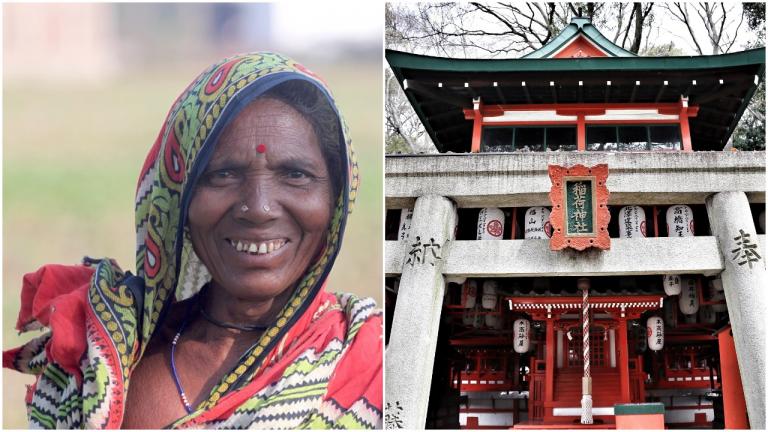 Pagan News
Pagans give stamp of approval to Royal Mail's celebration of one of their gods
The Telegraph
The Royal Mail is to issue a 'pagan' stamp next month, depicting the Norse god Thor, the hammer wielding god of thunder and protector of mankind…
Modern day witch says her spells landed her the perfect match on Tinder
Metro
Just two weeks after casting a spell to find her perfect man, Kate Goth, 30, from Devon, found Adam Taylor, 33, on Tinder…
Schism Is A Sad But Necessary Thing – A Pagan's Letter To His Methodist Friends
Patheos Pagan: Under The Ancient Oaks
Why is a Pagan writing about this? Because I have family and friends in the United Methodist Church who are saddened and concerned with this situation…
Black Authors Writing Awesome Books For Pagans
Patheos Pagan: Dandelionlady
In honor of Black History Month, or more like using it as a good excuse, I've put together a list of black authors writing books that pagans should read…
First Day of Spring 2019: How the vernal equinox marks the changing seasons
The Telegraph
The March equinox (called the autumnal equinox in the Southern Hemisphere) has long been celebrated as a time of rebirth in the Northern Hemisphere…
Equinox supermoon, and more can't-miss sky shows in March
National Geographic
Look up this month to see planetary pairings, ghostly lights, and a special spring supermoon…
Shinto News
Japanese social attitudes: 30% believe in kami
Mimusubi
About 30% of people believe in kami, about 40% believe in Buddhas, and about 30% don't believe anything religious…
Despite convenience of QR code donations, most worshippers still prefer to offer cash at temples and shrines
The Japan Times
As Japanese businesses slowly move toward adopting cashless payments, some temples and shrines are beginning to follow suit for donations. Yet worshippers are divided by the move by religious institutions, with some still shunning the method, saying they feel it will bring them worse luck…
Japan seeks UNESCO heritage list recognition for traditional architectural craftsmanship
The Japan Times
The centuries-old traditional style of craftsmanship covers techniques in 17 areas essential for repairing and restoring shrines, temples and old houses…
This Spring Marks the 50th Anniversary of Japan's Penis Festival. Here's What You Need to Know.
Hornet
Every spring, a fertility festival called Kanamara Matsuri — which directly translates to "Festival of the Steel Phallus" but is colloquially referred to as the Japanese Penis Festival — makes its way to Japan's Kawasaki prefecture, located not far outside of Tokyo…
Japanese battle flag returned to shrine
Airforce Times
Senior Master Sgt. William Lowell Armstrong, a flight superintendent stationed at Kunsan Air Base, South Korea, returned his grandfather's war trophy to the Gunma Gokoku Shrine, which honors deceased veterans, in Takasaki…
Plum blossom festival held at Kyoto shrine
NHK World
An annual festival featuring plum blossom and honoring an ancient scholar has been held at a shrine in Kyoto, western Japan…
Japanese "Gagaku" Classical Music Dating Coming to California university
Noozhawk
It has been presented at the Imperial Court of Japan since the 7th century, encompassing music and dance that originated in China and the Korean peninsula…
Carpenter to the Gods: An interview with traditional carpenter Kawai Takami
Kyoto Journal
Kawai took part in the 62nd rebuilding of Ise Shrine, a ritual process known as Shikinen Sengu…
At ancient shrine, emperors sought divine favor
The Japan News
In Kumano, there are three Kumano Sanzan grand shrines — Hongu Taisha, Hayatama Taisha and Nachi Taisha…
Girl power the Hina Matsuri way March 3
Stars And Stripes Japan
The Hina Matsuri, or Doll Festival, is primarily a custom for families with girls…
Other News
New memorial in India commemorates 'witch' hunt victims
Thomson Reuters Foundation
A memorial dedicated to victims of witch hunts has been unveiled in India's eastern state of Odisha as part of a campaign to stamp out the branding and persecution of women as "witches", which is still widespread among poor and tribal communities…
Witchcraft is Not Prosecutable under Liberian Laws, say lawyers
Liberian Observer
A group of lawyers organized to advocate for the promotion, protection and advancement of the rights of women, has condemned the recent inhumane treatment by citizens against two women in Sinoe County…
An Ancient Sphinx Has Been Discovered In Egypt After King Tut's Grandfather Abandoned It Over 3,000 Years Ago
Inquisitr
The sandstone ram-headed sphinx was recovered from a workshop in Gebel el Silsila, and it is thought that the pharaoh Amenhotep III may have abandoned this commission over 3,000 years ago…
Witchcraft mooted in theft from crypt
The Times
The theft of a mummified head from a Dublin crypt may be connected to voodoo or witchcraft, an archaeologist has said…
Mysterious 'secret Stonehenges' of Britain that go back 10,000 years
The Sun
Hundreds of ancient ruins and burial sites have been uncovered across the country, proving that Stonehenge isn't the only prehistoric wonder the UK has to offer.
India: Witch hunt cases on the rise in Rayagada despite awareness campaigns
Orissa Post
espite capital punishment handed down to nine accused by Gunpur ADJ court, cases of witch hunting are still being reported from various parts of Rayagada district…
Funding concerns for Stonehenge tunnel
New Civil Engineer
Funding concerns for the £1.6bn Stonehenge tunnel have been raised by MPs…
Izumo hopes new English website will woo more foreign tourists
The Asahi Shimbun
It's "the land of the gods," and home to Izumo Taisha shrine, where all Japan's deities are said to assemble each October, but this city still isn't on the radar for most foreign tourists…
Woman forced to offer blood to Goddess in Odisha
The New Indian Express
a tribal woman was forced by her family to offer blood by piercing sensitive parts of her body in order to propitiate the Goddess for prosperity…
Stanford researcher examines earliest concepts of artificial intelligence, robots in ancient myths
Stanford News
In her latest research, Stanford classics scholar Adrienne Mayor highlights ancient Greek myths that contained ideas about creating artificial, lifelike creatures…
The Bargarran Witches – Devil's Marks, curses and the witch trials of 1697
Glasgow Live
The people hung and burned were victims of a widespread hysteria in Scotland throughout the 17th century – fuelled by the fear of Satan and the occult…
Japan, cherry blossom season will arrive early in spring 2019 because of climate change
Lifegate
Every year, just for a few weeks, everybody in Japan goes crazy for hanami, the iconic cherry blossom season. The forecast for spring 2019 is that it will arrive earlier than usual again…
Heather's life-long love affair with fairy folklore is still going strong
South Coast Herald
The Umdoni Retirement Village resident loves having people over to visit her fairy garden…
Japan's Ainu recognition bill: What does it mean for Hokkaido's indigenous people?
The Japan Times
In a first for Japan, a bill to legally recognize the Ainu as the indigenous people of Japan is about to be submitted to the Diet…
Kenya: Villagers burn family accused of 'witchcraft' to death
Punch
Five people, including three children, were burnt to death in their home in Kenya by neighbours who accused a member of the family of practising witchcraft…
India: Three killed on suspicion of witchcraft
The Hindu
Three persons — a couple and 77-year-old woman — were allegedly killed on suspicion of witchcraft in the Gunupur police station area of Odisha's Rayagada district…
Zambia: Man Killed for Suspected Witchcraft
Zambia Reports
Unknown people have axed to death a 58-year-old man of chief Mpumba's area in Muchinga Province for suspected witchcraft…
Zimbabwe: Man kills relative, burns body over witchcraft
Zimbabwe Daily
A Chipinge man allegedly killed his relative by stoning him before setting the body ablaze in his bedroom in a case of 'alleged witchcraft'…
Delhi: Posing as occultist, man befriends woman on Facebook, rapes her

Mirror Now
A 28-year-old man befriended a woman on Facebook by posing as an occultist and allegedly raped her in Farsh Bazar area…