Top stories in Paganism and Shinto this week:
First Christian Witches' convention coming to Salem
Greeks angry at construction near Acropolis
Conservative Christians claim Ocasio-Cortez is a witch leading attack against Trump
Read more below…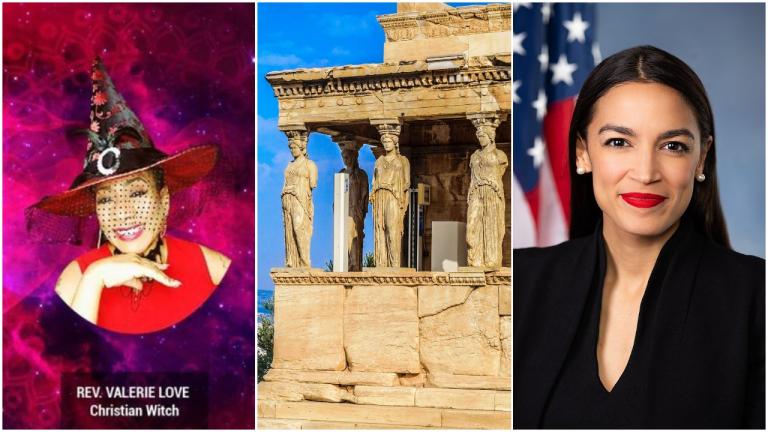 Pagan News
First Christian Witches' convention coming to Salem
Christian Post
The first annual Christian witches convention is set to be hosted in Salem, Massachusetts, this April and will feature internationally recognized Prophet Calvin Witcher who agrees with the convention's host that Jesus was a sorcerer and the Bible is really a "book of magic."…
Conservative Christians Claim Ocasio-Cortez Is A Witch Leading Attack Against Trump
Patheos Nonreligious: Progressive Secular Humanist
Conservative Christians claim Alexandria Ocasio-Cortez is a witch guided by demons and leading an attack against President Donald Trump…
Super Snow Moon 2019: Facts, myths and legends
Mirror
Supermoons have been linked to many myths and legends throughout the years, including werewolves, fertility and even mania…
Growing Number Of Black Women Leaving Churches For Witchcraft
CBS Baltimore
A growing number of black women in Maryland are leaving traditional churches for witchcraft…
Watch Pagans, a short film about grief and girlhood in the UK countryside
Dazed Digital
Premiering here for the first time, Luscombe's latest foray into British culture follows three best friends from London on a hedonistic, drug-fuelled night out in the English countryside…
Zolita on why she incorporates witchcraft into her music
Gay Times
The self-described "practicing witch" on why it's important to explore female sexuality and feminism in her music…
Singer Wendy Rule reminds us of the universality of ancient Greek myth
Neos Kosmos
But truth be told, Rule has been connected with Greece and its ancient past for decades. Identifying spiritually as a pagan since the age of 25, she says that from a child she has been obsessed with ancient Greek mythology…
Witchy Woman: The Tom Brady Spell
WND
Bündchen is deeply involved in yoga, meditation, crystals, astrology, a dab of Buddhism, Taoism and the Mexican spiritual guru Don Miguel Ruiz….
Unpacking witchcraft and its surrounding stigma
UD Review
Bringing up witchcraft in a room full of people elicits a strange response: typically, people immediately become skeptical and scared, associating the practice with satanism and the past. However, witchcraft still thrives today, even on university campuses…
Coming Out Of The Broom Closet
Patheos Pagan: Double, Toil & Resist
Yesterday, a friend and I spoke about our levels of Witch "outness," and whether our work as Witches should be about giving Witches a good name…
Shinto News
Cleveland Museum of Art to host 'Shinto: Discovery of the Divine in Japanese Art' exhibition
Cleveland.com
The Cleveland-only exhibition, opening April 9, will explore Japan's unique belief system through rare works of high historic, artistic and academic value, many designated Important Cultural Properties by Japan…
Shinto priestess to perform Japanese dance at Kent County Public Library
Dover Post
Certified Japanese kimono consultant and Shinto priestess the Rev. Kuniko Kanawa will perform a Kyo-no-shiki — Four Seasons in Kyoto of Apprentice Geisha's Dance — in addition to a kimono lecture and kimono dressing demonstration…
Japanese Penis Festival 2019: Everything you need to know for this year's Kanamara Matsuri
SoraNews24
For the past five decades, Kanayama Shrine in Tokyo's neighbouring prefecture of Kawasaki has been coming to life every spring with a fertility festival that pays tribute to the penis…
9,000 men clash to touch 'lucky' man in Aichi festival
The Asahi Shimbun
Shuki Matsumoto, 27, chosen by the shrine as this year's "shin otoko" (man of god) was immediately swarmed by the frenzied men clad only in traditional "fundoshi" loincloths when he appeared on an approach to the Owari Okunitamajinja shrine, also known as Konomiya shrine…
If dolls are your thing, head to a city in Chiba for Hina Matsuri
The Asahi Shimbun
"Bigger is better" seems to be the motto of city officials here when it comes to the Hina Matsuri (Doll festival) celebrated on March 3…
Marie Kondo and Kuyō: Is throwing things away really a religious experience?
Religion News Service
The KonMari method is often said to be grounded in Shintoism, Japan's indigenous system of ritual practice…
Restoring faith to Japan's sad forest
BBC News
Playing music loudly at the edge of the forest, Watanabe is a musician who reminds those he meets that it is a shrine to an ancient Japanese water god, and not somewhere to take one's own life…
Power spots in Japan can give you an edge
Stripes Japan
Everyone is looking for an edge. In Japan, folks depend on "Power Spots" that are believed to cleanse, refresh and rejuvenate one's mind and soul…
What Marie Kondo Can Teach Witches About The Shadow
Patheos Pagan: For Puck's Sake
Marie Kondo is someone whom I absolutely adore. She's a former Shinto priestess and her Netflix show is amazing, particularly because she's bringing awareness of animism to people in America, who wouldn't normally think about talking to the Spirit of Place or viewing objects as entities…
Other News
Greeks Angry at Construction Near the "Holy Rock"
Greek Reporter
Two new buildings under construction near the Acropolis have caused a public outrage because their height has already blocked some views of the ancient Greek monument…
Born again Christian mum and son chanted 'death by fire' at woman they thought was a witch
Metro
A mother and son chanted 'death by fire' at their neighbour who they believe is a 'witch', a court heard.
6.5K tourists watch sun alignment at Abu Simbel temple
Egypt Today
A total of 6,500 tourists watched the sun alignment at the face of Ramses II status at Abu Simbel temple in Aswan for 20 minutes on Friday morning, announced the Egyptian Ministry of Antiquities in a statement…
'Pagan sorceress' Viking necklace on display in York
BBC News
A "stunning" piece of Viking jewellery worn by a "pagan sorceress" found at Peel Castle, has gone on display off the island for the first time…
Robotic Kannon unveiled at Kyoto temple
The Japan Times
A robot modeled after Kannon Bodhisattva and designed to explain the teachings of Buddha in plain terms was unveiled to the media at Kodaiji Temple in the city of Kyoto on Saturday…
Researchers Pinpoint Site Of Salem Witch Trials Next To A Walgreens
The Frisky
The site known as Proctor's Ledge has been confirmed as the spot where 19 people accused of witchcraft were hanged in 1692…
Ancient Celtic cross knocked down by car in Cornwall
Cornwall Live
The historic Celtic cross, which was first mentioned in a document from 1290, was hit by a car, which lost control in King Street leading into High Cross and the area in front of Truro Cathedral…
An anti-vax religious group apologizes for its role in a major measles outbreak in Japan
Quartz
In late January, Kyusei Shinkyo released a statement on its website apologizing for its responsibility in the measles outbreak…
As injuries hit record high, 80% of those hurt by deer in Nara Park are non-Japanese
Japan Times
The number of people injured by wild deer at Nara Park, a major tourist attraction in the city of Nara, has hit a record high of 200 in the current fiscal year, with non-Japanese, many of them tourists, accounting for some 80 percent of those wounded, the Nara Prefectural Government said Tuesday…
Millions of forest-dwelling indigenous people in India to be evicted
The Guardian
Critics say supreme court ruling constitutes 'mass eviction in name of conservation'…
Sheela-na-gigs: The naked women adorning Britain's churches
BBC News
For hundreds of years carvings of naked women have sat provocatively on churches across Britain. But who created them – and why?…
Finn-Kirsten Iversdatter: Norway's Forgotten Witch
Heritage Daily
Finn-Kirsten Iversdatter was the last person to be executed for witchcraft in central Norway, but her story was mostly forgotten…
Religious Privilege and the Road to Hell
The Wild Hunt
Religious bigots rarely see themselves as such…
Child abuse linked to witchcraft and demonic possession investigated in Bolton
The Bolton News
Horrific human rights abuses linked to certain beliefs in witchcraft take place around the world ­— and are said to be increasing in scale. And cases of possible child abuse connected with witchcraft and spirit possession ­have even been identified in Bolton…
India: Man beaten to death in 'witch hunting' case
Northeast Now
In a shocking case of suspected witch hunting, a man was beaten to death at Parbatjhora's Madati in Gauripur, Dhubri district of Assam…
Woman accuses stepmother of witchcraft, beats her up in UAE
Khaleej Times
A woman accused her stepmother of practicing witchcraft to control and influence her actions…
9 brutal torture methods and cruel punishments Scotland's 'witches' endured
The Scotsman
An estimated 4,000 to 6,000 Scots, mostly from the Lowlands, were tried for witchcraft between the late 15th and early 18th Century with around three quarters of those accused of sorcery and supernaturalism being women…