Top stories in Paganism and Shinto this week:
Shinto shrine seeks shrine maiden to perform services for anime figurines
Painting inspired by Dionysus removed from display following 'satanism' complaints
Canadian 'psychic' has witchcraft fraud charged dropped
Read more below…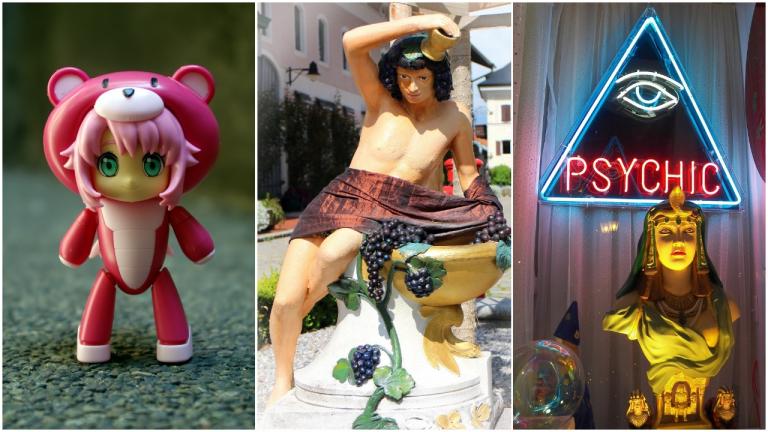 Pagan News
Canadian 'psychic' has witchcraft fraud charged dropped
CBC
At the time, police accused Butch of predicting something dreadful was about to happen to a client, then demanding money to use her powers to make it go away. This week, the crown withdrew that charge…
Witchcraft Business Booms due to Trump Administration, Evangelicals and CBD
Patheos Pagan: Heron Michelle
In all our friends and customers, we see that anxiety and depression is an ever-present concern, but access to medicine and mental health care are beyond the reach of many of us, so folks turn to metaphysics, magick and holistic healing methods to cope and create some change…
Denouncing Folkish Heathenry
Patheos Pagan: Molly Khan
The truth is that hateful beliefs are not uncommon within Heathenry, especially where they are toned-down and made to sound more palatable as Folkish Heathens do…
How a strange Thor-worshipping religion is linked to the Christchurch mosque shootings
Stuff
An eccentric group of people fixated on protecting "Ethnic European Folk" stirred in Christchurch last year…
The Impending Loss of a Twin Cities Beltane Tradition
The Wild Hunt
This January, the Heart of the Beast Theatre announced that after 45 years, this year's celebration would be their last…
Janey and Adam's 'Witches and Vikings' Pagan Wedding in Glastonbury
Boho Weddings
Janey and Adam wanted a wedding that really represented their individuality and their beliefs in the pagan rituals including the Hand fasting and jumping the broomstick…
'Modern-day witch' ties the knot in death-themed wedding
Daily Star Sunday
The 39-year-old, who dubs herself as a "modern-day witch", decided to hold her wedding on the winter solstice as a celebration of the dead…
Witches queer our TVs for the better
The Gateway
Modern witchcraft, known as Wicca, rejects monotheism, patriarchy, and dogmatic Christian morality…
Why do we celebrate Easter and why do we have Easter eggs and an Easter Bunny?
The Sun
It's difficult to pinpoint the exact origin of the rabbit symbol, but many scholars believe it stems from pagan ritual…
Shinto News
Akihabara Shrine seeks shrine maiden to perform memorial services for "deceased" anime figures
SoraNews24
The newly hired maiden will be responsible for performing memorial services for figures and figurines…
Imperial Couple visits tomb of Emperor Jinmu in Nara ahead of abdication
The Mainichi
The Imperial Couple offered prayers individually to Emperor Jinmu, who is considered to be the first emperor of Japan, to report his retirement scheduled for April 30…
Touring traditional puppet show comes to Meiji Jingu Shrine
The Japan News
The latest performances of the Nippon Bunraku project took place on March 9-12 in front of a torii gate at Meiji Jingu shrine in Shibuya Ward, Tokyo…
Why Northeast China's Forgotten Japanese Shrines Still Matter
Sixth Tone
The few colonial-era temples still standing in the region should be protected and preserved, not left to rot…
Getting Ofuda outside Japan
Mimusubi
An "ofuda" is an item that contains the spirit of the kami of a jinja, which devotees can receive from the jinja in order to venerate the kami in their own home…
Farming with Kami
Green Shinto
Pre-Shinto rites were once centered around rice growing festivals and a reverence for life…
Other News
'Fall of Dionysus' painting removed from 'Tapestries Lakeland' project after 'satanism' complaints
The Ledger
Lakeland artist Aaron Corbitt announced Sunday that one of his paintings made for the "Tapestries Lakeland" project had been taken down after several complaints were made that it appeared to be "satanic."…
New Mexico archbishop again denounces Grim Reaper-like 'Santa Muerte' as not church-sanctioned
The Japan Times
A New Mexico archbishop is renewing his call for Catholics to stop worshipping the skeleton folk saint known as La Santa Muerte, or "Our Lady of Holy Death," saying he fears some mistakenly believe the Grim Reaper-like figure is a Roman Catholic Church-sanctioned saint…
Egypt discovers ancient port used by temple builders
Phys.org
Egypt says archaeologists have found a 3,000-year-old port where stones were transported to be used in the building of temples and obelisks…
Archaeologists In Egypt Have Unearthed A Lost Palace Hidden Inside The Ancient Temple Of Rameses II
Inquisitr
A lost palace has been discovered inside the Abydos, Egypt, temple of Ramesses the Great…
Adaptation of Ancient Greek Tragedy Dubbed Racist in France
Greek Reporter
The Sorbonne university in Paris was forced to cancel a performance of a Greek tragedy featuring actors using black masks after students claimed it was "Afrophobic, colonialist and racist."…
This exhibition near London is dedicated to the area's persecuted witches
Time Out
Reacting to intriguing locations across the east of England, the project uses sculpture, sound and moving images to explore themes of folklore and magic, remembrance and resistance, fear and violence…
How to (safely) enjoy Japan's famed deer park
CNN
The free-roaming animals are officially designated as a national natural treasure. Though they are considered messengers of the gods in the traditional Shinto religion, lately they've made headlines for some ill-informed behavior…
My month trying out Marie Kondo's Method
Big Think
My curiosity was piqued, however, when I stumbled upon an article discussing the Shinto influence on Marie Kondo's techniques…
Women and Witches: How Magic and Feminism Collided
The Vector
As European history progressed and the Protestant Reformation took hold on the continent, the Roman Catholic Church and other religious organizations became very concerned with stopping the threats of 'heresy' and 'black magic', which they saw as a threat to their power and the souls of the people…
The Denham girl who executed as a witch for being too beautiful
East Anglian Daily Times
The tormented spirit of a girl murdered as a witch who haunts Denham in the chains she was drowned in…
Where to buy the best mead, the historic drink gone hipster
The Telegraph
Mead, for most a drink swathed in myth and legend, is tipped to be making a comeback.