Top stories in Paganism and Shinto this week:
Appeal for Pagan author injured in road accident launched
Man threatens arson of Shinto shrine in Taiwan
Indigenous people fight to save sacred trees in Australia
Read more below…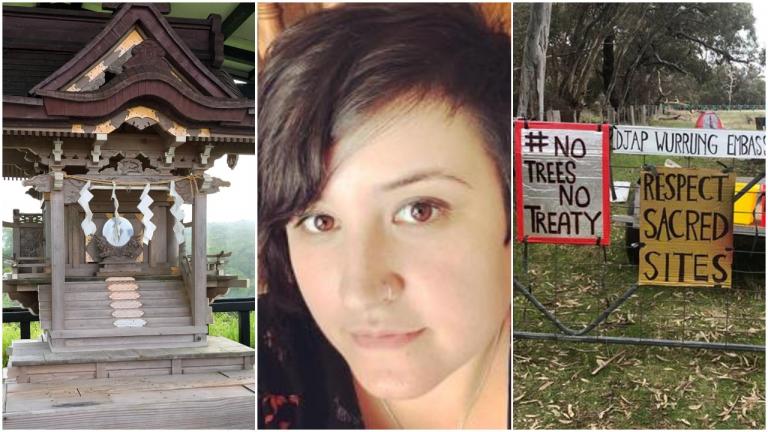 Pagan News
Appeal for Pagan author injured in road accident launched
The Wild Hunt
Last Thursday, Elizabeth Graham, an author for Llewellyn Worldwide publications, and who writes the blog, Hawthorne and the Rose for Patheos, was involved in a serious automobile accident that left them with broken ribs, a collapsed lung, lacerations to their spleen and liver, and internal bleeding…
Temple of Witchcraft plans to build a community center
The Wild Hunt
On a Tuesday night in late August, the Temple of Witchcraft, based in Salem, NH, submitted plans to build a new community center on the five-acre property the organization has owned since 2012…
West Sussex druid talks about the power of local ancient yew forest
Chichester Observer
Following the shortlisting of an ancient yew for a national award, one of the trees oldest enthusiasts described their devotion to what they believe is more than just a tree…
Jennifer Aniston Reveals the "Goddess Circle" Ritual She Does With Her Famous Friends
ENews
During their ritual, the women sit cross-legged on the floor, pass around a charm- and feather-decorated stick and set their intentions, according to the publication…
Finally, support for Pagan abuse victims
Medium
Sarah Anne Lawless experienced this first hand when she left her abusive ex and spoke out against abusive people in the Pagan community…
East Tennessee Pagans celebrate Harvest Moon with food drive
WVLT
The event theme is "Manifest Peace." Byron Ballard is the event's special guest, who is speaking about Healing Magic in the afternoon…
Santa Ana's witch-themed art walk brings together the spiritually-minded
LA Times
For Lacey Conine and her coven, the common image of witches wearing cloaks and practicing rituals in the woods is inaccurate…
Meet the women who cast magic spells and perform rituals on the Isle of Sheppey
The Sun
Charlotte, 55, a mother-of-five and a barmaid by day, has seen a huge rise in people joining her coven, The Lady of Light, and coming to her for spells and readings…
The Magick & Psychism in The Dark Crystal: Age of Resistance
Patheos Pagan: Mat Auryn
I feel like I've been waiting so long for The Dark Crystal: Age of Resistance. I was hoping it would be as good as the original movie in the '80s and honestly, I feel it's so much better…
Druids a natural fit for the young
The Times
Membership of the British Druid Order (BDO) — one of the leading denominations of the religion — has jumped from 3,000 to 7,000 in ten years…
A Majestic 'Micro Harvest Moon' Is Coming. How, When And Where You Can See It This Week
Forbes
One of the key sights at this wonderful time of year is the Harvest Moon, which occurs this Friday and Saturday depending on where you are on the planet…
The Spiritual Reason Friday The 13th Is Considered Unlucky
Refinery 29
This Friday will fall on September 13th. Cue the spooky music. Friday the 13th has long been considered an unlucky day. But why? There are a few different theories…
Shinto News
Man threatens September arson of Shinto shrine in Taiwan
Taipei times
A Chinese man who claims to have spent time in jail for setting fire to Japanese property in Japan and South Korea has threatened to burn down a Japanese shrine in Pingtung County…
Weaving of fabric for key imperial succession rite begins
The Mainichi
Weaving began Tuesday of a fabric that will be used in a key imperial succession rite to be performed by Emperor Naruhito in mid-November, with a ceremony held in western Japan to mark the start of the work…
Japan's autumn traditions: Gleaning the reasons for ringing in the season
Stripes Japan
In the Land of the Rising Sun, September marks the waxing of autumn and the traditional harvest season in which local customs such as "tsukimi" (moon viewing), "inekari" (rice harvesting) and "Higan" memorial services take place throughout Japan…
Connecting with the divine at Wooden Boat Festival
The Leader
A crowd of nearly 100 people gathered at the traditional Shinto boat launching ceremony, sitting on nearby rocks, standing across the water on the docks, and huddling in the rain on Sunday, the third day of the 43rd Wooden Boat Festival…
Kami of sport?
Mimusubi
A couple of weeks ago, one of the regular opinion columns in Jinja Shinpō was extremely thought-provoking…
At this Kyoto shrine, be careful what you wish for—and how—, because you just might get it
SoraNews24
The deities of this shrine specialize in breaking off bad connections in your life and forging good ones…
Other News
Indigenous people fight to save sacred trees in Australia
The Wild Hunt
A standoff in Djab Wurrung country in Australia has been going on for the past 15 months between those who want to protect the approximately 3000 trees and including 300 sacred trees of the indigenous Australians and VicRoads, the traffic authority of Victoria, Australia, who want to bulldoze 12 kilometers of habitats just to cut down three minutes of travel time…
English town joins campaign for 'nature's rights'
Straits Times
Frome, a market town in the county of Somerset, is petitioning the British government to grant the River Frome "legal personhood" – in effect, giving it human rights…
Greece says 'damp' in British Museum is insult to Parthenon Sculptures
Irish News
Alleged damp in a section of the British Museum housing the Parthenon Sculptures is an "insult" to the 2,500-year-old works, Greece's culture minister has said…
Why did Varadkar say he wanted to be Athena to Johnson's Hercules?
The Guardian
The Irish PM cited a Greek goddess famous for knocking Hercules out to prevent him causing further damage…
Banker wins £4m sex bias claim after witch's hat left on desk by male colleagues
Evening Standard
A City banker whose male colleagues left a witch's hat on her desk has won her claim for sex discrimination…
'Half-Hanged Mary' – the English witch who haunts The Handmaid's Tale
Mail Online
Even before the mysterious death of their esteemed Puritan leader, Philip Smith, Mary Webster's neighbours had no doubt that she was a witch who had made a pact with the Devil…
Eight female artists who channel spirituality into their work
Dazed
From abstract painting to performance art, these women explore ideas of ritual, witchcraft, and mysticism…
The unusual case of Nesta: 'Forest woman' one of the last in country to be tried for Witchcraft
Gloucestershire Live
Describing herself as a clairvoyant, medium, prophet and healer – Nesta told fortunes from a hired room above the Pilgrims' Rest Cafe on Worcester Street, Gloucester…
Cambodia: 'Witchcraft violence down but still a concern'
Phnom Penh Post
The Ministry of Interior had reported 16 cases of mob violence, with eight people being killed following accusations of practising witchcraft between January 2017 and June 2018.
Kenya: Woman Killed And Four Family Members Injured For Suspected Witchcraft
Kenya News Agency
An elderly woman was killed and four of her family members injured at Kwa Maasai village in Kwale County by a gang armed with crude weapons on claims that they were practicing witchcraft…
India: Woman, child killed by fellow villagers in Odisha's Sundargarh
The Hindu
Witch-hunting reared its ugly head again when a woman and her five-year-old daughter were killed by fellow villagers in Odisha's Sundargarh district. Villagers had held Gangi Kerketa and her five year daughter responsible for their 'misfortune'. They branded Gangi as a witch and decided to eliminate the family…