Top stories in Paganism and Shinto this week:
Catholic school bans Harry Potter books over fears of 'curses and spells'
Hemp twine for imperial succession rite handed to weavers at Shinto shrine
Leprechauns may be linked to ancient Roman ritual
Read more below…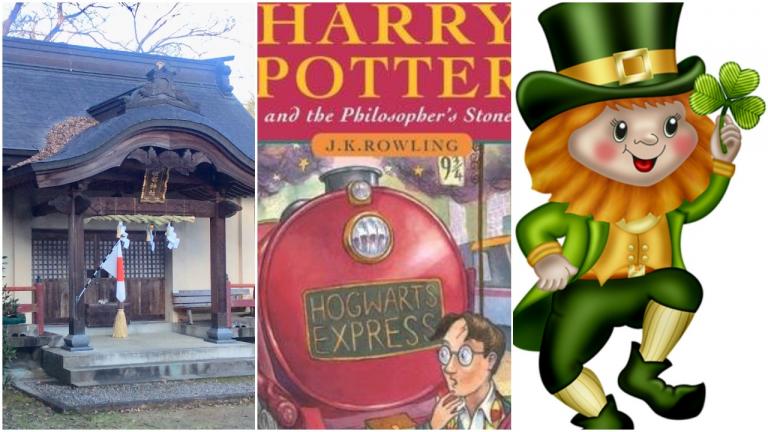 Pagan News
Tennessee Catholic school bans Harry Potter books over fears they contain 'actual curses and spells'
The Scotsman
A pastor at a Catholic school in the American state has banned the JK Rowling books for students, for fear that they might actually contain real spells and curses…
Philly Pagan Pride Day attendees "Rick-rolled" protesters
The Wild Hunt
Saturday the annual Philly Pagan Pride Day (PPPD) celebration in Clark Park featuring keynote speaker, Laura Tempest Zakroff, drew evangelical Christian protesters late in the day…
Moderators of online Pagan groups describe experiences with white supremacist members
The Wild Hunt
The resurgence of white supremacist ideology has affected multiple groups in the Pagan, polytheist and Heathen community. The online presence of various communities is no exception, and perhaps even a softer target for promoting supremacist ideology…
Pagan Pride Day comes to Ann Arbor for fourth year
Michigan Live
Ann Arbor's fourth-annual "Pagan Pride Day" is coming to Washtenaw Community College's Community Park next weekend…
Samhuinn Fire Festival: Date and times as fiery extravaganza returns to Calton Hill in Edinburgh
EdinburghLive
The fiery extravaganza is organised by the Beltane Fire Society each year, and will be returning to the city centre landmark in 2019…
Sharon Knight: Myth, Music, and Magic
Patheos Pagan: Jason Mankey
Sharon Knight is more than a musician, writer, Witch, ritualist, and organizer, she's a force of nature. Whether it's playing live with her partner Winter or facilitating five days of Seaside Sorcery, or running her own festival, Sharon brings a touch of magick to everything she does…
The 25 Most Important Witchcraft Books Ever Published
Patheos Pagan: Jason Mankey
Before encountering another Witch, most of us read a book or two, or several dozen. The following books on this list are in my opinion the most influential Witch books ever…
Shinto News
Hemp twine for key imperial succession rite handed to weavers
Kyodo News
A wooden box containing the shiny 50-kilometer-long thread was given to the weavers at a Shinto shrine in Yoshinogawa, Tokushima Prefecture…
Traditional rituals associated with curses persist in 21st-century Japan
The Japan Times
Kadota Inari Shrine is considered one of Japan's three major enkiri, or "tie-cutting" shrines, in addition to Kyoto's Fushimi Inari Taisha and Enkiri Enoki in Tokyo's Itabashi Ward. However, occult writer Yuki Yoshida says Kadota Inari Shrine stands out in terms of the sheer number of plaques being offered and the level of animosity on display…
9 Tokyo shrines to visit to learn about Japanese history and culture
Japan Today
With an estimated 80,000 Shinto shrines scattered across Japan, they are a very important part of Japanese tradition and culture…
Other News
Doubts over Irishness of leprechauns
Belfast Telegraph
The word 'leipreachan' and the earlier form of 'lupracan' had been thought to have Irish origins, but the study now argues it's actually derived from Luperci, a group associated with the Roman festival of Lupercalia…
Finds from a Temple to Apollo in the Cyclades
The Wild Hunt
Excavations on Despotiko, an uninhabited island in the Aegean archipelago, have revealed details about ancient Greek temples in the late Archaic Age and early Classical Age…
Jupiter's Recently Discovered Moons Receive Ancient Greek Names
Greek World Reporter
The names which were bestowed on five of the twelve new moons came from a contest run by the Carnegie Institution for Science, an organization for scientific discovery, with the approval of the International Astronomical Union (IAU), the official arbiter of astronomical names…
Greece would have to acknowledge British Museum ownership if it wants a loan of the Elgin marbles
The Telegraph
A Greek request to borrow the Elgin Marbles from the British Museum would only be considered if Greece acknowledges British ownership of the sculptures, the museum said on Tuesday…
South Korea calls for ban of 'rising sun' flag at 2020 Olympics
Japan Today
South Korean Olympic officials have called on Japan to ban its "rising sun" flag at the 2020 Tokyo Games after claiming it represents a "militaristic and imperial past."…
Blockula: The Swedish Witches' Sabbath
Patheos Pagan: Kelden
During the year 1669, a mass Witch hysteria occurred in Mora, Sweden…
Why ruin Stonehenge to shave a few seconds off a car trip?

The Guardian
Driving a £2bn dual carriageway through one of Europe's most precious prehistoric sites would be an act of cultural vandalism…
India: Man 'kills uncle and aunt after believing she was a witch doing black magic on family'
Mirror
Shankhu Gond, 43, is accused of the gruesome murders in Anuppur, India, telling police he thought his aunt was doing 'black magic' on his family…