Sharon Knight is more than a musician, writer, Witch, ritualist, and organizer, she's a force of nature. Whether it's playing live with her partner Winter or facilitating five days of Seaside Sorcery, or running her own festival, Sharon brings a touch of magick to everything she does.
Her latest project is Hexenfest, a weekend of live Pagan music, great workshops, and much more. I was lucky enough to attend last year and it was just an incredible event. I got to a lot of festivals, I think I had more fun at Hexenfest than anywhere else in 2018. On the eve of another Hexenfest, I thought it would be fun to sit down with Sharon and ask a few questions about festival organizing, her music, and the future of the Pagan Community.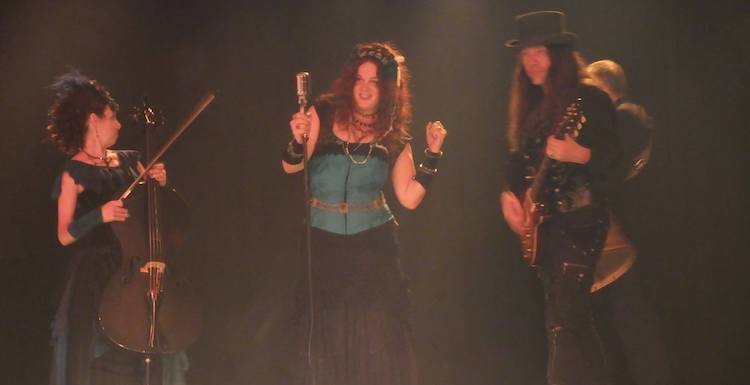 Jason: So tell me how Hexenfest all came together. Was there a sudden burst of inspiration or was it an idea that built slowly?
Sharon Knight: It started as a conversation with our founding partner, Anaar. (Who is no longer involved). We were musing on how much more there is going on on the East Coast than the West Coast in terms of Pagan flavor, and that something should be done about it. Winter and I have travelled to the East Coast as touring musicians for many summers out of the last decade, as there is something going on almost every weekend.
The West Coast has Pantheacon and Faerieworlds, and that's about it. I sometimes think Hexenfest was born out of a desire to not have to drive all the way across the country to play music at a Pagan festival!
As someone who goes to a lot of festivals, I'm genuinely in awe of people who put them together. Just how difficult was this to put together? Were there any moments in particular when you wanted to throw your hands up in the air and walk away?
It is one of the most challenging things I've done, to be sure. There are so many details to keep track of! Although booking a multi-month cross country tour is complicated as well, so I am fairly well-versed in managing challenging projects. But yes, I throw up my hands every year at some point and decide I'm done. And then we do the event and it is awesome.
What's the one thing that most people don't realize when it comes to putting together a festival? In California I have to assume the insurance costs are close to astronomical.
California is crazy expensive, and some promoters won't even do events here because of that. The insurance hasn't been the worst of it. Venue costs are our biggest expense by far. Finding a venue that is affordable enough to keep our costs reasonable and still be able to pay our bands fairly has been our biggest challenge. Thankfully, we have an awesome community, many of whom really step up to help when needed.
I think that is a key piece that perhaps folks don't realize; if you don't have a strong community behind you supporting the event and wanting it to continue, it will fail. A community is only as good as its people, and I am so grateful for the caliber of folks who have rallied behind Hexenfest. Thanks for being one of them!
As an event mostly focused on music, what's your criteria for selecting artists? I assume that "good" and/or "talented" comes in there somewhere but I know it's more than that. This is a "Pagan event," what makes a type of music "Pagan?"
I generally look for a quality of Otherworldliness in the music we bring to Hexenfest. I want to feel that spine tingling chill of some portal to unseen realms opening as the music plays! It doesn't necessarily need to be overtly pagan, as long as it gives the listeners some sort of experience of magic. This year we have more of a Steampunk theme, which isn't strictly Pagan, but definitely opens one up to an alternate worldview. That said, I am a huge fan of Paganfolk bands, and will continue to look for them.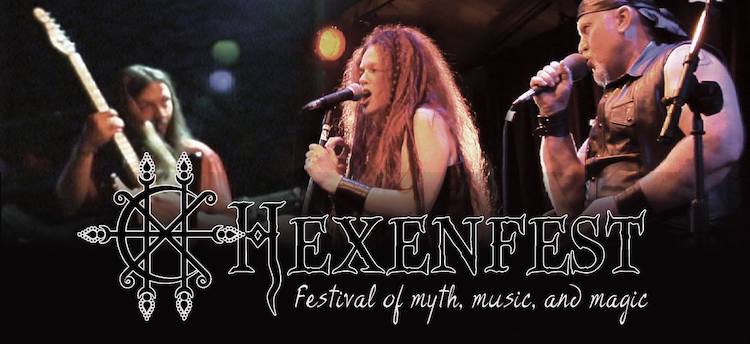 Originally Hexenfest was mostly all about the music, and this year there seems to be a lot more in the way of traditional workshops. Was this a natural progression or something that was requested by the people attending? How desperate do you have to be to get people like Mankey?
Attendees have been requesting workshops. And they do give the event a more well-rounded feeling. Hexenfest began as a club night in Oakland. Now that it is a 3-day outdoor festival, it is good to have more variety for attendees to keep themselves occupied. We all need the opportunity to sit in circle and discuss or practice themes that help us through the trials of the world, which are numerous these days. Though we are a music and arts festival by definition, adding a workshop dimension feels really important. We need connection more than ever. And BTW, we are glad to have you!
As someone who watches the greater Pagan world rather closely, what's it like being a Pagan artist in 2019? I assume it's harder today than it was ten or even twenty years ago? (It always surprises me that Incantation came out in 1997..)
I think, due to streaming services, it has become much harder for all musical artists, not just the Pagan ones. It's why we all have Patreons now! But we adapt and change with the times. Many artists are opening online stores and beefing up their merch offerings, and Winter and I are heading in this direction as well. So the music becomes a calling card for fans to step more fully into the musician's world if they so desire.
What were your biggest musical influences growing up? How much have those influences played a part in your music?
I have always tended to like music from earlier generations than the ones I grew up in. Led Zeppelin and Jethro Tull were early echos of my impending love of Celtic music. Then I discovered bands like Fairport Convention, Steeleye Span, and Planxty and I was off into Celtic traditional music for years.
This has evolved over the years of course, but the common thread is the spine tingling otherworldliness I look for in Hexenfest bands. Lisa Gerrard and Dead can Dance have been favorites for many years, and Scandinavian folk bands such as Hednigarna, Varttina, and more recently Wardruna and Eivor, really move me.
I have always loved the earthiness of certain types of folk music. Celtic music first caught my ear, but also Middle-Eastern and Scandinavian folk music has captivated me over the years. There is something so raw and real about folk instrumentation and a lamenting voice!
I love folk and symphonic metal as well. Moonsorrow, Finsterforst, Nightwish. I could go on and on about this!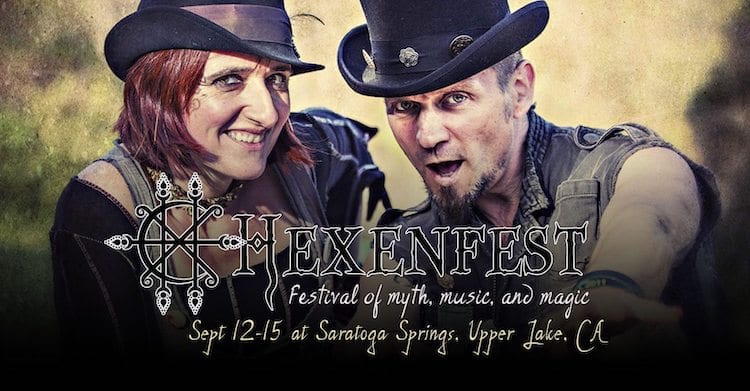 I'm fascinated by how music distribution systems are changing rather rapidly right before our eyes. I'll admit that I'm a "streamer" (I no longer even have a working CD player) is that the savior or the death knell of recorded music? With many people no longer buying CD's have you changed how you do things as an artist?
I don't know that streaming is a death knell, but it certainly has changed how we do things. The goal now is to find your collector fans, and make things especially for them. People do still buy CDs and vinyl. They also buy art and journals and T-shirts. So now it's like the music is the spell you weave over your audience, the way you entice them into your world. From there you can offer them additional collections or experiences if they want them.
Winter has been a part of your musical journey since you've recorded, but a lot of people just don't know how awesome he is. How important has he been during the recording and touring process?
Essential! Winter is a wonderful engineer, arranger, and guitarist. I often introduce him as "The man who makes my songs better". He is a wonderful collaborator and partner in life. It has been a dream come true to travel the land and make music with the one you love!
I'm not sure most people even know you it's you and Winter but in addition to your usual music as "Sharon Knight' you also record as Pandemonaeon. What's the difference between those two projects?
Pandemonaeon is much harder and darker than our Celtic project. It is a folk metal band. Pandemonaeon has also more of a full band sound. This project is largely dormant currently but I do miss dipping my toes in the folk metal world!
We both share a love of Scotch. (Jason note: This is probably why she lets me go to Hexenfest as a presenter.) What are your favorites? Is there a particular flavor profile you look for when it comes to Scotch?
The peatier the better for me! I love all the Ardbegs, Lagavulin, and Caol Isla the best. We could talk whiskey all day! Talking whiskey is best done while tasting it, I find. Show me yours and I'll show you mine!
Thanks for answering my questions, being awesome, and I look forward to seeing you in just a couple of weeks!
I am very much looking forward to it!
If you live in California, try and join us at Hexenfest! Want more PanPagan type festivals? Well, you have to support them!