Top stories in Paganism and Shinto this week:
Emperor Naruhito completes enthronement in ceremony
Trump opponents plan Halloween spell to bind him
Perfectly preserved ancient Egyptian coffins opened after unearthing mummies
Read more below…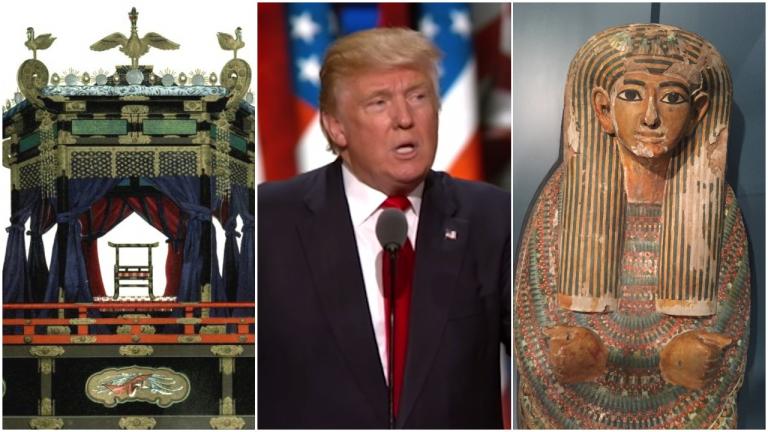 Pagan News
Trump opponents plan Halloween spell to bind him
Washington Examiner
A week before Halloween, opponents of President Trump will gather in the thousands to cast a spell on the administration to prevent the administration from harming the country…
Protests threatening two Witch events fail
The Wild Hunt
The Witch's Market event held on Saturday and co-hosted by RVA Coven, and Fallout RVA, a local venue, received advance notice that a protest was planned…
SF Golden Gate Park to host Modern Witches Confluence in conjunction with film festival
KTVU
"We expect around 1,000 witches to gather for our events over the weekend," said Casey Zabala, founder of the Modern Witches Confluence…
Paperback magick: Augusten Burroughs reveals he is a witch
The Guardian
In his eighth memoir, the Running With Scissors author explains that he discovered his magickal powers aged eight…
Julie's Cauldron will host workshops about witchcraft, tea leaf readings
Daily Orange
Julie's Cauldron, a store in Kirkville, New York, sells incenses, herbs and spices used for spell work, as well as handcrafted items…
Does Witchcraft Hold the Secret to Happiness?
Psychology Today
Claiming the witch archetype is a means of self-empowerment…
3 women from around the world talk witchcraft
Vogue
Vogue speaks to witches based in Mexico, Japan and Arizona about the nuances of their craft…
Pagan priest challenging peoples' opinions on gender, religion and 'bi-spirituality'
CBC
Shawn Sanford Beck has always been interested in Christianity and paganism…
Pagan Conventions in the Post-Pantheacon Era
Patheos Pagan: John Beckett
Last week Pantheacon founder Glenn Turner announced that she is retiring and that the 2020 Pantheacon – the 26th edition of the largest indoor Pagan gathering in the world – will be the last…
The Story Behind Salvador Dalí's Surreal, Art-Filled Tarot Deck
Another Man
As Salvador Dalí's set of tarot cards is re-released alongside a new book about the deck, a look at how the artist repurposed figures from art history for his take on the traditional tarot characters…
This Town Full of Witches Is the British Equivalent of Salem, Massachusetts
Fodor's Travel
In this sleepy fishing village in Northern Cornwall, you can step into the fascinating world of witchcraft and the occult…
What is Samhain? Rituals and traditions behind the pagan festival which inspired Halloween
iNews
Samhain falls at the end of October and is said to usher in 'the dark half of the year'…
A Witch Shop at Samhain
Patheos Pagan: Lisa Wagoner
Everyone imagines that working in a witch shop at Samhain is the ultimate in witchdom. It is, and it can be, and yet, it remains so much more…
Shinto News
Emperor Naruhito completes enthronement in ceremony rich with history and ritual
The Japan Times
Sokui no Rei is one of the major events in a series of ceremonies and rites scheduled throughout the year following Emperor Naruhito's accession to the chrysanthemum throne in May….
Japan's ancient and mysterious royal regalia
CNN
Amid the speeches, customary robes and ancient rituals of the enthronement of Japan's new emperor Naruhito, one might easily overlook the collection of seemingly innocuous items carried in by palace officials…
Emperor to visit Ise shrine, ancestors' mausoleums
Kyodo News
Emperor Naruhito and Empress Masako are scheduled to visit Ise Jingu, a Shinto shrine in Mie Prefecture, central Japan, and mausoleums of previous monarchs by the end of this year as part of the rituals marking the imperial succession…
Japan funding for imperial ceremonies spark rare dissent
France24
When it comes to Japan's royal family, anti-monarchy sentiment is almost non-existent. But government funding for two highly symbolic imperial rituals this year has sparked rare dissent…
Seiichi Eto becomes first Japan minister to visit Yasukuni Shrine in over two years
The Japan Times
Seiichi Eto, minister in charge of Okinawa and Northern Territories affairs, visited the war-linked Yasukuni Shrine on Thursday, becoming the first Cabinet minister to do so in over two years…
Abe Skips Visit to Yasukuni Shrine during Autumn Festival
Nippon.com
Japanese Prime Minister Shinzo Abe skipped a visit to Tokyo's Yasukuni Shrine during its four-day autumn festival that ended on Sunday…
Japanese beating path to shrine to pray for victory
The Times
A gravel path cuts through the trees; on the right, a vermilion gateway appears. Behind it are the familiar forms of a Shinto shrine, but with one difference — a preponderance of rugby balls…
Yasukuni: caught in controversy as Japan struggles with history
Al Jazeera
As Yasukuni marks 150 years since it was founded, the decision to enshrine war criminals casts a shadow over the shrine…
Other News
Perfectly Preserved Ancient Egyptian Coffins Opened After Unearthing Mummies
Unilad
After discovering 30 ancient wooden coffins near Luxor, Egyptian archaeologists cracked them open – finding perfectly preserved mummies inside…
Norse Mortuary House Found
The Wild Hunt
Archaeologists have found the remains of a "mortuary house" from the Viking age…
Volunteers in Scotland needed to help clean famous 'Clootie Well'
The Inverness Courier
A famous Clootie Well is set to be cleaned up after years of non-biodegradable waste left the popular spot looking like "a fly tipping site"…
Bishop bans yoga for being 'unchristian'
The Tablet
Catholic schools under the patronage of the Diocese of Waterford and Lismore have been told by their bishop not to do yoga in the classroom because it is not Christian…
Thieves steal Amazon fertility statues as synod nears end
ABC News
Pope Francis' controversial meeting on the Amazon took a criminal twist Monday after thieves stole indigenous fertility statues from a Vatican-area church and tossed them into the Tiber River…
Cotswold Ghost Tours stopped in vicar 'harassment' row
BBC News
The vicar said he had concerns the tours were "un-Christian" and "bordering on the occult"…
Plans to rebuild lighthouse as memorial to Fife 'witches' in Torryburn scrapped
The Courier
The Fife Witches Remembered group had hoped villagers would get behind plans to reinstate the Beamer beacon in memory of those who were persecuted including local woman Lilias Adie…
Witchfinder General Matthew Hopkins: Play 'heals' wounds in Essex
BBC News
A woman is attempting to "heal the wounds" caused by the infamous Witchfinder General by performing a play at sites where he tortured women into confessions in the 17th Century…
Venture Security awarded contract to protect Stonehenge
Salisbury Journal
Venture Security, which provides specialist security services to local authorities, has been awarded the contract by English Heritage…
Mary Katrantzou's wondrous fashion show at the Ancient Greek temple of Poseidon
Lifestyle Asia
London-based Greek designer Mary Katrantzou might have just created one of the most wondrous moments in fashion history: Instead of hosting her Spring/Summer 2020 fashion show in London, Paris, Milan or New York like everybody else, she staged hers at the Ancient Greek temple of Poseidon…
Venezuelans seek strength, healing from indigenous goddess
AP
Every year, thousands trek to a mountainside in Venezuela for rituals played out with fire, blood and smoke to pay tribute to the indigenous goddess Maria Lionza, who is revered across the crisis-stricken South American nation…
A royal obsession with black magic started Europe's most brutal witch hunts
National Geographic
In the 1590s, King James I of Scotland's fear of witchcraft began stirring up national panics, resulting in the torture and death of thousands…
Spooky Places: 10 Destinations For Fans Of Witches
The Travel
Get ready to learn about these 10 witchy destinations, and be sure to add them to that bucket list of dream vacations…
We Need More Stories About POC Witches
Nerdist
It's pretty easy to name witchy TV shows and films with primarily White female protagonists…
India: 10 arrested in witchcraft torture case in Odisha
Catch News
Ten persons have been arrested for allegedly pulling out the teeth of a 55-year-old man and forcing him to consume human excreta after suspecting him of practising witchcraft in Ganjam district, police said on Monday…