Top stories in Paganism and Shinto this week:
Shinto shrine where first emperor was enthroned opens rare exhibit
Ancient statuette of Roman goddess Cybele found in Bulgaria
'Witch marks' in English cave revealed thanks to 3D scanning technology
Read more below…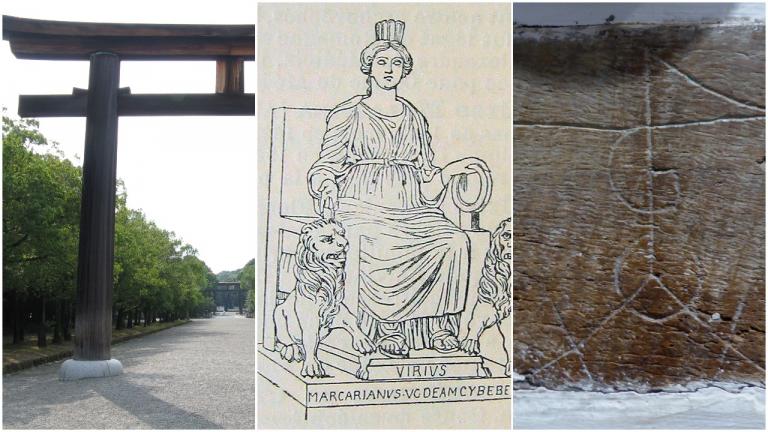 Pagan News
A new exhibit on witchcraft opens at UC Irvine
Daily Pilot
"We Are the Witches You Couldn't Burn" tracks the history and evolution of witchcraft between the 16th and 21st centuries…
Noel Collection resurrects occult books in 'Unseen Forces: The Magic and Science'
Shreveport Times
The exhibit features rare books, resources, and illustrations about the paranormal. The subjects include ghosts, hypnotism, ESP, witchcraft, cults, mediums, magicians, exorcisms, possessions, talismans, astrology, fortune-telling, life after death, and beyond…
How do Seattle witches celebrate Halloween? A look into the modern religion known as Wicca
Seattle Times
Much of modern Halloween is about demons, monsters and cult serial killers, none of which have anything to do with the modern religion known as Wicca…
Pumpkin Magick: Mighty Jack-O-Lantern
Patheos Pagan: Gwyn
Power grows throughout October, as well as a noticeable thinning of the Veil. In my opinion, both Samhain and Halloween are an important observance of those realities…
What is Samhain, is the same as Halloween and how do you pronounce it?
The Sun
The origins of Halloween can be traced back to an ancient Pagan festival called Samhain.
Other-worldly creatures for Samhain parade
The Southern Star
The six-day festival, which traditionally marks the end of the harvest season and the beginning of winter, culminates in the Samhain19 Parade featuring other worldly creatures, followed by a massive drumming session and a fire show at Emmet Square, on Sunday, November 3rd…
With Halloween Coming Up, Anthropologist Expert Available to Comment on Witchraft, Shaman and Magic
Newswise
The frost-bitten tundra cultures of northern Siberia may not seem to have much to do with those of Mozambique, but put the two side-by-side and there are surprising similarities. Magic and the power of the supernatural play a key role in both cultures, as they do across most societies, says anthropology professor and chair John Ziker…
Calton Hill hosts this year's Edinburgh Samhuinn Fire Festival
The Wild Hunt
Last year the Beltane Fire Society's sister festival of Samhuinn got an upgrade, moving from the smaller open spaces in the city centre to Beltane's spectacular venue of Calton Hill, a public park topped with a pseudo-acropolis where the ritual begins…
What It Means to Be a Real-Life Witch
Nerdist
Nerdist spoke to six witches to gain a deeper understanding about their beliefs, practices, and hopes for the future of witches in entertainment…
Shinto News
Nara Shrine Where First Emperor was Enthroned Opens Rare Exhibit
Japan Forward
Kashihara Jingu in Kashihara City, Nara Prefecture — a shrine dedicated to the first emperor of Japan, Emperor Jimmu — will open some of its facilities for a limited time from October 23 to December 8 in celebration of the 130th year since its founding…
Japanese Christian groups hold press conference to protest emperor's enthronement ceremony
SoraNews24
The National Christian Council Japan, as well as a number of Japanese Protestant and Catholic organizations, held a joint press conference on Monday to speak out against the enthronement ceremony and numerous other events related to Naruhito taking over as monarch flowing the abdication of his father, Akihito…
Emperor, Empress to visit ritual sites next month
NHK World
The Imperial Household Agency says Emperor Naruhito and Empress Masako will visit three prefectures in western Japan next month for ceremonies related to the Emperor's enthronement…
Constitutional doubts remain over Imperial ceremony
The Japan News
Questions remain over Imperial succession events in light of the separation of religion and politics stipulated by the Constitution, after the Sokuirei-Seiden-no-Gi ceremony was held on Tuesday, in which the Emperor proclaimed his ascent to the throne…
Other News
2nd Century CE statuette of Roman goddess Cybele found in Bulgaria's Plovdiv
Sofia Globe
Archaeologists working at the Forum site in Bulgaria's city of Plovdiv have found a marble statuette of the Roman goddess Cybele…
Hidden 'witch marks' revealed at Creswell Crags thanks to 3D scanning technology
Derbyshire Times
Hundreds of protective marks, also known as Witch Marks, will now be seen by visitors for the first time, thanks to a partnership between Creswell Crags and Sheffield Hallam University…
Pope apologises after Amazonian statues thrown into Rome river
TheLocal.it
Pope Francis on Friday apologised for the theft of indigenous Amazonian statues from a Rome church, saying they had been found after thieves dumped them in the Tiber River…
Pumpkin waste in UK predicted to hit scary heights this Halloween
The Guardian
More than 8m squashes likely to be binned after annual lantern carving, study shows…
Uluru ban: What do locals think of the final rush to climb?
BBC News
For decades, hundreds of thousands of visitors to Australia's desert centre have trekked up Uluru, the ancient red monolith formerly known as Ayers Rock. But from Saturday, the climb will be banned…
Over 80 percent of Japanese in favor of a woman taking the throne
The Japan Times
A whopping 81.9 percent of Japanese people have said they are in favor of having a reigning empress, while 13.5 percent are against it, according to a recent survey…
Hyakki Yagyo: Night Parade of 100 Demons scares tourists in Kyoto
SoraNews24
Japan's most terrifying ghouls, monsters and demons come out to frighten the public on a street believed to border the spirit world…
Find Love With These 18 Old Halloween Fortune-Telling Tricks
Mental Floss
Before trick-or-treat, the sugar lobby, and mass-produced David S. Pumpkins costumes took over Halloween celebrations, fortune-telling games were one of the most popular ways to enjoy our spookiest holiday…
These terrifying Halloween figures all have Irish origins
Irish Central
The scariest of Halloween monsters and ghouls have the Irish to thank for their terrifying origins…
Trick-or-treating dates back to medieval Europe — here's the fascinating history behind the Halloween tradition
Business Insider
Nowadays, kids won't necessarily perform any tricks for their treats, but this wasn't always the case…
For National Black Cat Day, here are five facts to know about our black feline friends
CNN
Black cats get a bad rap, especially during Halloween season, when they're associated with witches and other scary things that go bump in the night…
The ghostly folklore of England's yew — the tree wood used to make the deadly longbow
Desert Sun
The oldest yew trees in England stand in the graveyards of ancient Norman churches…
Most witches are women, because witch hunts were all about persecuting the powerless
The Conversation
"Witch hunt" – it's a refrain used to deride everything from impeachment inquiries and sexual assault investigations to allegations of corruption…
Persecution turned fiction: A history of witchcraft
The Weekender
We all love to watch movies like "Hocus Pocus," and although historical accuracy isn't crucial in these cases, it's important to question the role these depictions, and the public perception they have created, have in the broader narrative…
The long and underappreciated history of male witches – and the countries where more men were prosecuted for witchcraft
iNews
More men than women were prosecuted for witchcraft in countries such as Normandy, Estonia, Burgundy, Russia and Iceland…
The Scottish witch hunts: When our nation went mad
Herald Scotland
Between the late-1500s and the end of the 1600s, Scotland was gripped by a collective madness which exhibited itself in butchery, cruelty and organised mass murder…
The witches of Pollok – trials, hysteria and the 'witch finder' of 1677
Glasgow Live
In 1677, six people were found guilty of witchcraft and sentenced to death in Pollok…
The curious history of witches in Westport and Fairfield

CT Post
Long before the witchcraft craze in Salem, Mass., in the 1690s, a similar fear rippled throughout colonial Connecticut…