Top stories in Paganism and Shinto this week:
Wiccan group throw Halloween fundraiser to acquire worship space
Female figure in clay find hints at sacred role in harvest rituals in Japan
Bronze Age stone circle used for ancient rituals uncovered in Gloucestershire
Plus Samhain coverage across international media
Read more below…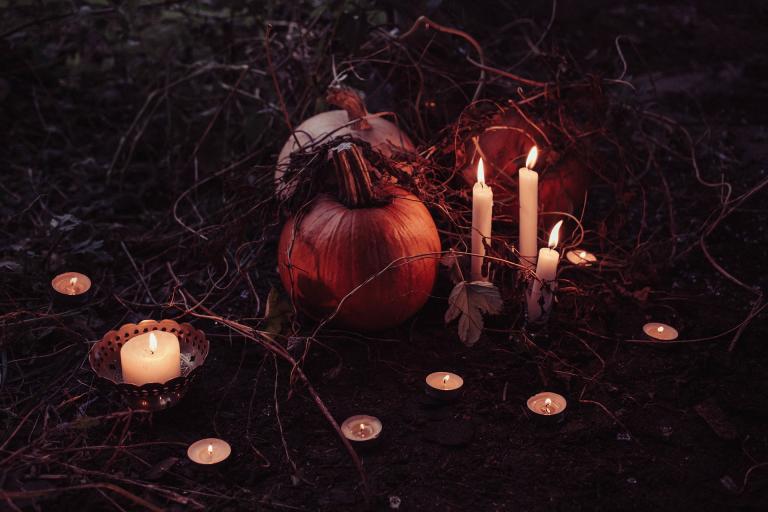 S

a

m

h

a

i

n coverage
Wiccan group throw Halloween fundraiser to acquire South Lansing property
City Pulse
A Wiccan church is seeking help from the community to secure a down payment on a worship space in south Lansing…
Military commander cancels Halloween event because it elevates"satan over Christ"
The Wild Hunt
A Halloween celebration at a military installation was canceled by the unit's commander because the event was "disrespectful to Christian personnel" and that it elevated "satan over Christ."…
Wiccans in West Haven celebrate pagan holiday of Samhain on Halloween
News12
Wiccans at the Curious Goods Witchcraft Shop in West Haven tell News 12 that they celebrate Samhain, or the witch's new year on Oct. 31…
Thousands join Derry's Halloween celebrations
Belfast Telegraph
Ghosts and ghouls stalked the ancient streets of Londonderry last night as the city's massive Halloween festival reached its spectacular climax…
Here's what a modern witch thinks you should know about the pagan festival of Samhain
WJLA
Although the ancient pagan holiday is frequently mentioned in direct connection with Halloween, it represents an entirely distinct occasion for those who celebrate it…
How Féile Na Marbh or 'Feast of the Dead' became Halloween
Irish Central
Samhain, the Celtic Feast of the Dead (Féile na Marbh), was the forebearer of modern-day Halloween…
Samhain in Salem: Remembrance Is Not Enough
Patheos Pagan: Astrea
I recently visited Salem, Massachusetts for a wedding party and a magical vacation. On my trip, I saw the newly erected Witch's Memorial, which was constructed in 2017 on Proctor's Ledge, the location where the supposed practitioners of witchcraft were hung and left to rot…
Connecting With Our Witch Ancestors At Samhain
Patheos Pagan: Cyndi Brannen
As the veil thins, we can connect to our witch ancestors to receive their guidance and express our gratitude…
Halloween's rise in the 2010s provided Shibuya crossing with plenty of tricks and treats
The Japan Times
The way it has manifested in Japan is not steeped in any long history or tradition equivalent to Halloween celebrations in countries such as the United States, nor does it promote any values beyond sheer hedonism, but it has nonetheless become a landmark event, one which intrigues and polarizes in equal measure…
Stop Decorating Your House For Halloween Unless You Want The REAL Scary Monster To Appear
10 Daily
The shops started to flog Halloween paraphernalia and reinforced that the only way to celebrate this ancient Celtic festival it is to decorate…
Day of the Dead: From Aztec goddess worship to modern Mexican celebration
The Conversation
Day of the Dead might sound like a solemn affair, but Mexico's famous holiday is actually a lively commemoration of the departed…
From pagan spirits to Wonder Woman: A brief history of the Halloween costume
CNN
The genesis of Halloween costumes may date back over 2,000 years…
Working with Jizo Bodhisattva at Samhain
Patheos Pagan: Tom Swiss
Jizo was never that big in Indian Buddhism. He made a bit of a name for himself in China, but it's in Japan that he made it big…
Pagan News
Druid appointed as moderator for UK interfaith group
The Wild Hunt
The Faith Communities Forum (FCF) of the Inter Faith Network for the United Kingdom (IFN-UK) has appointed Neil Pitchford of The Druid Network (TDN) as a moderator…
Bride with terminal cancer lives to celebrate Pagan handfasting at Samhain
Mail Online
A bride with months left to live has fulfilled her dream of having a Gothic wedding…
Popular witchcraft course reflects interest in paganism among millennials
Folio
Ancient traditions celebrated at Halloween have a growing appeal in modern pop culture, says religious studies instructor…
What You Need to Know About Phoenix Pagan Pride Day 2019
Phoenix New Times
It's a day for Phoenix's surprisingly large and diverse alternative spiritual community to come together and talk shop…
New metaphysical store opens in Staunton to provide safe space for Wiccans, Pagans and more
News Leader
Brenda "Starfire" Stepp is a natural-born witch with Native American roots. She has traced her family heritage back to 1895 — her mother's a witch and so are her two daughters…
Salem Brimming With Millennial Witches
NBC Boston
Self-described modern witches are redefining the word in Salem, historically known as witch city…
Women are invoking the witch to find their power in a patriarchal society
Quartz
As the outsider with uncanny power, the witch represents a challenge to patriarchal narratives…
3 Modern Witches From Different Cultures Explain What The Craft Means Today
Vogue
Vogue speaks to witches in Mexico, Japan and the US about the nuances of their craft…
Lessons from the Other Realm: Being a male witch in 2019 is complicated
Dazed
From an outsider's perspective, the space has been so dominantly female-led for the best part of 500 years that it's surprising any dudes have been operating in those circles at all. But despite being almost non-existent in popular culture, there are many men who identify as witches in 2019…
Starting a Pagan Group From Scratch
Patheos Pagan: John Beckett
If you can't find the kind of group you need where you are, or if you're called to establish something that doesn't exist yet, then you've got a big job ahead of you…
Should I Join This Pagan Group or Not?
Patheos Pagan: John Beckett
In evaluating any group, it is necessary to look at 1) what kind of people they are, and 2) what they do…
What It's Like to Be a Witch in Deeply Catholic Philippines
VICE
Halloween, for most of us, is all about trick or treating, ghost stories, and costumes. But for witches, or those who practice witchcraft, it is much more meaningful…
The Buckland Museum of Witchcraft, home to trapped demons and Wiccan history
The Observer
The museum started in 1966 as Raymond Buckland's private collection when he ran a coven in Long Island, New York…
The TikTok school of witchcraft and wizardry
The Outline
The viral video platform's witch community practices everything from wry memes to actual spell casting…
How modern portrayals of witchcraft could cast a spell on the patriarchy
Mic
The delirious assortment of pagans, witches, and other occult folks in media, cinema and television is thrilling and even a bit overwhelming…
Photographer explores rituals and traditions of Romania's modern witches
CNN Style
Virginia Lupu's photo series "TinTinTin" acts as a beautiful visual essay about the lives of modern-day witches in Romania…
How a New Wave of Brewers are Incorporating Magic into Beer
Good Beer Hunting
The parallels between witchcraft and craft beer mean the two are ripe for collaboration, but that's nothing new…
Shinto News
Female figure in clay find hints at sacred role in harvest rituals in Japan
The Asahi Shimbun
A pottery fragment depicting a shaman with breasts has been found, shedding light on the religious role women played in ancient agriculture…
New Zealand gifts White Horse to Nikko Toshogu Shrine in Japan
Mirage News
Foreign Minister Winston Peters has today formally gifted a white horse to Toshogu Shrine in Nikko, Japan in front of thousands of attendees at a ceremony conducted by Chief Priest Inaba…
In Japan, supernatural beliefs connect the spiritual realm with the earthly objects around us
The Conversation
Japan supernatural, a new exhibition at the Art Gallery of NSW, surveys the complex, playful and inventive ways Japanese culture has visualised these themes from the 1700s to today…
Japanese community of Marianas marks Katori Shrine anniversary, celebrates Autumn Festival
Marianas Variety
At the Katori Shrine on Saturday morning, local residents and members of the Japanese community joined visitors from Katori City, Japan in offering prayers…
Huge torii gate found in the middle of a busy Kumamoto intersection
SoraNews24
When visiting a Shinto shrine in Japan we are often confronted with one or many gate-like structures known as torii…
Other News
Lost Bronze Age stone circle used for ancient rituals uncovered in Gloucestershire by laser scanning
The Sun
The stone circle in the Forest of Dean is thought to be a ritual structure known as a cairn ring…
'Witch Bottle' Filled With Teeth, Pins and Mysterious Liquid Discovered in English Chimney
Smart News
Contractors demolishing the chimney of a former inn and pub in Watford, England, recently chanced upon a creepy surprise: namely, a bottle full of fish hooks, human teeth, shards of glass and an unidentified liquid…
Calls for memorial to Scotland's tortured and executed witches
The Guardian
Scotland carried out five times more executions per capita than European average…
Iron Age Brits mutilated and killed 25 victims and 'stuffed them into burial pit' as grisly sacrifice
The Sun
Twenty-five bodies found in an Iron Age pit in Hampshire were victims of a violent ritual sacrifice, according to archaeologists…
Ancient Celtic healing well gets long-awaited spring clean
The Herald
In a bid to preserve the site and protect the environment, they removed 50 bags of unsuitable offerings earlier this month, including underwired bras, polyester flags, umbrellas, sunglasses – and even a medical back brace…
Japan builds 'Ethnic Harmony' tribute to indigenous Ainu
Reuters India
On a wooded lake shore in northern Japan, the government is building a modernist shrine that has divided the indigenous Ainu community whose vanishing culture it was designed to celebrate…
Twelve Worcester buses named after Roman goddesses to highlight salt heritage
Droitwich Spa Advertiser
The 144 Salt Road bus service – which runs between Worcester, Droitwich Spa, Bromsgrove and Birmingham – has been relaunched with a new theme following the 12 buses which have been named after Roman goddesses…
Harry Ransom Center obtains Essex witch hunts pamphlet
The Daily Texan
The Harry Ransom Center's collection now includes an original document recounting the testimonies that lead to the execution of 100 women branded as witches in 17th century England…
The Guardian view on 'pagan idols' in the Vatican: church culture wars should concern us all
The Guardian
A row over Amazonian 'Mother Earth' statues, displayed during a prayer service in the pope's gardens, is a depressing sign of the times…
The Death Toll Of Europe's Witch Trials
Statista
The following Statista Archive infographic takes a closer look at the toll of real life witch-hunts that reached their zenith in the Early Modern period between 1450 and 1750 when witchcraft led to moral panic and mass hysteria…
Should Scotland's murdered 'witches' be pardoned?
The Courier
Should Scotland's 'witches' who were persecuted in centuries gone by be pardoned? Michael Alexander sought the opinions of historians…
Why poor, elderly women were accused of witchcraft – Ryedale Folk Museum hopes to challenge stereotypes this Halloween
Yorkshire Post
Stories of witchcraft are deeply embedded into the grain of Ryedale Folk Museum, its rare ''witch posts'' a visual and tangible reminder of the fear of ''evil'' entering the home…
This Halloween, remember witch hunts were created by a patriarchy terrified of older women
NBC News
Long demonized and persecuted, wise women past childbearing age could actually be the key to saving humanity's future…
Medieval royal witches: from Elizabeth Woodville to Queen Joan of Navarre
History Extra
From fertility potions and love charms to evil spells designed to kill kings of England, certain types of magic became associated with royal women during the Middle Ages. Author and medievalist Gemma Hollman investigates…
Witch Houses of the Hudson Valley
The New Yorker
Architectural historians, looking behind walls and beneath floorboards, find evidence of an occult past…
India: Father-Son Duo Beaten To Death On Witchcraft Suspicion In Malkangiri
Kalinga TV
A father-son duo brutally murdered by unidentified miscreants in Maliguda village under Mathili police limits in Malkangiri…