Top stories in Paganism and Shinto this week:
A Druid Fellowship founder Isaac Bonewits repudiated, four priests resign
Emperor prepares for last major Shinto enthronement rite
White House adviser launches project to protect Trump from witches
Read more below…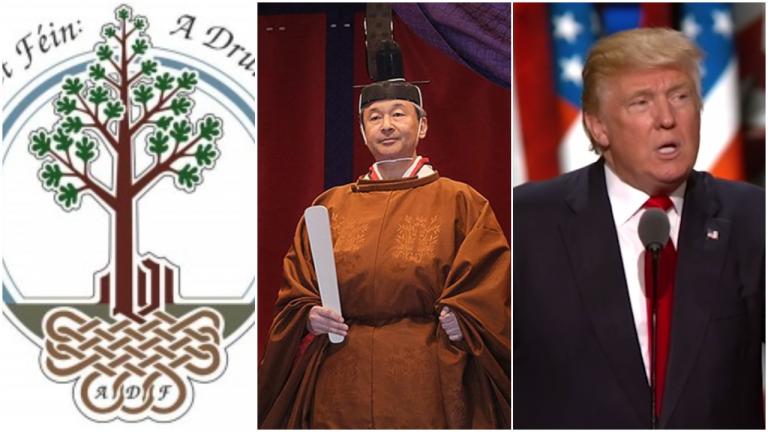 Pagan News
Four ADF priests abruptly resign citing spiritual abuse, cronyism, sexism, and racism
The Wild Hunt
Since November 1, four priests and one initiate have resigned from Ár nDraíocht Féin: A Druid Fellowship (ADF)…
ADF repudiates founder Isaac Bonewits
The Wild Hunt
The Druid organization Ár nDraíocht Féin has released a statement repudiating its founder, Isaac Bonewits…
Trigger Warning In Spite of Myself: Leaving ADF
Patheos Pagan: Melissa Hill
Earlier last week I resigned from my clergy status through ADF: Ár nDraíocht Féin a Druid Fellowship…
White House Adviser Launches Project To Protect Trump From Witches And Demons
Patheos Nonreligious: Michael Stone
White House spiritual adviser Pastor Paula White is launching a new initiative to reelect Trump and protect the president from witches and demons during the 2020 campaign…
New Course on Witches, Demons and the Occult at Michigan State University
The State News
In an effort to keep Michigan State students interested and enrolled in history and humanities courses, professor Mark Waddell proposed a new class that covers witchcraft, alchemy, astrology and other related topics…
'Waking up to our power': witchcraft gets political
The Guardian
One eve of Witchfest event, radicals say they believe magic and occult are natural extensions of feminism and eco activism…
Winter solstice 2019: Why do pagans celebrate the shortest day of the year?
Moose Gazette
While English Heritage are yet to confirm the date of this year's official celebrations, it will most likely take place at dawn on Sunday December 22…
A River Bathing Rite for Pilgrimaging Irish Polytheists
Patheos Pagan: Chris Godwin
The prayer here is a modified version of the charm in the Carmina Gadelica Vol 1 #24. The modification rests on the idea that divine rivers are seen to flow from the milky way itself, the celestial river…
The glamorous witches who show off their crystals, potions and spells on Instagram
Mail Online
Witches from around the world are taking to Instagram to share a sneak peek into their mystical lifestyle, with trendy lifestyle accounts boasting crystals, and herbal potions…
Holiday Exhaustion: Tips For Consideration
Patheos Pagan: Gwyn
What should you do when everywhere you go, and every blog post you read, is about whatever current holiday (or spoke in the Wheel of the Year) is gearing up for the big party day but you're just not feeling it? Here are a couple of tips for your consideration…
Shinto News
Symbolic night with goddess to wrap up Japan emperor's accession rites
Reuters
On Thursday evening, Japan's Emperor Naruhito will dress in pure white robes and be ushered into a dark wooden hall for his last major enthronement rite: spending the night with a goddess…
Enthronement Of Emperor Naruhito In Japan – Analysis
Eurasia Review
Why is the enthronement ceremony significant and why it is important for the Japanese people?…
Emperor and empress greet huge crowds at Tokyo enthronement parade
The Japan Times
As many as 119,000 delighted well-wishers cheered with small flags and took photos from packed sidewalks on Sunday, according to the Cabinet Office, as Emperor Naruhito and Empress Masako waved and smiled from an open car in a motorcade through central Tokyo marking the emperor's enthronement…
Japan's shrine meant to celebrate Hokkaido's Ainu divides them
The Japan Times
On a wooded lake shore in southwest Hokkaido, the government is building a modernist shrine that has divided the indigenous Ainu community whose vanishing culture it was designed to celebrate…
Another minister, 100 lawmakers visit war-linked Yasukuni shrine
Kyodo News
Japan's internal affairs minister Sanae Takaichi became the second Cabinet minister to visit the war-linked Yasukuni shrine during its autumn festival as a cross-party group of about 100 lawmakers also paid homage on Friday…
Other News
'Britain's first city' found near Stonehenge
The Sun
The scientists have recently unearthed over 70,000 stone tools from a site called Blick Mead, which is just a mile away from the famous stone circle…
Hokkaido Ainu association sues University of Tokyo to have remains returned
The Japan Times
An Ainu indigenous rights association in Hokkaido has filed a lawsuit against the University of Tokyo, seeking the return of remains of their ancestors stored at the university….
Ancient Egyptian 'cat mummy' preserved in French museum is made up of the parts of several different cats, CT scans reveal
Mail Online
CT scans of the mummy, which resides in the Museum of Fine Arts in Rennes, France, reveal that the ancient wrappings contain three tails and five hind legs…
Family's support to name new street after Scotland's 'last witch' Helen Duncan
Daily Record
A proposal to name a street in Callander after Helen Duncan – the last woman in Scotland to be convicted under witchcraft laws– was this week backed by her granddaughter…
A spooky museum exhibition in Bristol full of exhibits to send a shiver down your spine
Country Life
From Ancient Egyptian artefacts, charm walls and a witch's altar to amulets carried by First World War soldiers, 'Do you believe in magic?' — an exhibition at the Bristol Museum & Art Gallery — explores our belief in gods, ancestors and both healing and harmful magic…
Takashi Murakami and Japan's mystical monsters come face to face in this exhibition
Time Out
In Japan, for several centuries, mysterious supernatural beings collectively known as yōkai have been central to understanding fate…
'Little Miss Sumo' wrestles with sexism in Japan's ancient sport
The Japan Times
The Shinto-based traditions in a sport that began more than 1,500 years ago forbids women from entering the ring because the space is regarded as sacred and any female presence is considered a pollutant…
Why increasing numbers of Londoners are choosing 'natural burials'
My London
They are a cheaper, environmentally friendly alternative to traditional ceremonies…
Japan's identity crisis
International Politics and Society
Japan's new royals are cosmopolitans. But the country finds itself in a struggle between openness and ritualised tradition…
The woman who stood up to a witch-hunt
BBC
Would you have stood up to a witch-hunt? In 1597, a Glasgow woman called Marion Walker did just that, taking on the most powerful and vengeful men in the land…
Witch trials did not target the powerful, they were all about persecuting the powerless
Milwaukee Independent
Using "witch hunt" to decry purportedly baseless allegations, however, reflects a misunderstanding of American history. Witch trials didn't target the powerful. They persecuted society's most marginal members – particularly women…
The best movies about witches ever made
Fashion Journal
Whether your familiarity with witchcraft stretches no further than Sabrina or Glinda, or you consider yourself a fictional Wiccan aficionado, here are our picks of the best witch-centric films of all time…
India: Branded As Witch, 81-Year-Old Woman Garlanded With Shoes, Face Blackened
NDTV
Twenty one people were arrested for allegedly parading an 81-year-old woman in her village after blackening her face and garlanding her with shoes on the suspicion that she practised sorcery, police said on Sunday…
Gujarat: Couple thrashed over witchcraft charge
Indian Express
Accused of "practising witchcraft", a 33-year-old woman and her husband were brutally thrashed in Devgadhbaria taluka of Dahod district, police said…
Kenya: Trio jailed for murdering old man over witchcraft claims
Standard Digital
Kapenguria high court has sentenced three middle-aged men 25 years each after being found guilty for murdering a 72 years-old man over witchcraft allegations…