I recently visited Salem, Massachusetts for a wedding party and a magical vacation. On my trip, I saw the newly erected Witch's Memorial, which was constructed in 2017 on Proctor's Ledge, the location where the supposed practitioners of witchcraft were hung and left to rot. Apparently, burying them was considered beneath the town, and anyone who dared to touch the corpses was accused of being a witch too.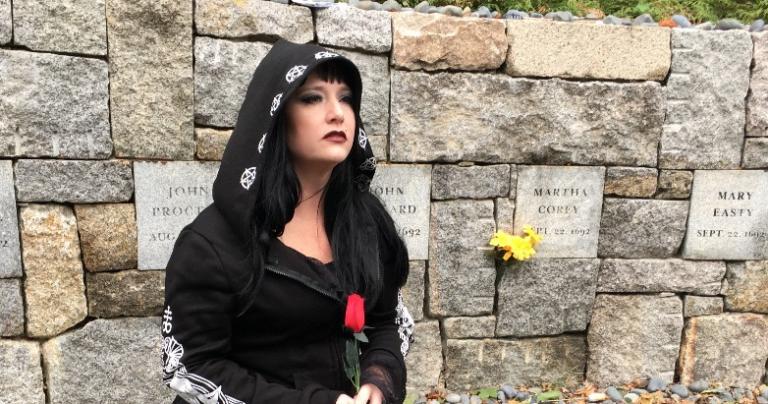 It's difficult to find this memorial, especially since there's another Salem Witch memorial that pops up first on searches. This memorial location is only known as "Proctor's Ledge." This unlisted quality of the Proctor Ledge memorial was confirmed by a local tour guide, who inferred that the city didn't want people to find it.
If you've never been there, let me paint you a picture. The memorial is located in a neighborhood between two homes, and slopes up to some trees on a hill. In a semi-circle, a four foot stone wall stretches into the hill and back out again. Names of the lynched/killed people are etched in stone placed into the wall. Up the hill is mulch and shrubs. And near the street is planted a very young gingko tree, under which is a small concrete plaque that says "we remember."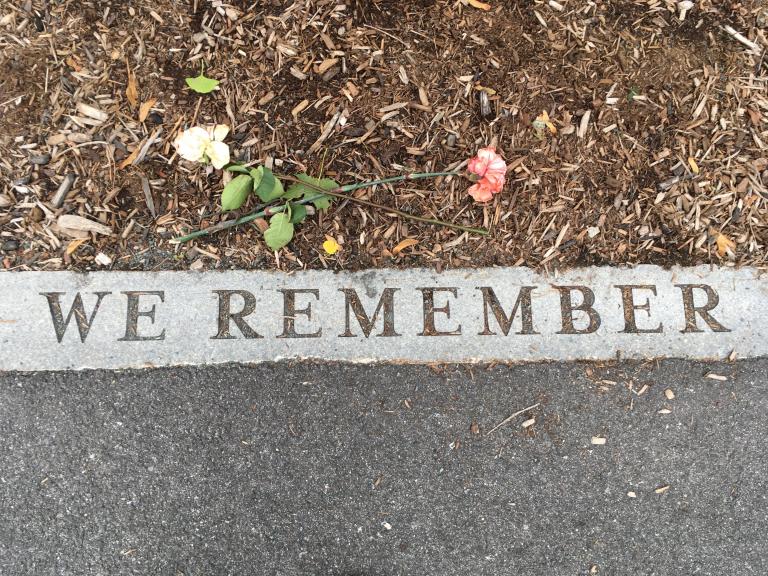 I appreciate that something was finally done to memorialize the unmarked, uncovered graves after 325 years, and the memorial was appropriately somber. However, the place was awkward to say the least.
The memorial seemed so short, so small, and so minimal. If felt like it truly was the least the city could do. I wondered how much the city paid for it — only a few thousand? There was so little space there and no benches whatsoever. These qualities made it feel like the designers didn't want people to linger there.
The small stone plaque, with the bland "we remember" statement, seemed entirely out of place. I wanted more. I wanted "never again," or an apology, or "we regret," or a quote about the dangers of such power and zeal, or something about the dangers of prejudice or greed.
Apparently at the memorial dedication, someone spoke passionately about these issues. I would have loved his words etched in stone–check out the link for a little eloquence. But little of that sentiment seemed to remain at the bare-feeling memorial.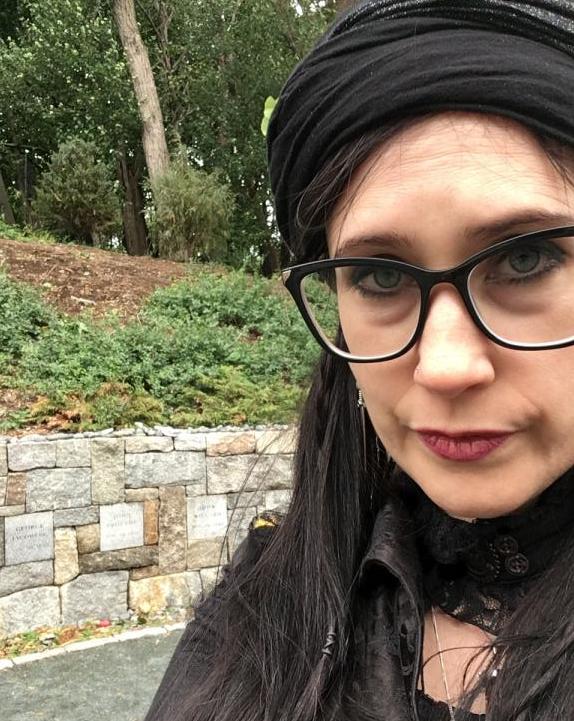 The memorial was made even more awkward by the presence of the gawky, young gingko tree planted near the street. The tree seemed like such a strange choice for the location. I mean, why not an oak, a pine, or a yew? The tree choice especially weird considering that the gingko is from Southeast Asia and
wasn't even brought to the United States until 1784
, which is 92 years after the first execution. It's so out of place–why plant this young, artsy, exotic, beautiful plant there? The little shrubs were weird too.
I suppose I shouldn't expect much from a city that only proclaimed the "witches" innocent in 2001, about 300 years later. The casual quality of the Proctor's Ledge memorial suggests that Salem still isn't very accepting of their history, even with as much revenue as the tourist industry brings in.
And why do witches visit Salem? One of the main reasons is because we never want this kind of tragedy to happen again. Even though the people who were lynched weren't actually witches, it's an important site for witches. It's the same reason why people visit Auschwitz. At tragic places, people need to memorialize the place where a tragedy happened so it doesn't happen again. These two places are on vastly different scales, of course, but the fear and hatred for what is different and the desire for a kind of Christian purity was behind both. Although the actual number of people killed was only around 19, Salem is one of the only places that the European witch killings took hold, which killed tens of thousands, if not more.
After several weeks, I still feel uneasy about the memorial and felt I had to write about it, especially now, at Samhain. I wonder how the spirits of those slain feel about the memorial. I didn't sense much of a presence there, but I'm curious if anyone else did. If you felt anything, drop me a note. I'd love to hear your impression.
In the meantime, I won't just remember. I'll do everything I can to ensure it won't happen again. I'll continue to speak out, be a good community member, and donate to pagan charities and foundations like the ACLU.