Top stories in Paganism and Shinto this week:
Nevada Guard soldier receives OK to sport 'Norse pagan' beard
Japan celebrates start of Year of the Rat
Scientists find megalithic lightning rod on Scottish Isle
Read more below…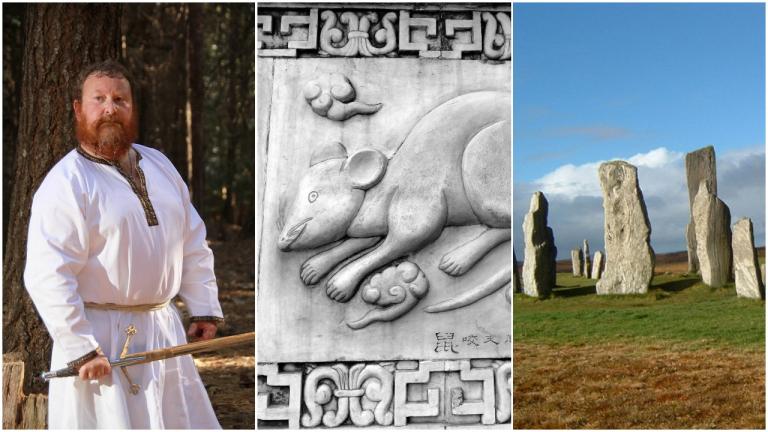 Pagan News
Nevada Guard soldier receives OK to sport 'Norse pagan' beard
Stars & Stripes
A Nevada Army Guard soldier serving in Afghanistan has received a uniform religious exception to sport a beard based upon his Norse pagan beliefs…
Norse Pagan Nevada guardsman insists he's not connected to hate groups
Las Vegas Sun
Two guardsmen who follow the Norse Pagan religion were kicked out of the Georgia National Guard for their ties to a white supremacist organization last month. But a Nevada National Guardsman who also is Norse Pagan strongly denies any ties to extremist, white supremacist or bigoted ideologies.,,
TV antiques expert drinks 'witch bottle' contents after mistaking it for port
Mirror
An Antiques Roadshow expert was left stunned after discovering what he had believed was an 150-year-old bottle of port was actually full of urine, rusty nails and a human hair…
The challenges of 2020
The Wild Hunt
As we begin the year, the view from here speaks to some challenges facing our collective minority faiths. While we have different traditions, our paths are interlinked; especially given that much of the world sees us a singular path, and in some ways a singular threat…
25 Most Anticipated Witch Books of Early 2020
Patheos Pagan: Mat Auryn
This year there's so many great books coming out that I have narrowed it down to the 25 books I am anticipating the most in early 2020…
Witchcraft Pet Peeves
Patheos Pagan: Jason Mankey
Many of the comments said with the best of intentions by other Witches are among my biggest pet peeves in the world of the Craft. And they annoy me so much that I felt the need to write about them…
New Year Coverage
New year, new opportunities: What to expect in the Year of the Rat
The Japan Times
The Year of the Boar (2019) was thus fundamentally about completion, self-care and balance, while the Year of the Rat (2020) is expected to be more about progression and starting a new project with great energy, astrologers say…
Shrine displays jumbo mouse for New Year
NHK World
A shrine in western Japan is displaying a giant sculpture of a mouse, the zodiac animal for the year 2020…
Shrine visitors pray for good luck in 2020
NHK World
Worshippers are crowding a shrine in central Tokyo on New Year's Day to pray for good luck in 2020…
A Japanese tradition to greet the new year
The Japan Times
When I arrive at 8:25 a.m. on Sunday morning, the rice is already percolating away, threads of steam escaping from the sides of flat wooden boxes stacked three high and positioned over a small cauldron of boiling water…
The Demonical but Droll "Namahage" Deities of Oga, Akita Prefecture
Nippon.com
Every New Year's Eve in communities on the Oga Peninsula, Akita Prefecture, men in demonical masks and barbaric costumes of straw barge into homes and growl angry questions like these in the local dialect, their voices booming through the room where the family is gathered…
"Mochi" Rice Cake: A Food for All Seasons
Nippon.com
Pounded rice cake called mochi plays a central role in Japanese seasonal festivals like New Year…
Japanese lucky charms: A guide to 'omamori' for the new year
Japan Today
"Omamori" are essentially prayers or sacred inscriptions inside small, colorful brocade pouches sold at Shinto shrines and Buddhist temples all across Japan…
On a Pagan New Year
Patheos Pagan: Jason Mankey
It's true that many Witches and Pagans celebrate the "New Year" starting on Samhain (somewhere between Oct. 30 and Nov. 1 depending on what tradition you follow), but this is a rather modern development, not an ancient one…
Yemoja: The Yoruba water goddess celebrated by Afro-Brazilians every New Year's Eve
Face 2 Face Africa
Every New Year's Eve in Rio de Janeiro, millions of celebrants in Brazil mark festivities in the name of the sea goddess Iemanja…
Shinto News
KFC Japan holds annual memorial services for its chicken
SoraNews24
Execs pray for chickens of the past and future on "Chicken Thanksgiving."…
Tolerant shrine-temple-church trio's rare red stamps draw collectors to UNESCO site
The Japan Times
Goshuin stamps made by three different places of worship — a shrine, a temple and a church — at an obscure fishing community within a UNESCO World Heritage site in Kumamoto Prefecture is generating a buzz with tourists…
Other News
Scientists find megalithic lightning rod on Scottish Isle
SyFy Wire
Scientists from the University of St. Andrews have discovered a Neolithic surprise in the form of remnants of an ancient megalithic rock formation seemingly designed to intentionally attract lightning bolts…
World's most important private collection of ancient Roman art to go on display for first time
The Telegraph
Accessible only to a chosen few, the collection was so little known that it became the stuff of legend…
Horny demon with forked tongue found scrawled on clay tablet from ancient exorcist library
The Sun
An ancient depiction of a demon with a forked tongue scrawled 2,700 years ago has been uncovered…
Secret 'Sphinx' chamber found under Palace of Emperor Nero after being lost for 2,000 years
The Sun
The wall murals are full of centaurs, depictions of the goat-legged god Pan, birds and sea creatures….
Arab Regional Center for World Heritage Condemns Transfer of Sphinxes from Luxor to Tahrir
Egyptian Streets
At the end of December, a controversial decision was issued to move four ram sphinx statues from Luxor's processional avenue, as well as an obelisk, to Tahrir Square…
Nasa investigates mystery of huge carving once hailed as a 'message to aliens'
Metro
Nasa has released new pictures of a huge and mysterious earthwork in Australia called the 'Maree Man'…
New exhibition Your Stonehenge – 150 years of Personal Photos launches
Salisbury Journal
Photographs spanning three centuries that capture the personal stories behind visits to Stonehenge are the focus of a new exhibition…
Final decision on A303 Stonehenge tunnel within weeks
Spire FM
The controversial idea for a 2 mile long tunnel for the busy A303 has been under scrutiny for many years – but there could be some light at the end of the tunnel…
Egypt's oldest pyramid opens in 2020 for first time
Egypt Independent
The Secretary-General of the Supreme Council of Antiquities Mostafa Waziri announced that the Pyramid of Djoser, one of Egypt's oldest pyramids, is set to open in the first quarter of 2020, following the finalization of the restoration work…
Female warriors' tomb suggests basis for Amazons of Greek mythology
USA Today
The Amazons, a mythical race of female warriors that inspired fictional heroes such as Wonder Woman and Xena the Warrior Princess, may have been more than ancient Greek lore…
No arrests after 'Satanic' killing of sheep
Daily Echo
No arrests have yet been made after New Forest animals were injured or killed in a spate of 'Satanic' incidents…
How artists have depicted Circe's power through time
PBS
Circe has fascinated artists of all kinds for nearly three millennia…
4 villagers killed in western Tanzania over witchcraft claims
Xinhua News
At least four villagers from same family have been killed and their houses demolished by fellow angry villagers in western Tanzania after they had suspected the victims of their involvement in witchcraft, an official said on Saturday…
Malawi:  40-year-old woman stoned to death over witchcraft
A 40-year-old woman was stoned to death by an angry mob in Dedza District for being suspected to have killed her sister in-law through 'black magic'…
South Africa: Mother, sons allegedly kill husband accused of witchcraft and blamed for failed marriages
The South African
A mother and her two sons have been arrested for the alleged murder of her husband, Limpopo police have said…
Kenya: Busia man found guilty of killing his brother over 'witchcraft'
The Star
A Busia man accused of killing his brother over witchcraft suspicions has been found guilty of murder…
Zimbabwe: Man in court for killing aunt over witchcraft
Nehanda Radio
A Binga man waylaid his aunt while she was coming from the river to fetch water before allegedly killing her for allegedly bewitching him…