Top stories in Paganism and Shinto this week:
The Bahamas: 5,000 sign petition to demolish decorative torii gate
Italy: Nemi celebrates the Ides of Diana
Portugal: 4,500-year-old 'timber circles' discovered
Read more below…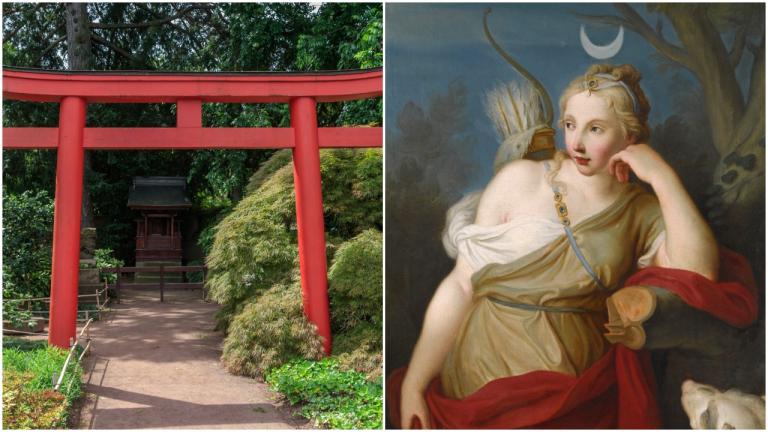 Pagan News
Italy: Nemi celebrates the Ides of Diana
The Wild Hunt
The hilltop town of Nemi, Italy is once again celebrating the Ides of Diana and her feast day, August 13th…
What scares Salem? October without Halloween
The New York Times
Cities, towns, retailers and confectioners across the country are bracing themselves for more subdued festivities this year — if they have them at all…
Working with your house spirit
Patheos Pagan: Lyn Thurman
Do we pick our homes or do they pick us? Is there a blueprint for the type of occupier a house spirit prefers?
Feeling stuck? Just do something magical
Patheos Pagan: Astrea
Whenever I feel stuck or low, the best remedy for me is to do something. Anything works, really, but it's better if it has magical aspects to it as well. Here are my top 12 tips on how to shift your stuck energy…
Shinto News
The Bahamas: 5,000 sign petition to demolish decorative torii gate
The Tribune
A 5,000-signature petition for the demolition of a well-known decorative torii gate has been launched and has already exceeded 50 percent of its signature target. The petition says "We are a Christian nation and we no longer want to be slaves to another culture that is not relevant to the growth and sustainability of Grand Bahama."…
Four Cabinet members visit war-linked Yasukuni shrine, Abe sends offering
Kyodo News
Four members of Prime Minister Shinzo Abe's Cabinet visited the Yasukuni shrine, seen by Japan's neighbors as a symbol of its past militarism, as the country marked the anniversary of its surrender in World War II on Saturday, while Abe himself sent a ritual offering…
Bon Odori 2.0: Japanese summer tradition moves online amid pandemic
Stars and Stripes Japan
Had it not been for COVID-19, this would be about the time you'd see many people sporting their summer kimonos around the city and at festivals. The tradition is part of Bon Odori, which run from July to the end of August…
Osaka shrine's sacred horse provides no bathroom privacy, lots of laughs
SoraNews24
Like a lot of Shinto shrines, Osaka Prefecture's Yoshikawa Hachimanjinja has its own Twitter account. But what's unique about Yoshikawa Hachimanjinja's social media presence is that there's a separate account for Izume, the shrine's goshimba, or sacred horse…
Other News
4,500-year-old 'timber circles' discovered in Portugal
Live Science
The remains of several timber circles constructed over 4,500 years ago have been discovered at the Perdigões complex archaeological site in Portugal…
US: Mother calls mask wearing and social distancing 'pagan rituals' at school board meeting
Milwaukee Journal Sentinel
As the Elmbrook School Board debated its reopening plans Tuesday night, a Brookfield mother said her children, whom she identified as Christian, should be exempt from the "pagan ritual" of wearing face coverings…
UK: Music technology will breathe new life into Viking poetry
The Times
The dialect, poems and music of the Vikings and Celts are being revived by a team of linguists determined to uncover what they sounded like…
Egypt: Statue of ancient priest of goddess Hathor uncovered in Giza
Egypt Independent
An excavation run by Egypt's Supreme Council of Antiquities in the Mit Rahina area in Giza discovered a statue of a priest of the ancient Egyptian goddess Hathor…
New discovery at Karahounj—'Armenia's Stonehenge'
Asbarez
Archeologists and researchers have reported the discovery of 30 never before seen stones at Karahounj or Zorats Karer, which is also called Armenia's Stonehenge…
JK Rowling visits museum of magic while holidaying in Iceland
The Sun
Rowling's family made a visit to Iceland's most famous sorcery and witchcraft museum, the Strandagaldur…
Russian occultist who made teenage girl pay him for 'selling her soul to Satan' arrested
Latestly
Police in Russia have arrested an alleged occultist who tricked a teenage girl into paying him for "selling her soul to Satan".
Hagia Sophia controversy goes beyond Muslim-Christian tensions to treatment of 'paganism'
The Conversation
Some believe that the Hagia Sophia, first a Christian cathedral in the eastern Roman Empire, was built on the site of an ancient pagan temple…
Scotland's most magical standing stones
Daily Record
From potential time travelling spots to ancient religious sites, standing stones can be found all across Scotland…
The many faces of Venus in art history
Art and Object
The embodiment of classical femininity, the goddess Venus has taken many forms throughout art history…
Worldwide 'witch hunts'
Ghana: NGO calls for a bill to outlaw 'witch camps'
Modern Ghana
A non-governmental organization, 4H-Ghana has called on the Ministry of Gender, Children and Social Protection to introduce a bill to Parliament to outlaw 'witch camps'.
India: Orissa High Court push for Central law to check 'witch-hunting'
Indian Express
The Orissa High Court has held that various legislations at the State level have failed to check 'witch-hunting' in the country because of the absence of a Central law…
India: Man hacked to death over 'witchcraft' suspicion in Odisha
Deccan Herald
A 60-year-old man was arrested in Odisha's Malkangiri district for hacking his neighbour to death on suspicion that he practised 'witchcraft', a police officer said on Monday…
Witch hunts: A global problem in the 21st century
DW
Witch hunts are far from being a thing of the past — even in the 21st century. In many countries, this is still a sad reality for many women today…