Top stories in Paganism and Shinto this week:
Pagans largest non-Christian faith in Iceland
UK: The Druid Network celebrates 10th anniversary as registered charity
Japan eyes excavation of ancient Daisen Kofun tomb mound in Osaka
Read more below…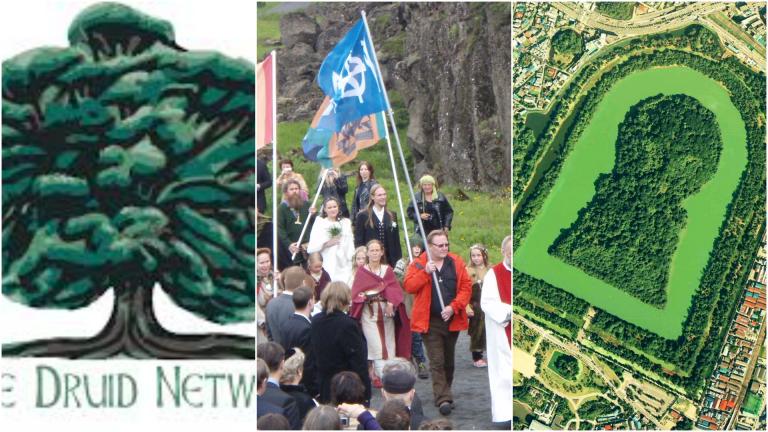 Pagan News
Pagans largest non-Christian faith in Iceland
Reykjavik Grapevine
The largest non-Christian faith in Iceland is the Ásatrú Society, a pagan faith that centres the pre-Christian Norse pantheon, with 5,031 members in all…
UK: The Druid Network celebrates 10th anniversary as registered charity
The Druid Network
October 5th 2020 saw the tenth anniversary of The Druid Network receiving notification that it had been successful in its application to the Charity Commission of England & Wales in getting its status as a charity approved….
No justice for witchcrafts store targeted by "Antifa hunter"
Patheos Pagan: Heron Michelle
The Sojourner, my witchy, progressive metaphysical shop, was vandalized recently with a large "Antifa Hunting Permit" sticker defacing our front door…
Witches are trying to figure out whose spell gave Trump COVID-19
Vice
Witches have been casting spells on the president since he was inaugurated. His COVID-19 diagnosis fell on a suspiciously auspicious date…
US: 'King' and 'queen' of 'witches coven' used Tinder to find women, murder trial told
Toronto Star
A self-proclaimed "king" and "queen" of a Nebraska witches coven trolled dating apps looking for potential followers — and victims…
UK: New Forest tree graffiti goes on display online
BBC
They include initials, names, dates as well as government markings and symbols linked to witchcraft…
US: Chicago witchcraft shop reacts to pandemic
Chicago Reader
Cursed by COVID this Halloween season? The Malliway Brothers conjure up alternatives to get you in the spirit…
US: Gibbes Museum of Art to open new exhibition on witchcraft and fantasy
Post and Courier
Comprised of paintings and prints from a major, private Charleston collection of Northern Renaissance art, the exhibition introduces a world of intensely, and, at times, disturbingly, vivid imagery that reflects the uncertainties of the period…
'They called her a crazy witch': did medium Hilma af Klint invent abstract art?
The Guardian
Years before Kandinsky, the Swedish artist was painting circles, sunbursts and looping lines – instructed, she believed, by spirits…
I found spirituality through my grandma's witchcraft
The State Press
My family history of brujeria, Spanish witchcraft, showed me witches exist beyond stereotypes…
How astrology has evolved over the millennia
KCRW
How has modern astrology evolved and can our place in the universe really be determined by the stars and the planets?…
Create your own retreat, sound bath, cacao ceremony
Patheos Pagan: Rachel Patterson
In the strange times we are living in at the moment, one of the things I have missed is being able to attend retreats, gong sound baths and cacao ceremonies. My solution is to create one for myself at home…
Astronomer: Oct. 31 festival was about surviving winter for ancient Celts
Ball State University
Across northern Europe 2,500 years ago, ancient Celtic tribes kept a close eye on the night skies in late October, watching for a star cluster called Pleiades to signal the beginning of winter…
Shinto News
Japan eyes excavation of ancient Daisen Kofun tomb mound in Osaka
The Japan Times
The Imperial Household Agency is considering excavating Daisen Kofun in Osaka Prefecture, the country's largest ancient burial mound, in a conservation project that could begin around next fall, sources close to the plan said Saturday…
Elderly man nabbed for allegedly stealing offering box from NE Japan shrine
The Mainichi
A 71-year-old man was arrested on Oct. 7 for allegedly stealing an offering box, in which visitors drop money to deities, at Morioka Hachimangu shrine in this northeast Japan city…
Ise Shrine crowded with visitors from Tokyo
NHK World
Crowds of visitors flocked to Ise Shrine in central Japan on the first Sunday since trips to and from Tokyo were added to the government's nationwide "Go To" campaign to encourage tourism…
'Witch Hunts' Past & Present
New evidence emerges about Orkney's controversial witch trials
The Herald
Until now it was believed 71 people were tried for witchcraft in the Orkney Isles during a febrile period spanning the years between 1594 and 1708. However, new research has revealed a further nine were also accused – making the relatively small Orkney Isles at the time among one of Scotland's riskiest places for a woman to dare to live…
India: Man 'killed, burnt' over 'witchcraft' in Malkangiri
OdishaTV
A man was allegedly killed and later set on fire over supposedly 'practising sorcery'.
India: Sixty-year-old woman branded as 'witch', killed in Jharkhand
The Tribune
A 60-year-old woman suspected of 'witchcraft' was battered to death while her husband was injured in an attack in Jharkhand's Deoghar district on Thursday, police said…
India: Four people beaten and paraded naked on suspicion of 'witchcraft' in Garhwa
Telegraph India
Three women and a man were allegedly stripped, paraded naked and thrashed by a mob of around 50 people who accused them of practising 'witchcraft', in Jharkhand's Garhwa district, police said…
Inside Niger's 'miracle centre' where 'witches' are stripped naked
The Nation
Videos of gross abuse of human rights in a so-called miracle centre in Mokwa, Niger State have been trending on social media in the past two months. They include those of men and women stripped naked after they were accused of 'witchcraft'…