Top stories in Paganism and Shinto this week:
US: Convenience store employee accused of discrimination against Wiccan
US: Murdock residents speak out against Asatru Folk Assembly
New study indicates that women are more likely to believe in the paranormal
Read more below…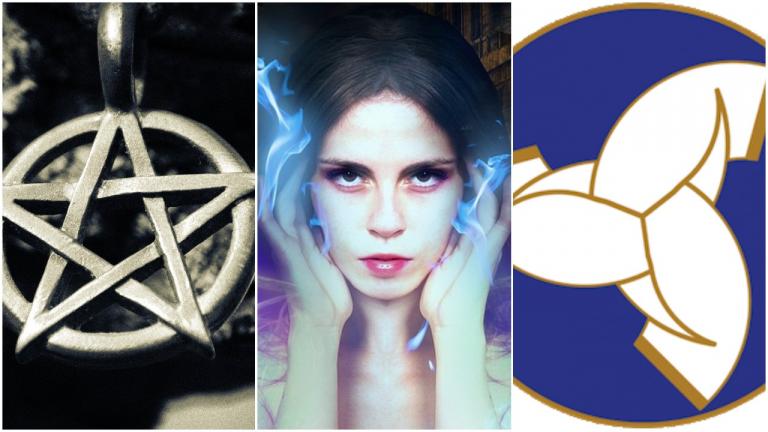 Pagan News
US: Convenience store worker accused of discrimination against Wiccan
Sun Journal
The Fisher Fuel Mart in Bridgeton has been reprimanded after an employee was reluctant to sell a lottery ticket to a practicing Wiccan…
US: Murdock residents speak out against Asatru Folk Assembly
CBS Minnesota
Residents packed a town hall in a tiny western Minnesota community to voice opposition to plans by a controversial Nordic heritage church that has been identified as a white supremacist group….
New study indicates that women are more likely to believe in the paranormal
PRWeb
With the exception of a few beliefs, women were shown to be much more open-minded about the occult, mysticism, and magic…
Interview with Canada's only openly Heathen candidate
The Wild Hunt
Recently The Wild Hunt spoke briefly with Robert Rudachyk, an openly Heathen candidate and interim leader for the Saskatchewan Liberal Party…
The magical resistance of the Blue Wave 2.0
The Wild Hunt
Over the weekend Michael M. Hughes, author of Magic for the Resistance: Rituals and Spells for Change and the creator of the Official Bind Trump Facebook group released an updated version of his 2018 political resistance working titled Blue Wave 2.0…
17 Witch podcasts that'll completely enchant you
Cosmopolitan
Whether you're a baby witch, a seasoned pro, or just someone who is seeking a little more magic in their life, here are some of my fave magical podcasts so you can celebrate the Season of the Witch all year long…
Shinto News
Japan PM Suga sends offering to Yasukuni Shrine for war dead
Reuter
Japanese Prime Minister Yoshihide Suga has sent an offering to the controversial Yasukuni Shrine for war dead to coincide with its autumn festival, public broadcaster NHK reported on Saturday…
Pikachu designer dedicates illustration of folklore character Amabie to Shinto shrine
The Mainichi
The Japanese designer behind the popular Pokémon character Pikachu visited the Kasuga Grand Shrine  and made an offering of  woodblock tablet with illustrations of Amabie, the folklore creature said to ward off plagues, and a white deer…
Cat in Japan finds the perfect shrine to take shelter from the rain
SoraNews24
Miyori Daimyojin is also called "Neko Jinja," meaning "the Cat Shrine."…
Other News
Italy: Tourist returns stolen artefacts from Pompeii 'after suffering curse'
The Guardian
A tourist who pilfered fragments from the ancient city of Pompeii 15 years ago has returned the artefacts, claiming they were "cursed"…
Curse of the pharaohs in the time of Covid: should Egypt be unearthing mummies?
Al-Khaleej Today
Last week, Egypt shared its latest archaeological discovery with the world, throwing a carefully choreographed ceremony just south of Cairo where 59 sealed sarcophagi dating back 2,500 years were unearthed near the famed step pyramid of Saqqara…
How Zoe Lister-Jones reimagined The Craft's iconic teen witches
Vanity Fair
In her first interview about The Craft: Legacy, the writer-director opens up about her highly anticipated film—a modern take on witchcraft that doesn't pit women against other women…
'Witch Hunts' Past & Present
India: Meghalaya govt to form stringent laws to stop 'witchcraft'-related killings
East Mojo
After a person suspected of 'witchcraft' was murdered in West Khasi Hills District, the government is looking at formulating stringent state laws to deter people who take the law into their own hands.
Zimbabwe: Horror as brothers kill mother over "witchcraft"
Zimeye.net
Three men from Chivi in Masvingo province have been arrested for allegedly teaming up to murder their 72-year-old mother after accusing her of 'witchcraft'…
India: Meghalaya man buried alive on suspicion of 'witchcraft', three held
The New Indian Express
A man in Meghalaya was buried alive on the suspicion that he was practicing 'witchcraft'…
India: Man murdered, set ablaze over suspicion of practising 'witchcraft'
Times Now News
A farmer from Andhra Pradesh was allegedly murdered and set ablaze by a group of villagers as they suspected him of practising 'witchcraft'…
India: Man kills grandmother over 'witchcraft' suspicion in Maharashtra
The Tribune
A man allegedly killed his 62-year-old grandmother in Maharashtra's Palghar district over suspicion that she practised 'witchcraft' on him, police said on Monday…
Witchcraft violence continues unabated across Nepal
The Himalayan Times
Statistics provided by Nepal Police showed that it filed a total of 46 cases of 'witchcraft' accusations and subsequent torture at the concerned district courts across the country in 2018-19, 34 cases in 2019-20 and 13 cases as of mid-September in the current fiscal year…
Nigeria: Justice for alleged 'child witches' in Ogun State
Modern Ghana
Unlike adult victims, alleged 'child witches' have little or no knowledge of witchcraft or occult harm. Adult torture and coerce them to confess to witchcraft…
Scotland's 'witches' were not usually mentally ill, but were tortured into delusions
The Scotsman
Scotland was a fanatical country in the 17th century, zealously pursuing women (in the main) for the crime of 'witchcraft'…