Top stories in Paganism and Shinto this week:
Witches hex Trump and his supporters after Capitol insurrection
Fantasy author and witch Storm Constantine dies
Japanese pray for end to pandemic in annual ice bath Shinto ritual at Tokyo shrine
Read more below…
*=Registration may be required.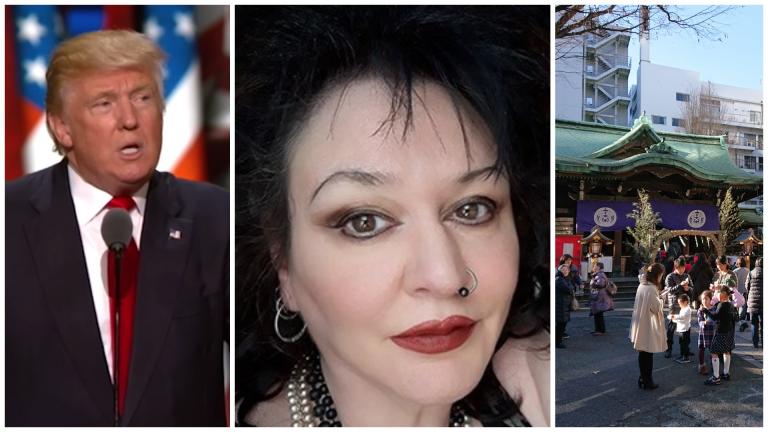 Pagan News
Witches hex Trump and his supporters after Capitol insurrection
Teen Vogue
witches are taking to platforms like TikTok and Instagram yet again to maximize their hexing powers, casting spells against Trump and his supporters during his final days in office…
The 2021 Pagan Studies Conference goes entirely online
The Wild Hunt
The 2021 Pagan Studies Conference, titled "Brave New World: Contemporary Paganisms During Extreme Change" will occur from January 16 through January 17. Registration is open…
A peek into the average day of a real new-age witch
Metro
37-year-old Aisha Carrington, from Reading, Berkshire, calls herself a witch, and works as a public speaker, reiki, meditation and sound guide, self love coach, and angel guide…
Modern witchcraft and ritual magick are transforming the wellness scene
Tatler
As more people allow themselves to explore spirituality outside traditional religions, ritual magick and witchy ways of healing that were once banished to the fringes of society now have people's interest piqued…
I make my own witch potions to help my anxiety and skin and they're amazing
Glamour
My personal practices are 'eclectic' with a mix of plant magic, herbalism, Celtic and Hindu rituals mostly and one bonus of being seconded to my flat in the pandemic has meant I've had more time to invest in it…
Shinto News
Japanese pray for end to pandemic in annual ice bath Shinto ritual at Tokyo shrine
Reuters
Men wearing traditional loin clothes and women dressed in white robes clapped and chanted before going into an ice water bath during a Shinto ritual at a Tokyo shrine on Sunday to purify the soul and pray for the end of the COVID-19 pandemic…
Half-naked men run around Shinto shrine for good health
The Mainichi
Men stripped naked from the waist up ran a 4.1-kilometer course around a shrine in this western Japan city on Jan. 11 — an annual event to pray for good health…
North Japan pref. sees traditional shrine visits, bonfire festivals curtailed in pandemic
The Mainichi
Amid the spread of coronavirus infections and a state of emergency declared for multiple densely populated prefectures, Miyagi Prefecture in north Japan has seen traditional winter festivities curtailed or cancelled…
Virus casts shadow over once-in-a-lifetime coming-of-age ceremonies
The Japan Times*
Across Japan, 1.24 million young people celebrated becoming an adult Monday, Coming of Age Day, in an annual rite of passage for 20-year-olds that — were it not for the novel coronavirus pandemic — would have been celebrated in style with childhood reunions and all-night after-parties…
ABOUT renovates award office at the Mekari shrine in Japan's Fukuoka prefecture
designboom
ABOUT, an architecture firm led by Tadahiro Butsugan, has renovated a building that forms part of a shrine in the northernmost part of Kyushu, Japan…
Museum aims to tell true story of hemp in Japan
The Mainichi
In Japan, hemp fiber has been used for geta sandal straps, mosquito nets, fishing lines, and fishing nets, among other items, and its use is said to have deep roots in Shinto rituals…
The woman excelling in Japan's male world of sake
The Guardian
Male brewers shunned women, it is said, not least because they risked invoking the wrath of jealous female sake deities…
Cherry blossom set to bloom early in Tokyo again this year
Sora News24
Despite the distinct chill in the air, and masses of snow covering some of Japan's coldest areas, spring is actually just around the corner, and that means it's time to start making plans for the sakura cherry blossom season…
Other News
Fantasy author and witch Storm Constantine dies
Locus
Author and publisher Storm Constantine, 64, died January 14, 2021 following a long illness. She was best known as the author of the Wraeththu series, and as the publisher of Immanion Press, founded in 2003, which published her own work and that of other authors including Tanith Lee, Michael Moorcock, and Brian Stableford…
Satanists vow to cast spell on whoever burned down their house
Briefly
The house, also called the House of Netherworld is located in what has come to be known as the Witchcraft District in Poughkeepsie…
World's oldest painting of animals discovered in an Indonesian cave
New Scientist
Stunning cave paintings discovered in Indonesia include what might be the oldest known depictions of animals on the planet, dating back at least 45,000 years….
'Witch Hunts' Past & Present
Ghana: Father kills 9-year-old daughter after accusing her of 'witchcraft'
Joy Online
A Pastor of Heavens Kingdom Palace Ministry International is reported to have killed his 9-year-old daughter after accusing her of 'witchcraft'…
Kenya: Man killed as wife and children watch over 'witchcraft' claims
The Standard
Guni Mwandia, 80, was hacked with an axe after his home was raided by a gang armed with crude weapons in the dead of night on Sunday over 'witchcraft' allegations…
South Africa: Mob locks woman, 80, inside house and sets it alight after accusing her of 'witchcraft'
I0L
An 80-year old woman was hacked with a hoe and locked inside her house which was then set alight by a mob that had accused her of being a 'witch'…