Top stories of the week in Paganism and Shinto:
UK: Stonehenge exhibition highlights similarities between ancient British and Japanese cultures
UK: Scotland's Witch Trail Map launched
US: Man pleads guilty to dousing 'Bewitched' statue in red paint
Read more below…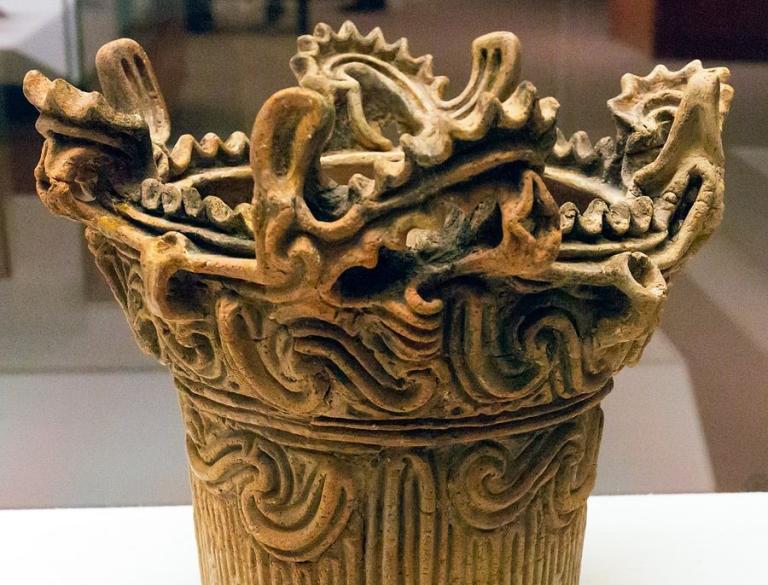 *=Registration may be required.
Pagan News
UK: Scotland's Witch Trail Map launched
Scottish Business News
Scotland's tales of witchcraft are being marked during the Year of Stories 2022 with a new Witch Trail created by VisitScotland…
Thousands gather for UK's largest witch and Pagan festival
Coventry Telegraph
More than 2,500 people descended on Warwickshire this month for the return of the largest witch festival in the UK…
US: Handfasting –  a unique, ancient, Celtic ceremony on the rise
San Diego Reader
One couple wanted to use hay-baling string to tie the knot because they came from a farm…
UK: Wizard man of Sutton – What happened to the legend who dressed in Pagan robes and patrolled the High Street
MyLondon
He had a dog called Gandalf and a chilled philosophy on life…
UK: A look back at the time a White Witch tried to use his powers to call forth the Loch Ness Monster
Daily Record
High Priest of the British Coven of White Witches arrived in Loch Ness in 2003 hoping to help solve the mystery…
UK: Meet the Cornish witches keeping the craft alive
Great British Life
There has been a revival of interest in witchcraft in recent years, as Cornwall Life discovered when we spoke to two women who are practising the art in Cornwall…
What I learnt from speaking to a witch
Fashion Journal
Witches don't have to be born into magick or be part of a coven. In fact, there's no right or wrong way to practice witchcraft and anyone can do it…
The original Hellfire Club: Where British elites practiced Pagan rites and Bacchanalian orgies
Fodors
Long before the Hellfire Club became associated with the new season of "Stranger Things," it was an 18th-century gathering of hedonistic British aristocracy…
Shinto News
Stonehenge exhibition highlights similarities between ancient British and Japanese cultures
The Guardian
The parallels suggest the communities are ideologically closer than one might imagine…
Prince Hisahito visits Ise Jingu shrine
The Japan News
Prince Hisahito, the son of Crown Prince Akishino and Crown Princess Kiko, visited Ise Jingu, a major Shinto shrine complex in Mie Prefecture, on Saturday…
Traditional spider sumo tournament held at Shinto shrine
Honolulu Star Advertiser
Last month, a shrine in Shikoku held a special wrestling tournament where local children entered their own critters to compete…
Can visiting Japan's power spots improve the omikuji temple fortune you draw?
SoraNews24
Traveling around Japan, you'll sometimes come across places that have earned a reputation as a "power spot" (or pawaa supotto, to use the local pronunciation), places where auspicious energies are said to gather and attach themselves to visitors…
Marie Kondo's decluttering mission starts with Japanese culture
Observer
Like a Shinto shrine, a home is a sacred space, according to the guru of tidying up…
Written Norito
Mimusubi
Norito, the formal prayers offered during Shinto matsuri, are always written down, and the priest reads them from the paper…
Abe's death reignites religion and state debate
East Asia Forum
The assassination of Japanese former prime minister Shinzo Abe on 8 July 2022 brought to light the role that religious organisations play in Japanese politics…
Other News
US: Man pleads guilty to dousing 'Bewitched' statue in red paint
News4Jax
A man will be sentenced to 18 months of probation after pleading guilty to vandalizing the "Bewitched" statue by dousing the Salem, Massachusetts tourist attraction with red paint over the summer…
UK: Stonehenge tunnel contracts worth £1.7bn signed
BBC
Contracts worth £1.7bn to dig a tunnel near Stonehenge have been signed despite any decision to build it has still to be made…
UK: Newly-discovered photos show Stonehenge being repaired in 1901
Wiltshire Live
Stonehenge's biggest stone was straightened using a huge wooden frame and beams. Pictures captured this moment in time…
How 'Hocus Pocus 2' used folklore, spiders and snakes to update witchy looks from the original
Variety
Costume designer Sal Perez resurrected the trio's outfits and then went even farther to breathe new life into the beloved property…
The worship of the feminine is ancient and widespread
Indian Express
The worship of the feminine has been the most ancient form of worship on the planet, widespread not just in India, but in Europe, Arabia and large parts of Africa…
UK: Crop circles cost farmers thousands in lost revenue
The Guardian
England's spheres of flattened land are under fresh scrutiny as global grain prices skyrocket…
US: Finding a home for black cats
The Wild Hunt
The reality is that black animals–be they cats or dogs–have a much lower adoption rate from shelters and rescues than other colored animals…
'Witch hunts' past and present
India: Family tortured, forced to eat human excreta over suspicion of 'witchcraft'
International Business Times
A family of four in India were tortured with a hot iron rod and forced to eat human excreta over allegations that they 'practiced witchcraft', reports said…
India: Ramechhap woman beaten to death on 'witchcraft' charges
The Kathmandu Post
While incidents of grave abuse of human rights continue in the district, victims rarely come forward with complaints…
Nigeria: Advocacy group raises alarm over witch-hunting crusade
Daily Post
The Advocacy for Alleged Witches (AfAW) has raised concern over moves by some religious leaders to incite violence and hatred against family members through their alleged witch-hunting crusade…
The UK business helping overcome harmful 'witchcraft' beliefs in Africa
Business Live
A UK business is helping address the association between epilepsy and 'witchcraft' in parts of Africa…
UK: The facts about shameful Scottish witchcraft laws
Sunday Post
Author Mairi Kidd, whose new book pays tribute to those persecuted in the Scottish Witch Trials, tells Alice Hinds the Honest Truth about the old law.