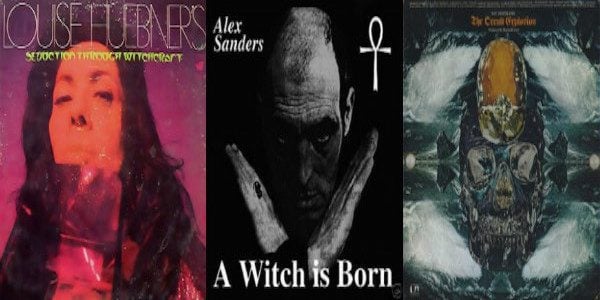 Before the internet, before cable television, there was the vinyl LP. Though we usually think of records as vehicles for music, all kinds of records were released fifty years ago. Surprisingly, some of those featured Witchcraft. That Craft doesn't always resemble what many of us do today, but it's still fascinating and deserving of attention. Luckily for us we live in the world of Youtube, and the stuff that's not in print is at least available to listen to, if not buy.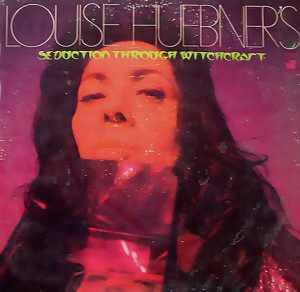 Louise Huebner-Seduction Through Witchcraft
I'm surprised there's not a Wikipedia entry for Louise Huebner, the Official Witch of Los Angeles, and one-time media sensation. For those of you unfamiliar with Huebner, she was one of the first media witches. Huebner was a fixture on TV talk-shows and received her fair share of press as well back in the early 1970's (and sometimes still does). For whatever reason, Huebner hasn't enjoyed the long-lasting notoriety of a Sybil Leek, perhaps because her version of Witchcraft is a little less than mainstream:
"A Witch is a psychic female who with magical secrets and sheer force of will makes things happen. I'm a witch, my mother's a witch, my grandmother is a witch . . . I'm a sixth generation witch. With magic I control energy, with magic I can help you become a power . . . . you will soon be able to rearrange the law and order of all things." -From The Seduction of Witchcraft, Track One Introduction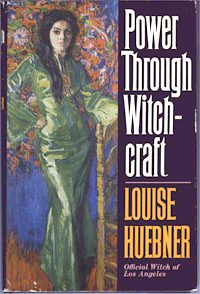 Huebner's greatest success came in 1969 with the release of Power Through Witchcraft. That book was turned into the album Seduction Through Witchcraft which was released by Warner Brothers the same year. The album is a mix of spoken word spells and ridiculously trippy sound effects. It sounds as if the intent of the record was to both tantalize and scare, but the result is nearly comical in 2015. While I don't agree with Huebner about who can and can't be a Witch, I do like her take on raising energy and spell work, at least when she's not calling for orgies as "ritualistic energy exchanges that provide the concentration of power needed for spell casting," but I guess it was the 60's.
Though Alex Sanders passed away in 1988 he remains extremely influential. The tradition that bares his name, Alexandrian, continues to thrive and grow. Oddly, for such a well known Priest, Sanders doesn't have much in the way of a public written legacy. He did however release an album in 1970, and as far as I can tell it's the first recording to feature authentic Witch rituals. If you've ever wondered just how to pronounce all the goddess names at the start of The Charge of the Goddess, this record does answer a few questions.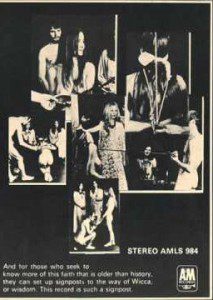 A Witch is Born documents the initiation of Janet Farrar (then Janet Owen). Not surprisingly Maxine Sanders serves as Alex's High Priestess, with Stewart Farrar serving as narrator. The album doesn't completely work. Farrar's narration feels a bit clunky at times, but it's amazingly cool to hear Craft stalwarts like Maxine and Janet through stereo speakers. I'm not sure if Alex and Maxine initiated new Witches to the music of Richard Wagner at their flat in London, but they do on this album. Sometimes it kind of fits, and other times I find myself humming "kill the wabbit, kill the wabbit."
Sadly Sander's album is not easily available in physical form, starting at nearly fifty bucks used (and that's a recent CD version released in 2009). It's also not currently available for digital download, but it does live on at YouTube, for which I'm grateful. I wonder if Alex ever got invited to any big label functions (his album was released on A&M Records). It's interesting to think of him and Maxine hanging out with Herb Albert and the Tijuana Brass, Burt Bacharach, Carole King, and Cat Stevens.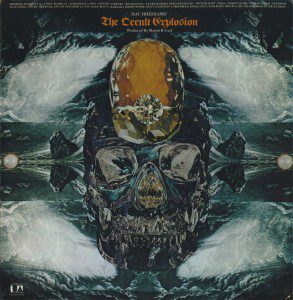 Nat Freedland-The Occult Explosion
Who is Nat Freedland? Certainly not a Witch, but his book The Occult Explosion released back in 1972 was hugely successful. So successful that the following year United Artists Records released a companion record featuring interviews conducted by Nat with various "occult" figures. Some of those interviews are with the expected usual subjects, people like Anton LaVey (I'm not sure he ever met a microphone he didn't like), but there are some true surprises as well. Allan Watts shows up on the record because there are few things more occult-infused than "meditation." Snarky comments aside, The Occult Explosion LP features an interesting mix of topics. There's spiritualism, UFO's, astrology, and ESP. Of most interest to us is an interview with Louise Huebner on Witchcraft (I told you she was a big deal back then).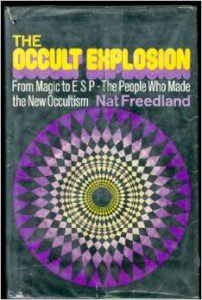 Freedland's album definitely has the coolest cover art of every LP listed here, though the record's contents are not nearly as trippy as that art suggests. Freedland's interviews are all pretty straightforward and he seems to take all of his subjects seriously. This was originally released as a double album, and as a result is over 90 minutes long. The snark I was expecting when I came across this little mentioned gem is refreshingly absent. Huebner's interview is worth a listen, and don't worry, it's at the beginning of this 90 minute occult marathon! It's a shame that Freedland didn't get the previously mentioned Leek on the record, but one Witch is certainly better than no Witches.
The Occult Experience was Freedland's only album (and book) but the man had a successful and varied career as a journalist. He wrote for Billboard Magazine and was one of the first journalists to write an extensive profile of Marvel Comics. As a comic-book and rock music fan it's not much of a surprise that I ended up liking Freedland after listening to his record.
LaVey is most certainly not "one of ours," but the occult revival in the United States during the late 60's and early 70's was certainly influenced by LaVey. It's weird to imagine Satanism and Modern Witchcraft as bedfellows in 2015, but the two often cohabited in the minds of many both in and outside of the media forty-five years ago. In addition some of LaVey's Satanism sounds Pagan today. For all the talk about LaVey-Satanism being atheistic he liked to name-check deities. He was also influenced by Aleister Crowley, who was also a big influence on Modern Witchcraft.
Listening to LaVey's Satanic Mass today I'm struck by just how sterile and silly it sounds. LaVey most likely had a pretty magnetic persona, but it's missing on this recording. He comes across here as pretty charisma deficient. The organ is a nice touch in places, but at the same time makes me feel like I'm back at my old Methodist Church. Lines like ". . .and great black slimy shapes shall rise from brackish pits of hell and vomit forth their pestilence into his puny brain" might have shocked people in 1968, but they mostly just make me giggle today.
Unlike the other albums listed in this article, LaVey's record was released by his own personal label. I guess it's one thing to sign a Witch to a major label and a whole other thing to sign a Satanist.