This past July my wife and I visited Universal Studios Orlando, basically to immerse ourselves in the world of Harry Potter. My wife is a huge Potter fan, me a bit less so, but I certainly don't hate it. I've read all of J.K. Rowling's books and I've seen all the movies.
The Wizarding World of Harry Potter is not for the faint of pocketbook. A two day ticket to get into the park(s) (of course the Harry Potter stuff is spread out between two theme parks to maximize the amount of money you'll have to spend) starts at about 250 bucks, and to really enjoy the whole experience you'll need two days. Prices escalate even further if you stay a Universal resort (hotel) to take advantage of early theme park admission and/or purchase a fast pass to skip the sometimes two-hour long lines. And if you were wondering we paid for both of those extras, and it was money well spent.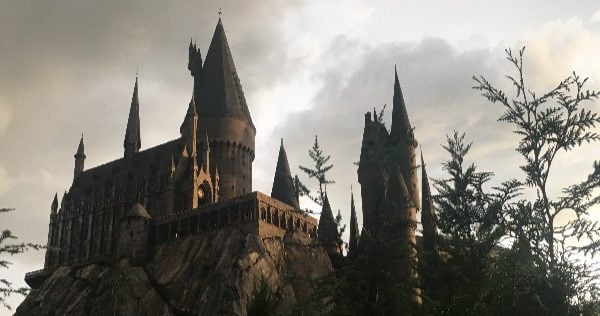 Our Harry Potter adventure began at Universal Studios and Diagon Alley, which I found to be surprisingly immersive and well designed. The best thing I can think to compare it to is a Renaissance Festival, because that's what it reminded me of. Diagon Alley was its own little world, and we had a blast.
Getting into Diagon Alley requires cutting through what looks like, well, an alley, located just past a romanticized section of the park that transforms from New York City to San Francisco to London in about the span of two city blocks. If there hadn't been a few dozen people lined up to walk into the alley I would have probably missed it. (Ari had no such problem, but she's also a lot more observant than I am.) Upon entry into Diagon Alley we were greeted by several familiar store fronts, but our goal was Ollivanders (Makers of Fine Wands Since 382 B.C., of course), and an interactive wand.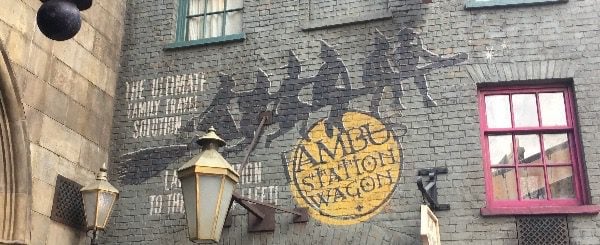 I don't want to say that Ollivanders was a bit of a letdown, but it was. The shop its self looks like you'd expect a wand-shop to look, but the wands for sale take you right out of the immersive nature of the Alley. Instead of being able to choose a unique wand, most of the wands for sale were replicas of ones used in the movies. You may want a Bellatrix Lestrange wand, but if Ollivanders was a real place they wouldn't be selling such a thing. A bit more impressive, and a little less cheesey, were original wands named after trees.
After some hemming and hawing I picked an Oak wand (our coven is named the Oak Court after all), and my wife picked the Ivy one. I nearly picked the Ivy wand myself since it had an acorn on the end of it. (Would if have made more sense for the oak one to have that acorn? Yes, but no one asked me.) There are little stations set up around Diagon Alley and Hogsmeade (we'll get to that in a minute or two) where you can wave your wand around and start fountains or perform little magickal tricks. Most of these tricks require somewhat precise movements, and it took me a while to figure out just how to do it properly. If I had been eight these little wand activities would have been the coolest thing ever, but as a mostly adult person, I quit seeking them out pretty quickly.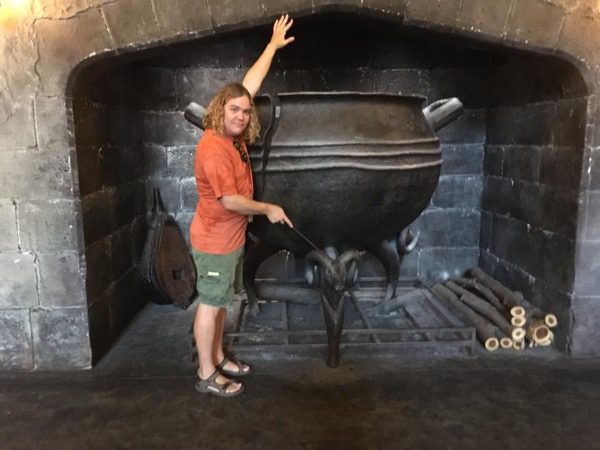 Breakfast that morning was at the Leaky Cauldron, and again, whoever designed all this stuff did an absolutely smash-up job. I felt like I was eating at an old English pub (other than ordering), and there really was a big old leaky cauldron in the center of the establishment. Ari and I both had big Old Fashioned English Breakfasts that morning, at about 16 bucks a plate. Not too crazy for a theme park. Even better they had both coffee and cider! Now I was rolling.
After food we did some more shopping before I hopped on the Harry Potter and the Escape from Gringotts sort of roller coaster. I say "sort of roller coaster" because while the ride is on rails, much of it is also in you head with projection screens and slightly tipping carts simulating what Harry and his friends went through in the first Deadly Hallows movie. It was a fine ride, and the wait in line went by super-quickly, and not just because of my fast-pass. There were goblins to look at it, and plenty of other things to gawk at while moving through the line.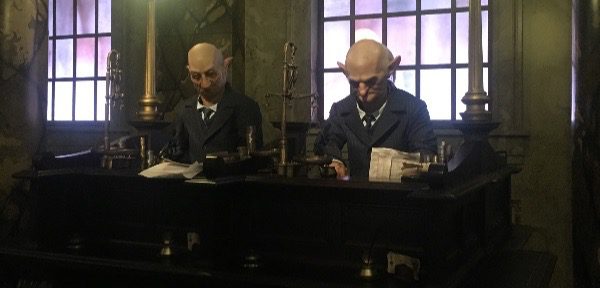 Even without going on the Escape ride, Gringots is pretty awesome. The large fire breathing dragon on the outside of the bank is a show-stopper, and I probably watched it for 30 minutes one afternoon waiting for it to spit fire again.
While not everyone is going to be able to afford the stay at one of Universal Orlando's hotels, we found the extra money worth it just to get into the park an hour early. That free hour allowed us to minimize our wait times for both ride, foods, and shopping. I hated having to get up at 7:00 AM to get to the park by 8:00 (especially with the three hour time difference, 7 AM is 4 AM Pacific Time), but those two early hours were generally my favorite moments in the park.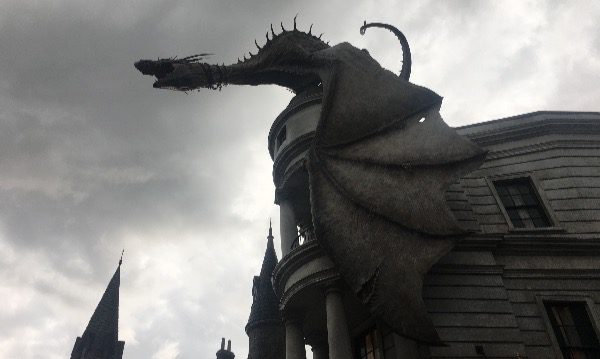 Ari found the shopping to be more fun than I did, and that probably depends a great deal on your own Harry Potter fandom. I just didn't need any chocolate frogs at eight dollars a box when I can buy a candy bar for a buck. I felt the same way about the "toys" and gig-gifts in the Weasleys' Wizard Wheezes shop. Worth looking around? Absolutely. Was there anything there I was tempted to buy, not really.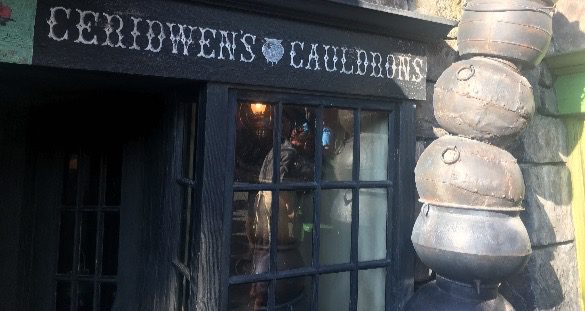 We spent about three hours on our first day exploring Diagon Alley, holding off on the second part of the Wizarding World, Hogsmeade, for day two. Hogsmeade is at Universal Studios Islands of Adventure, instead of at the original park and can be accessed via the front gate of Islands, or better yet, the train at Platform 9 and 3/4 at London's King's Cross Station located at the original park. (A station I've actually been to, and I'll say that the Universal Studios version is much cleaner and quieter.)
The Hogwarts Express was one of our favorite rides at Universal. There weren't any sudden dips or dives, but there were shadows of Demontors on your train-car door's window, along with Ron, Hermione, and Harry keeping them away from you. The Express might have been my favorite ride because it was air conditioned, as was the wait to get to the train. Highly welcome in the 95 degree temperatures we experienced.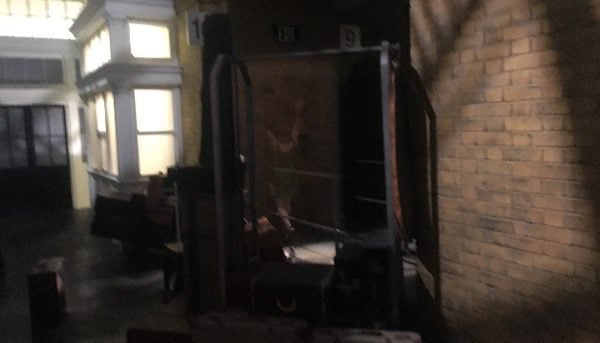 If I had to pick between Diagon Alley and Hogsmeade the hands-down winner would be Hogsmeade. For whatever reason this part of the park just clicked a little bit more with us. Some of that's probably because Hogwarts Castle is absolutely magnificent, and the castle also features the Harry Potter and the Forbidden Journey ride, which is top notch. Much like the Gringots ride it's a mixture of traditional roller-coaster and video screens, but it all comes together masterfully. There's also a giant dragon that spits water vapor, which I was right in the line of fire for, twice.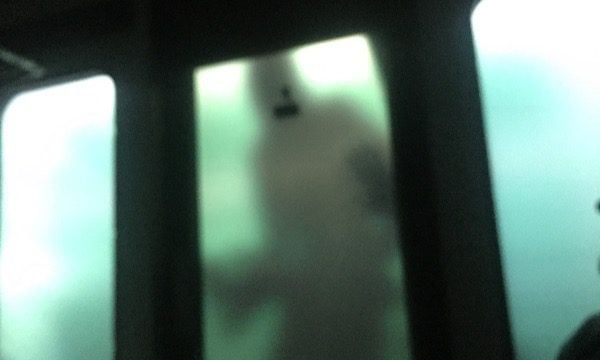 You want a little pro tip? Wait times for the Forbidden Journey can be long even with an Express Pass, but are only about three minutes long if you get in the single rider line. Since my wife didn't want to ride with me (though she did tour the castle, which was spectacular in and of its self) that's the line I got in and ended up with two people in front of me. Since you really can't see the person to the left or right of you during the ride, the single rider option really saves time. (And allowed me to go twice in a row.) Some of the other rides at Universal Studios have "motionless" options, and those lines are also ridiculously short, and since much of the movement on these rides is simulated you don't really miss much.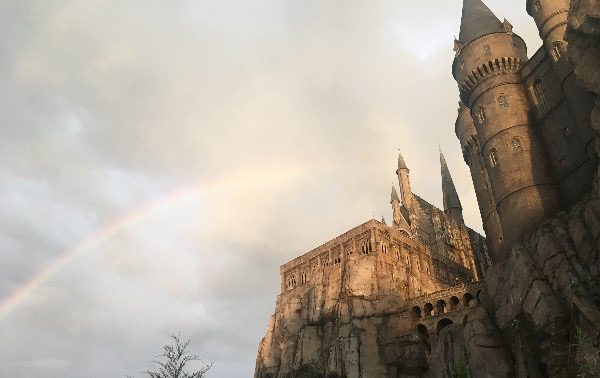 Hogsmeade felt a little more spread out than Diagon Alley did to me, which was probably one of the reasons I liked it more. It also boasts, an extra roller coaster, the very traditional Flight of the Hippogriff. (Which I didn't ride, and when I did plan to it was shut down because of rain.) We did have breakfast at the Three Broomsticks, as of course we had to eat at something that was related to Witches.
The snow covered roofs at Hogsmeade are a bit ridiculous though, and impossible to take seriously in the 90 plus degree heat. I realize that the village appears that way in the movies, but it's not like there's snow in Scotland year round. Just seemed a little bit unnecessary.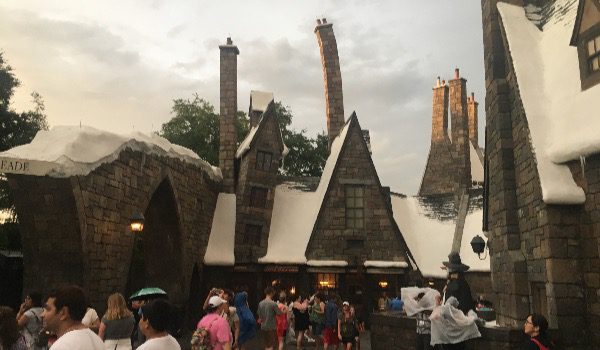 My favorite part of our Wizarding World Trip occurred later in our second day. After retreating to our hotel room due to an impending thunder storm, we went back out after the worst of it had passed and the sun was starting to set (Ari really wanted to see everything at night/evening). It rained for most of this second go around, but we made the best of it, ordering cider (Strongbow for me) and beer (Wizard's Brew, a stout for Ari) and proceeding to get a bit tipsy as we wandered the Wizarding World one last time. (The park's cinnamon whisky mixed with cider was delicious, we also had a shot of some sort of weird rum at the Hogshead Bar.)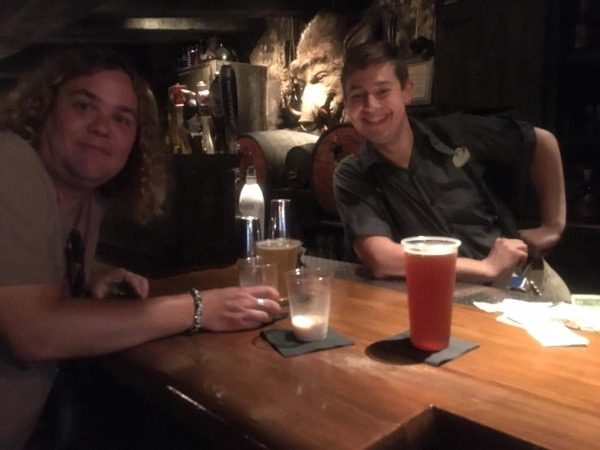 After taking the Hogwarts Express from Diagon Alley to Hogsmeade we were greeted by a double rainbow over the castle. All in all it was a pretty memorable little trip.