I've spent the last couple of days on the Greek island of Thira, better known around the world as Santorini. Santorini is famous for many things; a truly ancient civilisation that once existed on it shores, great wine, stunning sunsets, a devastating volcanic eruption (and the caldera that emerged from it), and for being the inspiration for Plato's legendary Atlantis. When the ancient island of Thera literally blew up via a giant volcanic eruption 3600 years ago, one island became many, and the culture that thrived here, perhaps along with nearby Crete, ceased to be.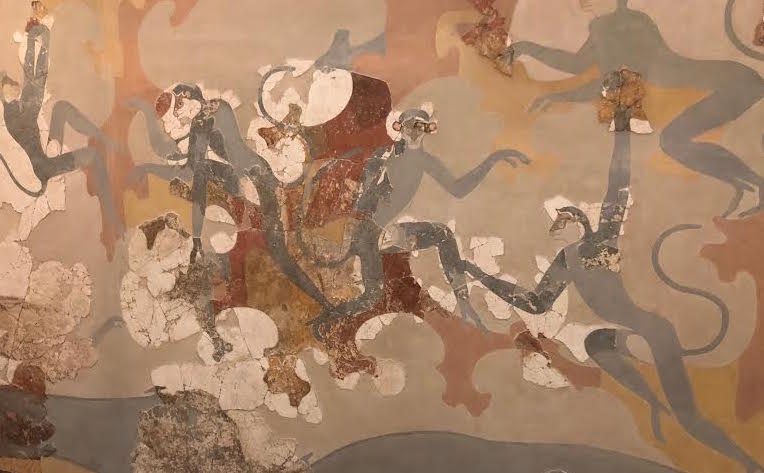 I don't know if ancient Thera (today's Santorini) was the inspiration for Atlantis, but I can understand why it might be possible. Excavations begun in 1967 on the Bronze Age settlement known today as Akrotiri (named after a nearby village) revealed a complex society whose principle city had over 10,000 residents. In addition to its large population ancient Akrotiri was home to a citywide sewer system and indoor toilets. (By way of comparison, Abraham Lincoln, Queen Elizabeth, and George Washington didn't have such luxuries during their lifetimes.)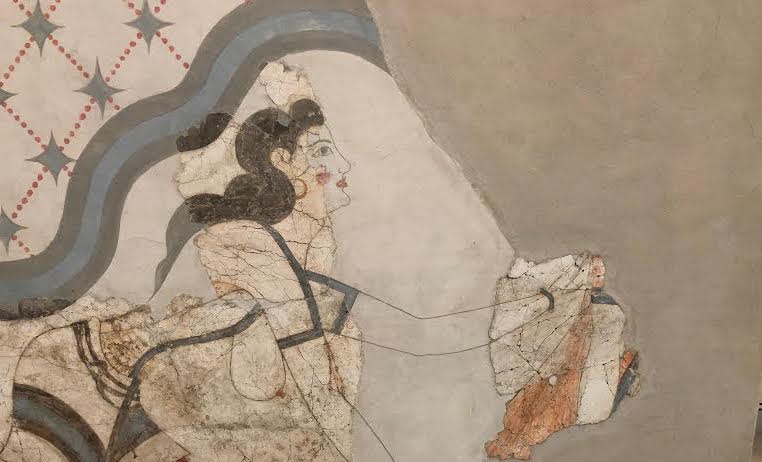 The ancient inhabits of Thera also produced stunning works of art. While only about 3% of the ancient village has been excavated, what's been found thus far is extraordinary. Wall paintings adorned three story homes, highlighting both everyday life, and what's most likely a spiritual dimension as well. Pictures of the art that's been found at Akrotiri don't do it justice since it's all much larger than most imagine. Paintings are about 2/3 life size, meaning that they are enormous works of art. They are also quite well preserved, having been protected by volcanic ash for the last 3600 years.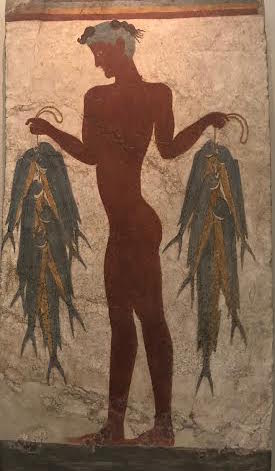 While touring the revealed remains of Akrotiri our guide kept reminding us of how little of the ancient village has been brought to light. The Greek treasury's lack of euros has stopped current excavations, meaning that more wonders are yet to come. I can't get over how beautiful what's been brought to light is, and how much more must still be hiding under layers of volcanic ash.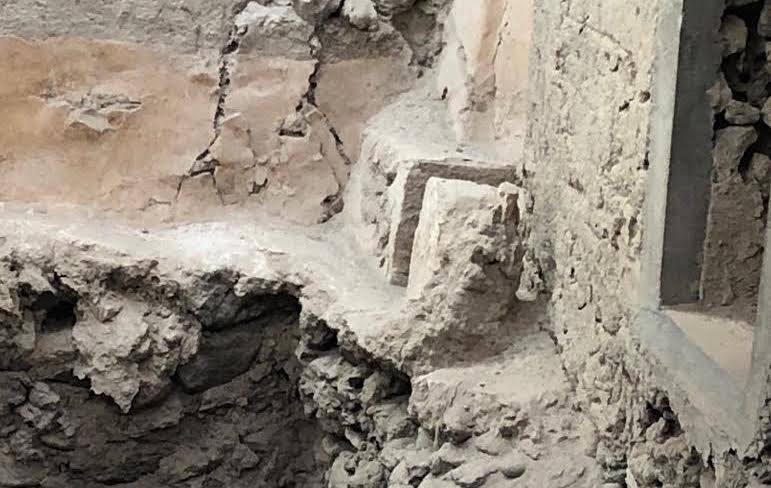 The people of ancient Akrotiri, were also literate. Linear A writing has been discovered there, and through the art of Akrotirians we know that they traveled through the Mediterranean, Central Asia, and Egypt. This was an impressive culture, and when it declined (along with that of Crete) I can see why it might have sparked later stories about places like Atlantis.
Today Santorini is more of a resort location than a place of ancient religious pilgrimage. The people of modern Santorini are proud of the individuals who came before them, but the island today is about tourism and agriculture. Wine is a serious industry in Santorini today, and it should be, the island's white wines are prized and appreciated throughout the world. (And I'll admit that they totally won me over and I generally prefer reds.) Though there are no temples to Dionysus in Santorini, he's known here in his own way.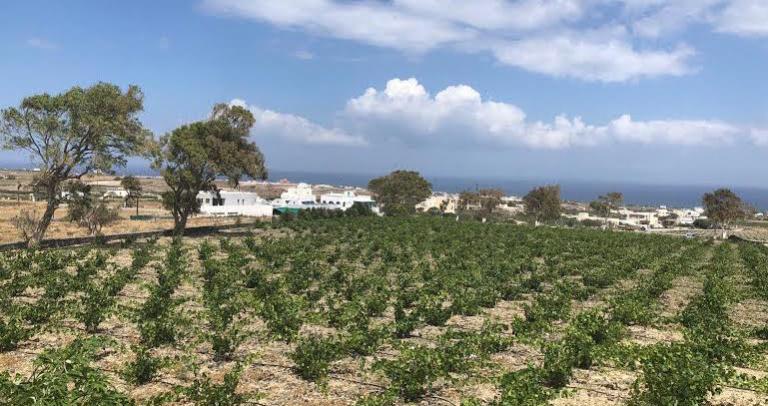 Santorini's grapevines are some of the oldest in Europe (if not the oldest) are far different from the ones that grow back in (my) California. Instead of growing up, the vines are kept low to the ground and in a circular shape to save the grapes from Santorini's high winds. Just about anywhere grapes can be grown there are vines in Santorini, though they look more like shrubs on dusty ground than lush vineyards.
On our third day in Santorini my wife and I journeyed from the village of Fira to the village of Oia. The walk is notable not just because most of it is uphill, but because it shows off all the volcanic dust, debris, and rock that makes up modern day Santorini. The entire population of Santorini is only 16,000 souls so I'm not sure which village is bigger, but I can attest to Oia being far more expensive. It apparently has the best views for Santorini's legendary sunsets, which means cocktails sell for twice as much as they do in Fira.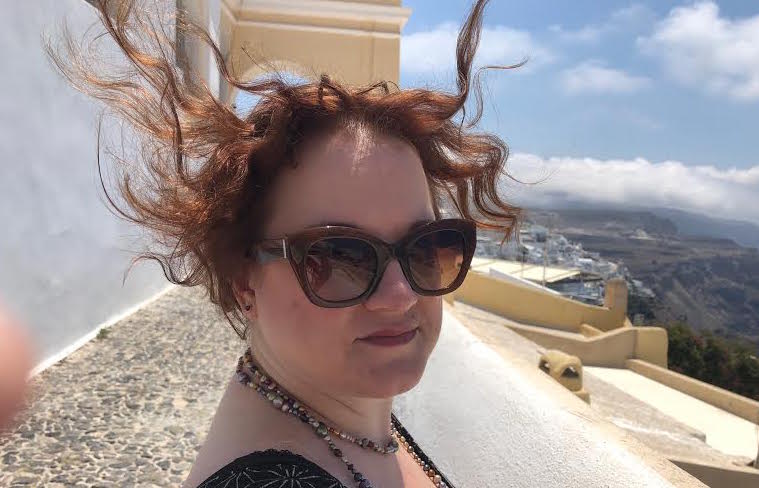 And the sunsets live up to their reputation. They are stunning. Each night here the sun quickly dips down into the sea while the various islands that once made up ancient Thira look on in amazement. The blue of the ocean and the golden colour of the sun playing upon Santorini's caldera creates a sight that only can be seen here. I don't know if this was ancient Atlantis, but it is a magickal place in its own way.
OTHER NOTES
-This is my third vacation related post. For those of you keeping track at home, we are heading next to Crete, and then to Croatia for a few days each.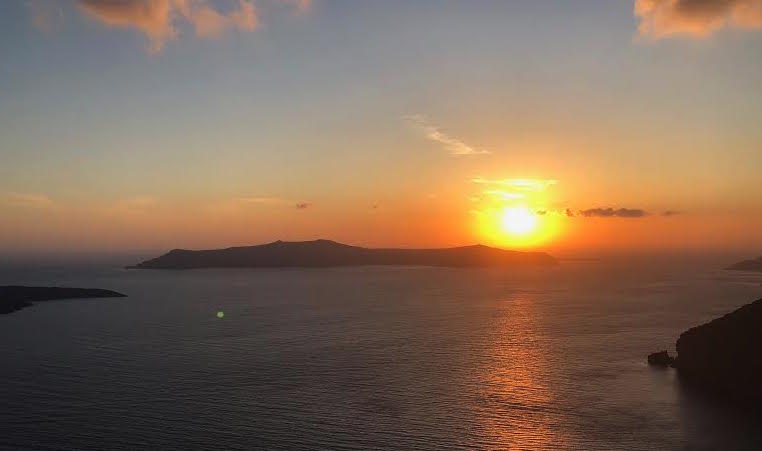 -The wine has been fabulous, and we've had a fair amount of it. A winery tour on our first day here set the stage for several lovely days in Santorini. The wine industry here varies from something out of Napa circa 2018 and something from 1896. Ancient and modern collide here with great results.
-Everything in Santorini is generally uphill, even on the walk back. I know it defies physics, but Ari and I are pretty convinced of this after 10 miles a day of walking.